'You can be sexy and still change the world' - Hilda Baci on how women are unfairly stereotyped
Hilda Baci believes women can be sexy and smart.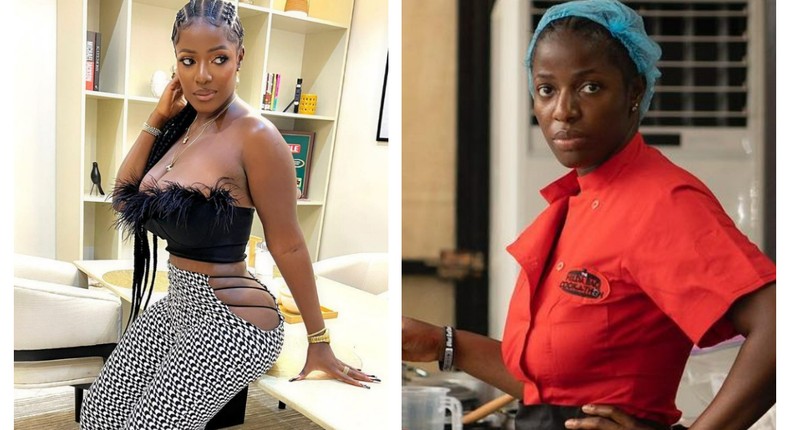 Nigerian Chef, Hilda Effiong 'Baci' Bassey has a desire to inspire and motivate young women.
The exhilarating feat trended online and around the world for several days. Hilda had a meeting with the press on Thursday, May 18th where she shared her experiences, thoughts and plans.
She believes women are capable of so much more. "Growing up, I just thought that I wanted to get married and have kids and my husband will take care of me, that's because we haven't created a system where women know they are capable of so much more."
"Women are so strong and so tenacious. People believe that if you are a girl and you are smart, you cannot be cute. If you are a beautiful young girl, you cannot be smart. If you are smart, you shouldn't be doing too much with your smartness because there are men there to pay for your lifestyle."
"You can be young, you can be beautiful, you can be smart, you can be sexy and you can still be capable of changing the world."
She got rejected because some people felt she was a slay queen with nothing to offer. "I remember when we started this journey, I remember being turned down from different engagements because they looked at my Instagram and felt I was just a slay queen, they felt 'somebody that has something upstairs, why is she having all these fine fine pictures?'"
"You don't have to be dressed like a nun, how I look does not reduce the value of what is in my head."
"I am not saying walk naked, but it's important that women are allowed to be themselves and being beautiful and attractive does not mean that's the only thing you have to offer, you have a brain, you have a God and you can be all these. You are allowed to be beautiful and fix your nails and still dream big."
JOIN OUR PULSE COMMUNITY!
Recommended articles
Fancy Acholonu Nigerian-American model & entrepreneur launches new fragrance line, Simply Fancy
3 reasons you need to start wearing lingerie
9 foods that make your child smart
3 overnight tricks to flatten your bloated stomach
Who wore it better? Nengi Hampson's recreation, or the original outfit on Didi Stone?
Top 5 Nigerian chefs with the best Instagram content
itel celebrates Children's Day 2023 with over 1,000 children In Abuja
What kind of parents are millennials? 5 ways they differ from their own parents
This week's best celebrity pictures on Instagram
Orijin launches 'Deeply Rooted' campaign championing transformative power of Naija roots
5 things adults miss about Children's Day
5 African countries where snow falls