Episode 146 - Let's Share the Blame
By popular demand, this episode has slightly more length to thrash issues. So, expect detail from this episode.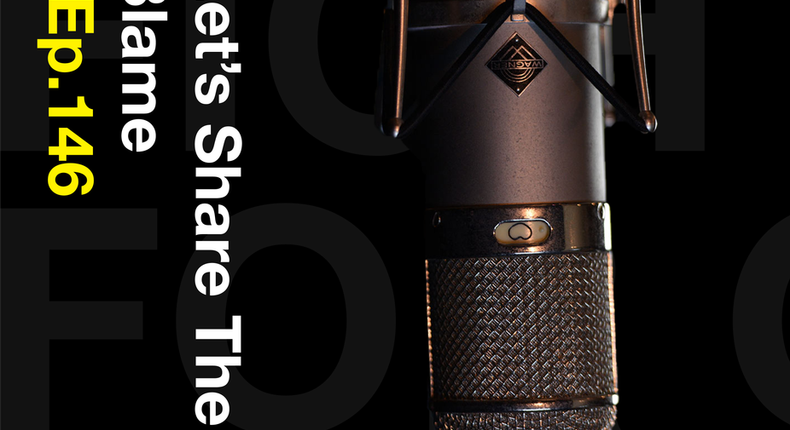 For Apple listeners, please listen to the latest episode of Loose Talk Podcast HERE.
The episode starts with fan mails on conversations with a mother distraught with her marriage pneumonia before delving into other issues.
What would you tell yourself 10 years ago… 20 years ago
Hindsight is a powerful thing, as it sometimes seems real-time and proactive are incredible responsibilities. Asides that, no matter what you've achieved, you feel like if you knew better, you would have done better. Thus, you sometimes wonder what 10 or 20 years younger self would do if he or she had the knowledge you have now.
Thus, daydreams like time-traveling and Inception creeps into your mind. Ayo and Steve share their respective perspectives on what they would tell their 10–20 years younger self. The idea of hindsight is powerful, you might enjoy this conversation. This conversation then led to some throwback conversations on R&B and Hip-hop confluence in the 90s and early 2000s.
Upon the death of Kim Porter, critics have hit mogul, Diddy on how he has immortalized his ex, saying he talks like they were perfect. The gang discusses the range of conversations in this context and it leads to the sad passing of media giant, Tosyn Bucknor, a gentle soul who was loved by everyone.
The 'Losses' also lead to the L taken by the man who told his wife to quit her job because she earns more than he does. The idea of male dominance sometimes leads to some unrealistic pressures, fragile ego and low self-esteem for certain men. The gang definitely pulled no punches discussing this issue.
You will also get a brief evaluation of the relation or lack thereof between Dagrin and his death.
Nigerian Rap vs. South African Rap
The battle for the African rap throne is eternal, wherever the pendulum swings seem riddled with either outrageous self-acclaim or terribly subpar judgment of a people that seems unfair. Neither country will however strongly concede to the other.
For Nigeria, the answer isn't quite straightforward; the gang canvasses exactly why that is. They also canvass the role of us, the listeners in this problem.
Tourism in Nigeria, Jay-Z's The Black Album, Blac Chyna and skin bleaching in Nigeria.
JOIN OUR PULSE COMMUNITY!
Recommended articles
From Waves to Weaves: 10×10 storms hair industry with a 9-day market activation in Lagos
This week's best celebrity pictures on Instagram
20 ways people experience unexpected orgasms
Everything you missed at the #TheMeistersExpression Concert in Ibadan
In this Ugandan tribe, the bride's aunt has s*x with the groom to test his sexual prowess
Skinny shaming: 5 things you should never say to a slim person
The importance of boundaries in relationships: Nurturing love and respect
Trace to set the African music scene ablaze with first Trace Awards & Festival in Kigali
Study shows men have been peeing wrong; they ought to sit and not stand
Denola Grey is one of the new faces of Fenty Beauty
How to survive the rising cost of petrol and transport in Nigeria
7 incredible health benefits of bitter kola