Reality TV star shows her bar
Khloe Kardashian just debuted a video on her app titled "How I keep my home bar organized AF."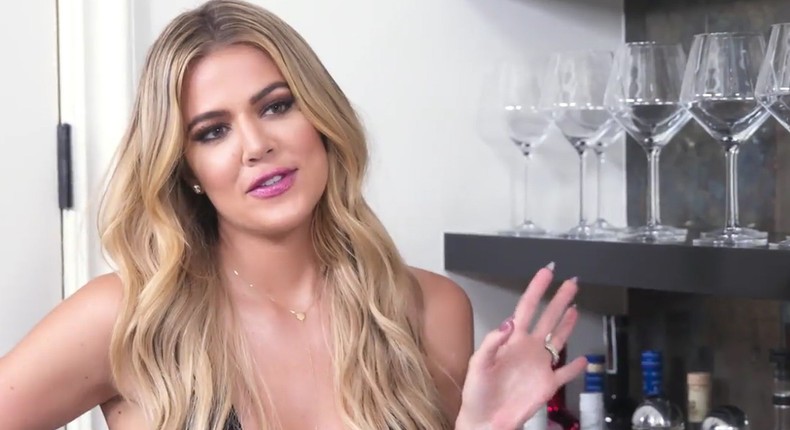 She wasnt lying when she said her bar is very organised.
Even though her bar is extremely well organized, the volume of alcohol she has on hand is equally amazing.
The reality star says she likes having a little something for everyone.
Her bottles of whiskey, bourbon, gin, tequila are neatly arranged here. But there is no vodka in sight. This is because she has a fridge dedicated to vodka. She also has a row of Ciroc from the brands co-owner,Diddy.
The vodka is arranged according to flavour.
Khloe also has a fridge similarly dedicated to mixers. Her wine cellar is equally neatly organised.
JOIN OUR PULSE COMMUNITY!
Recommended articles
20 ways people experience unexpected orgasms
Everything you missed at the #TheMeistersExpression Concert in Ibadan
In this Ugandan tribe, the bride's aunt has s*x with the groom to test his sexual prowess
Skinny shaming: 5 things you should never say to a slim person
The importance of boundaries in relationships: Nurturing love and respect
Trace to set the African music scene ablaze with first Trace Awards & Festival in Kigali
Study shows men have been peeing wrong; they ought to sit and not stand
Denola Grey is one of the new faces of Fenty Beauty
How to survive the rising cost of petrol and transport in Nigeria
7 incredible health benefits of bitter kola
5 most fashionable plus-size celebs in Nigeria
See the forest in Ondo where masquerades are forbidden