Get to know the top delicacies of these 5 Nigerian towns
In Ikirun in Osun State, Eko & Efo-Riro is a loved dish! People from different areas loved certain foods & recipes. For when you visit, see a list of what to try in these towns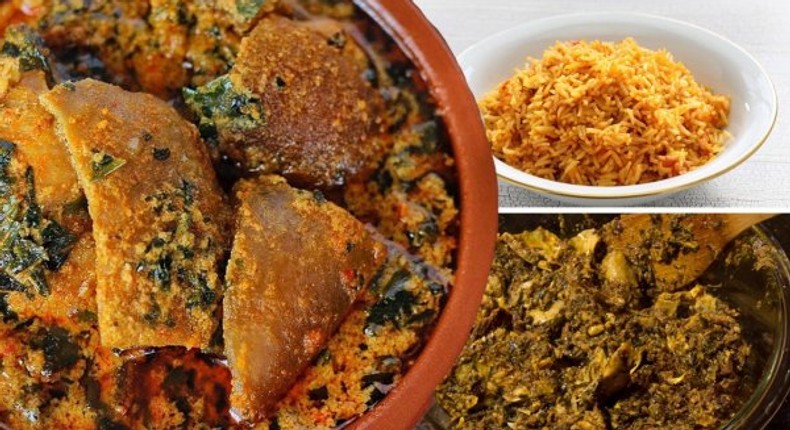 These towns/villages have claimed certain foods and recipes as theirs.
Most times, it dates back to history with founding founders of the area introducing the food, in some cases it's because the particular food is very accessible to the area (some cases the produce is in abundance in the area) and in some cases people from the area have come to love the particular food and growing up in the locality, the food became a part of living hence attributed to them and so on.
1. Ilorin & Wara
Ilorin, state capital of Kwara is known for Wara (Cheese curds). Regarded as the 6th largest city by population in Nigeria as its boasts of over 777,667 people as at 2006 census, wara is one food people from Ilorin love!
Wara can be eaten the way it is, boiled and fried, as part of a dish and so on. It's one to taste if ever in that area.
Pulse Nigeria
2. Ibadan & Amala/Abula
Geographically, Ibadan is the largest city in Nigeria! The capital of Oyo State comes as third most populous city in Nigeria (after Lagos and Kano) and the most populous state with a population placed at a staggering 3 million and counting. Ibadan locals are known for the love of Amala eaten with 'Abula' (a mix of ewedu and gbegiri).
A visit to Ibadan is incomplete without a visit to a local canteen.
3. Ekiti & Iyan (Pounded yam) and Egusi
Pulse Nigeria
Ekiti is a state in Western Nigeria and the capital of Ado Ekiti. The love Ekiti locals have for pounded yam and egusi is almost obvious in anyone who had their childhood/formative years in the state. Rumour has it that pounded yam in ekiti symbolizes 'Unity'- there a day set aside for an elaborate ceremony of the arrival of the new yam season in some communities in Ekiti.
Pulse Nigeria
4. Abeokuta & Lafun (White Amala) with Ewedu (Jute)
Abeokuta, the capital of Ogun State in South West Nigeria. The locals love for 'Lafun' (white amala) gotten from cassava and ewedu is one food the indigenes don't play with.
Pulse Nigeria
5. Ijebu-Ode & Ifokore/Ikokore
Apart from the famous 'Garri Ijebu', Ijebu Ode is known for its Ifokore/Ikokore (porridge made from water yam) l it's one food to try when in the area.
JOIN OUR PULSE COMMUNITY!
Recommended articles
Anticipated Akada children's book festival returns for its 5th edition
Unforgettable Night of Fun & Smirnoff: Lagos soars with epic BBN fans party
5 things women put on that men find instantly attractive
5 bad habits to drop if you don't want to look older than your age
If you feel insecure about your boobs, read this
The Macallan exclusively launches Double Cask 30 Years Old in Abuja
How to turn down sexual advances from your partner
The Macallan Sherry Oak 25 & 30 YO unveiled in Nigeria
Delusion might be the solution: Study reveals negative thoughts are better suppressed
The legend behind why cassava makes us very sleepy
Why guests had to squeeze between 2 naked models to enter an art show
How to give your pork this popular South American drink flavour
Super Falcons' Michelle Alozie drops football hot take
Kane defends Harry 'One of the best defenders in history' Maguire, calls for end to scapegoating
Provedel: 4 goalkeepers who have scored in the Champions League including Vincent Enyeama
Andre Onana: Critics of the Manchester United goalkeeper are missing the bigger picture
100 not out: Lewandowski moves closer to Messi and Ronaldo with century of European goals
Is Victor Osimhen in for a troubled season under Rudi Garcia?
Pep Guardiola laughs off Man Utd's title challenge
Braga vs Napoli: Victor Osimhen aiming to break Obafemi Martins' 13-year-old UCL record
Victor Boniface girlfriend: 8 Interesting things to know about Rikke Hermine