7 random facts about Timbuktu
Below are some random facts about Timbuktu;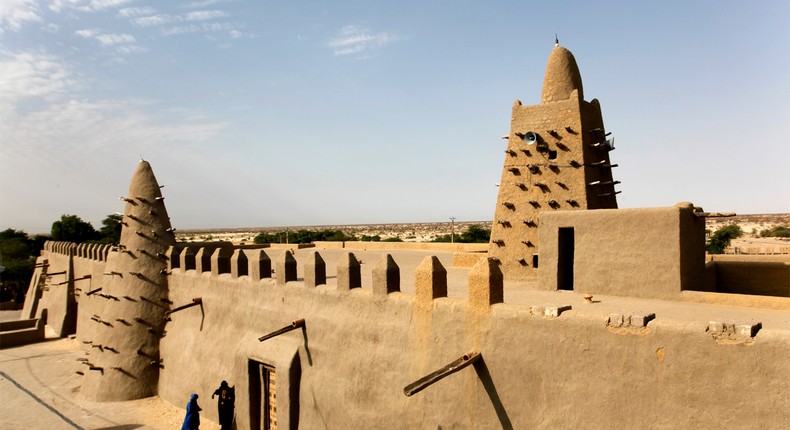 1. It is also known as the "city of 333 saints"
Timbuktu is popularly referred to as the "city of 333 saints" because 333 saints were laid to rest in the city. These saints were celebrated Muslim scholars and teachers who were highly revered for their exceptional wisdom, generosity, and scholarship.
2. It is recognized as a World Heritage Site
Parts of Timbuktu's historic centres were selected by the World Heritage Committee to be inscribed on the World Heritage list in December 1988. Three mosques and 16 mausoleums were selected. In 2012, in response to armed conflict in the region, Timbuktu was added to the UNESCO List of World Heritage in Danger.
3. Timbuktu's founding dates back to the 11th century
It dates back to the eleventh century when Tuareg nomads settled there and began using the site as a trading post for goods like gold, Ivory and salt. By the early 1300s, Timbuktu had already become a hub of trading and the commercial city of the Mali empire.
4. Timbuktu is home to three of western Africa's oldest mosques
Three mosques- Djinguereber (Djingareyber), Sankore, and Sidi Yahia- were built in the 14th century. They are three of the oldest mosques in western Africa today.
5. Timbuktu has been captured and ruled by a variety of groups and leaders
Timbuktu was founded about 1100 CE by Tuareg nomads. In the late 13th or early 14th century, it was incorporated into the Mali empire. The Tuareg regained control of the city in 1433. In 1468 the city was conquered by the Songhai ruler Sonni ʿAlī. It was then captured by Morocco in 1591. Timbuktu was again captured by the French in 1894. The city is now an administrative centre of Mali.
6. It is home to one of the world's oldest universities
The Sankoré mosque, also known as the University of Sankoré, was one of the first universities ever built in the world. It was built in the early 14th century.
7. Timbuktu is no longer the city of gold it used to be
Despite its illustrious history, Timbuktu is presently impoverished. It has suffered the effects of desertification for long. Obviously, past its former glory, the city has however not lost its charm.
JOIN OUR PULSE COMMUNITY!
Recommended articles
5 signs you are in a healthy relationship and you might have found the one
Men, here are 5 places you shouldn't touch a woman during sex
4 African countries are responsible for 70% of the chocolate in the world
Hungarian Recipe: How the famous Jókai bean soup is made
7 reasons women don't get wet even when aroused
Lagos welcomes the Latest Beach & Lake Resort - YOLO Island
All you need to know about jaguars, the Amazon's mightiest apex predators
4 diet changes that may help ADHD symptoms, according to a dietitian
7 easy ways you can get plump lips
10 green flags women ignore in men when watching out for red flags
10 ways to keep your clothes wrinkle-free without ironing
Foods that can worsen your acne
Thiago Silva recalls TB fright ahead of Chelsea debut
Brazil vs Argentina: Bloody scenes at the Maracana as Brazilian police and Argentine fans clash
Arda Turan: Ex-Atletico star in hot tears after losing $13 million to 'yahoo yahoo'
Global Soccer Award: Osimhen to battle Messi and Ronaldo
Lionel Messi and Scaloni's Argentina relationship set to end