Try these 7 delicious healthy snacks for optimal brain performance
A well-fed brain is a sharp brain, snack wisely and enjoy the cognitive rewards.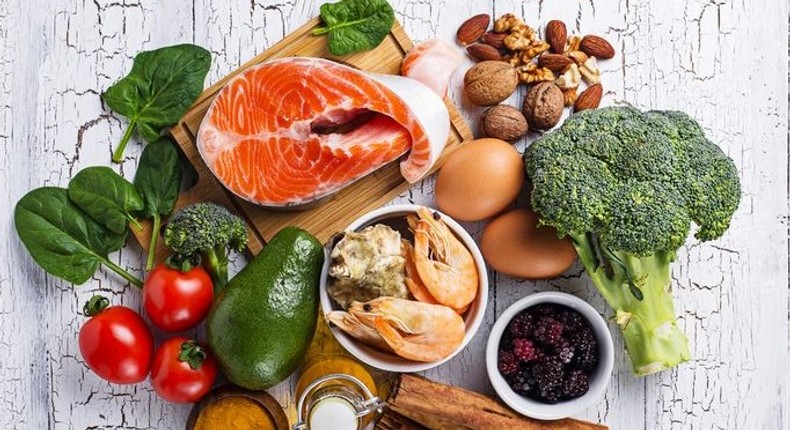 The brain is a remarkable organ working tirelessly to process information, solve problems, and keep us functioning at our best.
To support its optimal performance, it's crucial to fuel our brains with the right nutrients. And one way to do this is by incorporating brain-boosting snacks into your diet.
Here are seven delicious and nutritious snacks that can help nourish your mind, keeping you sharp and focused throughout the day;
1. Nuts and seeds
Nuts like almonds, walnuts, and seeds such as flaxseeds and chia seeds are rich in omega-3 fatty acids, antioxidants, and essential vitamins. These nutrients are known to improve cognitive function and protect your brain against age-related decline. Grab a handful of mixed nuts or sprinkle seeds on your yoghurt for a brain-boosting snack.
2. Blueberries
Blueberries are often referred to as "brain berries" for their impressive cognitive benefits. They are packed with antioxidants, particularly anthocyanins, which have been shown to enhance memory and protect brain cells. Enjoy them on their own or add them to your morning oatmeal or yogurt.
3. Dark chocolate
Yes, you read that right—dark chocolate can be good for your brain! It contains flavonoids that may improve blood flow to the brain, enhancing cognitive function. Opt for dark chocolate with at least 70% cocoa content to reap the benefits.
4. Greek yoghurt
Greek yoghurt is an excellent source of protein and probiotics, which are beneficial for gut health. A healthy gut has been linked to improved brain function and mood regulation. Top your Greek yoghurt with honey and berries for a tasty and brain-boosting treat.
5. Avocado
Avocado is a nutrient powerhouse, rich in healthy fats, fibre, and vitamins. The monounsaturated fats in avocados support healthy blood flow, which is essential for optimal brain function. Spread mashed avocado on whole-grain toast for a satisfying snack.
6. Salmon
Salmon is loaded with omega-3 fatty acids, particularly DHA, which is essential for brain health. These fats can improve memory and cognitive abilities. Enjoy grilled or baked salmon as a savoury snack, or add it to a salad for an extra brain boost.
7. Kale chips
Kale is a leafy green packed with vitamins, minerals, and antioxidants. Baking kale into crispy chips is a tasty way to enjoy its brain-boosting benefits. These chips are rich in vitamin K, which is known for its role in brain health.
Pulse Nigeria
Nourishing your brain with the right snacks can have a significant impact on your cognitive function, memory, and overall mental well-being.
Incorporate these delicious and healthy options into your daily diet to support your brain's vitality.
Remember, a well-fed brain is a sharp brain, so snack wisely and enjoy the cognitive rewards.
JOIN OUR PULSE COMMUNITY!
Recommended articles
Pulse Fiesta 2023 ushers Lagos into Detty December proper
Raising a Toast to the true Orijinals: Orijin unveils new limited edition packs this festive season
8 sperm-killing foods that dads need to avoid!
Why reverse cowgirl is the world's most dangerous sex position
The male G-Spot, where it is and how to stimulate it
5 ways to spot a sex addict or know if you are one
Beyond the runway: Lush hair steals the spotlight at Lagos Fashion Week's 10th edition
Escudo Rojo introduces Luminoso Wine in spectacular launch event
Bikiya Graham-Douglas continues to promote African Arts & Culture with Beeta Arts Festival (BAF)
Spices, Stories and Surprises: Detailed look at vibrant African Food & Drinks Festival Abuja
Make this no-yeast bread with only 3 ingredients
What is a Jacob's ladder piercing? It's pretty extreme
Shelly-Ann Fraser-Pryce: Track legend signs mouthwatering deal with luxurious wristwatch brand
Sha'Carri Richardson: World's fastest woman reportedly bags $20,000,000 endorsement deal
She needs a break - Super Falcons coach explains Ashleigh Plumptre's absence from team
Sergio Ramos makes Champions League history 31 years after Daniel Amokachi
Thiago Silva recalls TB fright ahead of Chelsea debut