TOMS shoes expands its impact footprint to Nigeria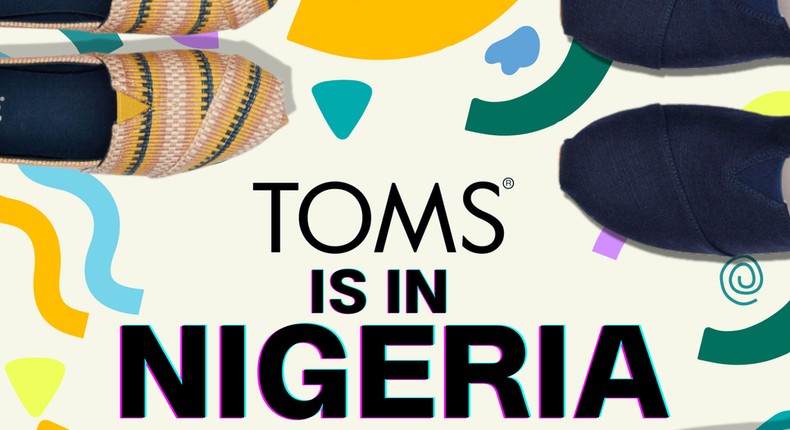 Wear TOMS. WEAR GOOD. Finally, you can!
TOMS Shoes is bringing its Impact business model to Nigeria, where it will continue to provide a wide range of footwear options that complement any outfit while supporting a worthy cause.
TOMS Shoes has made a name for itself through comfortable and stylish footwear, its appeal elevated by the brand's Impact model. TOMS Shoes' reputation for being socially responsible is something everyone can get behind - and now, Nigerians have a chance to join the movement, too.
Why settle for ordinary shoes when you can elevate your style and conscience with TOMS!
TOMS Shoes is more than just a footwear brand. With a solid commitment to social impact, TOMS is using fashion to make a difference in people's lives, wherever and whoever they are. The brand's Impact program aims to give back to communities and positively impact people's lives by partnering with organizations that provide resources and support for those struggling with mental health issues.
When you purchase a pair of TOMS shoes, you're not just buying good-looking footwear that feels good on your feet. You're also contributing to a worthy social cause.
Nigeria, known for its vibrant and dynamic fashion scene, is the obvious next stop for the renowned brand. TOMS Shoes is excited to bring its brand to Nigeria and become a part of its rich culture while making a difference in people's lives.
With its stylish and comfortable footwear, TOMS can keep you fashion-forward and trendy while making a difference in society. The brand is strong-minded and energetic, and it's ready to make a lasting impact on the Nigerian market.
Join TOMS Shoes in making a difference. Watch this space, TOMS Shoes coming to Nigeria soon!
Pulse Nigeria
In 2006, we created a new way of doing business by merging profit and purpose. Since then, our mission has never changed; we are in business to improve lives. When you buy TOMS, you help fund access to mental health resources for the millions of people who need them.
We do this by giving ⅓ of profits in support of grassroots organizations focused on creating more equity at the local level. To date, we have impacted over 100 million lives through our giving.
At TOMS, we are proud to wear our impact on our feet. From our iconic Alps and espadrilles to seasonal boots and sandals to eyewear and apparel, we bring classic, comfortable, and on-trend ways to show you choose to WEAR GOOD.
As a Certified B Corp, we meet high standards of social and environmental impact. Our score in the Community category is in the top 5% of all B Corp organizations, earning us a Best for the World award.
And we are just getting started. Each pair of TOMS that you buy helps us to give more. So join us because when you wear TOMS, you WEAR GOOD.
JOIN OUR PULSE COMMUNITY!
Recommended articles
A Night of Queens, an all-female lineup concert celebrating Nigeria's musical powerhouses
One Wellness Centre hosts exclusive brunch and tour event
Here's why you jerk when sleeping
5 tips to stop drinking alcohol
Chivas Palace: Celebrating the blend of success
7 things your belly button says about your health
Christmas traditions from our childhood that should come back
If you crave constant companionship, avoid dating people in these 4 professions
4 things I wish I knew before getting Botox for the first time
DIY Recipes: How to make ice cream without milk or cream
5 major differences between UTI and STI
5 tips to stop drooling in your sleep