Contemporary brand goes unconventional with A/W'17 Collection; 'Tomorrow Calls'
Inspired by the daily commute of students in Lagos, Idma-Nof does waistfores, over sized dresses and more androgynous fits for new collection..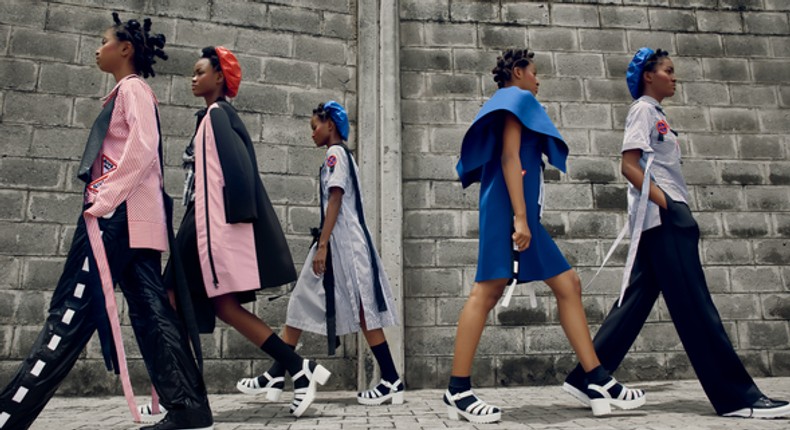 Nigeria based womenswear brand
The collection inspired by the daily commute of students in Lagos highlighted road graphics, intricate details, interesting fabrics combinations on unconventional styles presented for the Autumn/ Winter 17 collection that comes after their debut S/S'17 Collection.
The fashion brand stays true to her love for "bold aesthetics" "originality" and exciting "craftsmanship" brought to the fore in the new collection featuring bitumen inspired pants and dresses, oversized coat-dress, shirts with graphic and sash details, waistfores amongst other unique pieces presented in the collection.
"The collection is inspired by the daily commute of students in Lagos metropolis, and sets education as its central theme, looking at it as a journey to tomorrow's dreams and aspirations" the brand's creative director Mfon Ogbonna reveals about the inspiration for the collection.
"With bold graphics and diverse textures it speaks to the unpredictability of the journey while capturing the energy and relentless spirit of her muse" she shares.
Ogbonna sums up the entire collection with lyrics from Whitney Houston's 'Step by Step';
"There's a bridge and there's a river that I still must cross
As I'm going on my journey
There's a road I have to follow, a place I have to go
Well no-one told me just how to get there
But when I get there I'll know"
IDMA-NOF prides herself as a contemporary womenswear brand with bold aesthetic strongly influenced by colourful African heritage. The brand lays emphasis on originality, blending art and fashion in exciting ways to create stories for the adventurous girl.
In less than a year of starting out, the brand has gotten rave reviews as well as features on Vogue Italia's Vogue Talents and on 'Not Just A Label' designer platform.
Mfon has won international awards including 1st place at Fashion Group International Dallas, 'Can't Miss Red' Dallas, USA, 2nd Place at Neal Hamil Little Black Dress Project, Houston,USA and Nominee, Shelly Musselman Award Dallas, USA amongst others.
IDMA-NOF currently retails at foremost luxury store Temple Muse, Amodu Tijani V.I Lagos.
For more information about the brand, visit www.idmanof.com
Photography- Kosol Onwudinjor
Models- Beth Model Management, Catch 22 Model Management, Few Models
JOIN OUR PULSE COMMUNITY!
Recommended articles
For women: 4 foreplay tips to drive men wild
5 people share awful and sometimes funny things their bosses have said to them
Ramadan: Six facts about the holy month for non-muslims
These are 5 top signs of fake love in a relationship
5 interesting health benefits of Agbalumo (African star apple)
The best 5 cities in Nigeria
The oldest woman ever to be on a Vogue magazine cover is a Filipino tattoo artist
Why your body suffers when you don't have regular s*x
6 reasons your nipples hurt
5 celebs with face cards that never declines and their makeup techniques
Chicken vs Turkey: Here are 3 nutritional differences
Is less actually more? Five benefits of a more minimalist life
Manchester United identify Portuguese goal-machine Goncalo Ramosas Osimhen alternative
Giannis Antetokounmpo outshines Jordan Nwora as Bucks set record against Pacers
NPFL Review: Rangers continue to flirt with relegation, 3SC vs Plateau produce another classic
Arsenal reach first Champions League semi-final in 9 years with victory over Bayern