5 young women who embody Y2K and alte fashion
These five ladies are the ones to beat when it comes to alte fashion.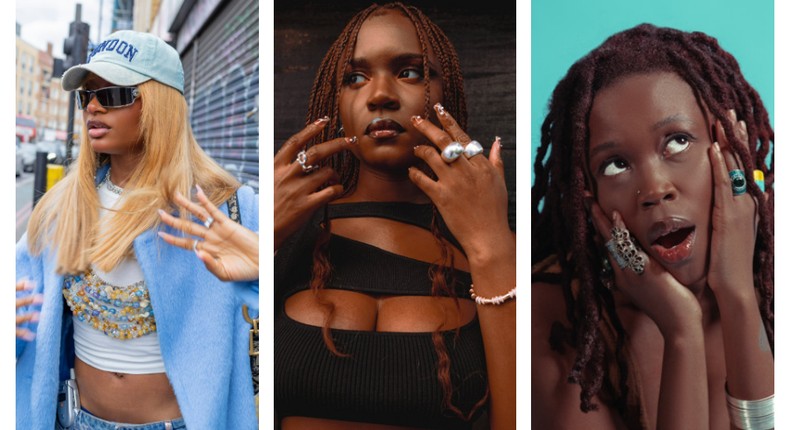 The most popular fashion trends from the late 1990s and early 2000s are reflected in Gen Z alte fashion.
Y2K fashion characterized the early 2000s, the days of Britney Spears and Destiny's Child. It is made of sassy graphic tees, boots, big belts, beads, double denim, glitter, crop tops, fake fur, sparkles, and low-rise jeans.
Bright colours and cartoonish aesthetics are combined with 2000 pop culture to produce an aggressively loud look. Reimagined Y2K fashion says no to minimalism and conventionality.
In Nigeria's subculture, there is a sect of people in music known as the alte, short for the word alternative. These people are known for their eccentric style.
The musical group DRB LasGidi is responsible for the term "alté," as they did so in a song they released in 2014 to characterize their sound and style.
Ashley Okoli
Ashley is a designer and artiste. In 2017, she had her own unisex clothing brand Sillet, which sells clothing which embodied Ashley's extremely fashionable alte style.
Lady Donli
She is an alternative, neo-soul, jazz independent artiste whose short skirts, embellished bras, boots and jewellery are all reminiscent of the Y2K era.
Ayra Starr
This award-winning artiste embodies the Y2K style in low jeans, mini skirts, jean jackets, furs and graphic makeup. Ayra Starr dresses as if she lives in the 2000s.
Amaarae
Known for short skirts, low rise jeans and skimpy artiste, this Ghanaian musician is the epitome of Y2K and Gen Z fashion,
Wavythecreator
Wavy the Creator, whose real name is Jennifer Ejoke, is a recording artist, photographer, fashion designer, and filmmaker. Born in Lagos, but she grew up in the United States. Wavy's style is a mix of Y2K and goth.
JOIN OUR PULSE COMMUNITY!
Recommended articles
3 reasons you need to start wearing lingerie
9 foods that make your child smart
3 overnight tricks to flatten your bloated stomach
Who wore it better? Nengi Hampson's recreation, or the original outfit on Didi Stone?
Top 5 Nigerian chefs with the best Instagram content
itel celebrates Children's Day 2023 with over 1,000 children In Abuja
What kind of parents are millennials? 5 ways they differ from their own parents
This week's best celebrity pictures on Instagram
Orijin launches 'Deeply Rooted' campaign championing transformative power of Naija roots
5 things adults miss about Children's Day
5 African countries where snow falls
Amstel Malta shines spotlight on digital content creators at AMVCA 9