5 habits that ruin your life
What bad habits might be stopping you from living your best life?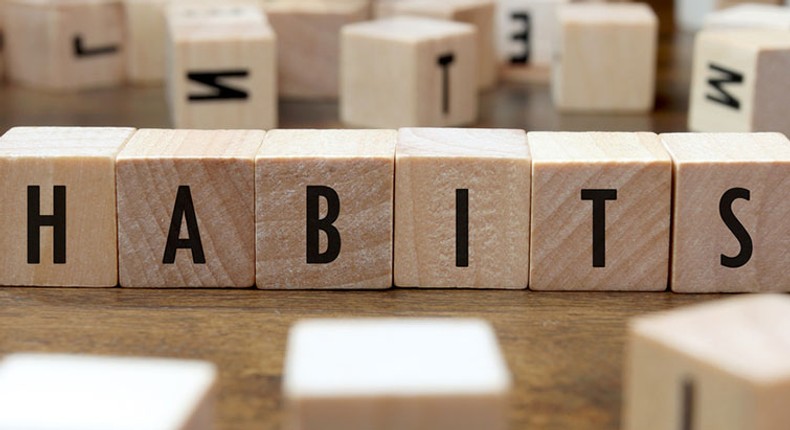 Your life is a cumulation of habits and behaviours. Good habits create positive patterns, and bad habits create negative patterns.
Here are some bad habits;
1. Overthinking
"Overthinking no dey solve problem". Zlatan sang.
If you spend time overthinking and worrying, you're never going to enjoy your life.
Over-thinking can be likened to always having a premonition. So you imagine it happening twice, once in your mind and the second in reality. That is a lot of suffering.
Instead of overthinking, be present in the moment, get out of your thoughts and take life a step at a time.
2. Dopamine addiction
If you live your life chasing a high, you will never be happy and you will be addicted to whatever gives you satisfaction e.g drugs, alcohol, sex, smoking and excess social media use.
However, there is a good kind of dopamine addiction, the kind you get from working out. You can get the release of dopamine from motivating yourself to achieve your goals and reach your targets.
3. Being risk-averse and afraid of failure
You will fail many times, but you must keep going. Playing it safe is the worst way to live life, yes you might be rejected, but don't let that stop you from putting yourself out there. The aspects of our lives that will require us to put ourselves out there are our love life and career. Hit up that recruiter on LinkedIn, post your work wins, ask that man out to lunch. Just do it.
4. People pleasing
What people think can put you in a rut. As long as you are not hurting anyone, don't let the opinions of others drown you out. Don't live trying to please everyone to your detriment, find out what you want from life and chase after it.
5. Taking poor care of yourself
What you eat matters, what you wear matters, what you drink matters, physical activity matters. If you want to live long then take good care of yourself.
At the end of the day knowing you have a bad habit isn't enough you must be willing to change it.
JOIN OUR PULSE COMMUNITY!
Recommended articles
What kind of parents are millennials? 5 ways they differ from their own parents
This week's best celebrity pictures on Instagram
Orijin launches 'Deeply Rooted' campaign championing transformative power of Naija roots
5 things adults miss about Children's Day
5 African countries where snow falls
Amstel Malta shines spotlight on digital content creators at AMVCA 9
How to find love when you leave Nigeria
Indomie adds flavour to the AMVCAs 2023: Lights, Camera.. Flavors!
SupaKomando electrifies 9th edition of AMVCAs!
Nigerian student breaks Guinness World Record for most skips on one foot in 30 seconds
Join the Meisters Expression Concert live in Ibadan for epic music, epic vibes
Why do people orgasm and feel horny in the gym?