Chief priest murders daughter, blames wife
A local chief priest has been arrested in Akwa Ibom for allegedly killing his baby daughter during a fight with his wife.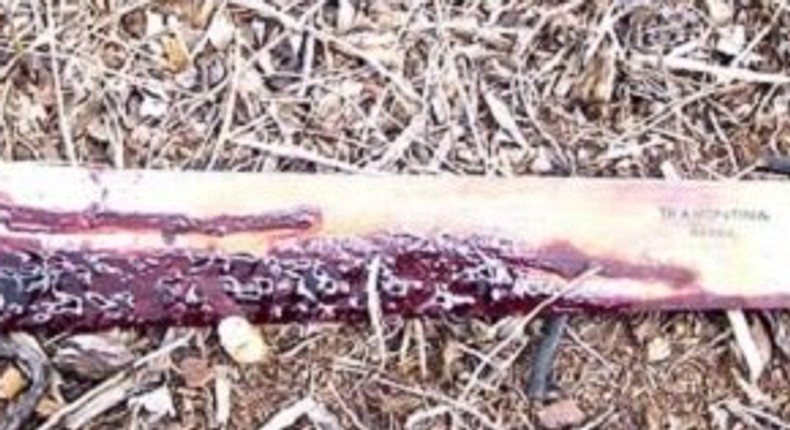 The 30-year-old Akpan who is the custodian of the community's shrine, according to the police, had descended on his wife, Blessing, following a family misunderstanding and beat her up. The woman managed to escape to her family house, leaving the child with her husband.
While parading the suspect, the Commissioner of Police in the state, Murtala Mani, said after Blessing fled to her mother, Eno called for her to take the child with her but she refused and Akpan reportedly inflicted machete injuries on the girl's back and head, leading to her death.
"On July 23, at 7.30pm, the complainant, Blessing, had a misunderstanding with her husband, Eno Akpan. In the process, the husband beat her up.
She left the house for her mother's place, leaving her daughter behind. The husband asked her to return home to take the child along, but she refused.
The husband then used a machete to inflict cuts on the back and head of their daughter. She died on the spot."
But the suspect, during interrogation, said he had a disagreement with his wife after she returned home late from the market where she sold oysters which resulted in a fight and in the process, he picked up a machete to hit her with it but mistakenly cut through their young daughter.
"She went to sell oysters in the market. When she came back, I tried to inquire why she came back late and that it was becoming a habit for her to return home late from the market.
Her reply incensed me and I had no other option than to beat her. The moment I picked up a machete to strike her, she threw my daughter at me and the machete landed on her head and back."
JOIN OUR PULSE COMMUNITY!
Recommended articles
DRC and Angola set aside a 50-year oil block dispute to become joint holders
Veteran Nollywood actor Adewale Adeyemo is dead
Naira marginally rises against dollar in 24 hours of Tinubu's presidency
Beautiful Nubia, Tosin Ashafa, others pay tribute to OAU alumnus Abass Oyeyemi
Zainab Balogun explains how medical disorder affected her marriage
Poverty level in Nigeria unacceptable, Tinubu tells governors
Obaseki increases minimum wage to ₦40k, asks workers to work from home twice a week
Tribunal rejects PDP, LP's request for live broadcast of court proceedings
Asake drops new song with Olamide, announces release date for second album