Meet Lekki groundnut seller who earns N1,500 per month
Just over a week ago, Pulse Vox Pop presenter, Cee Classic, while doing his thing on the streets of Lagos, ran into a certain groundnut seller who revealed that he lives monthly on a salary of #1500.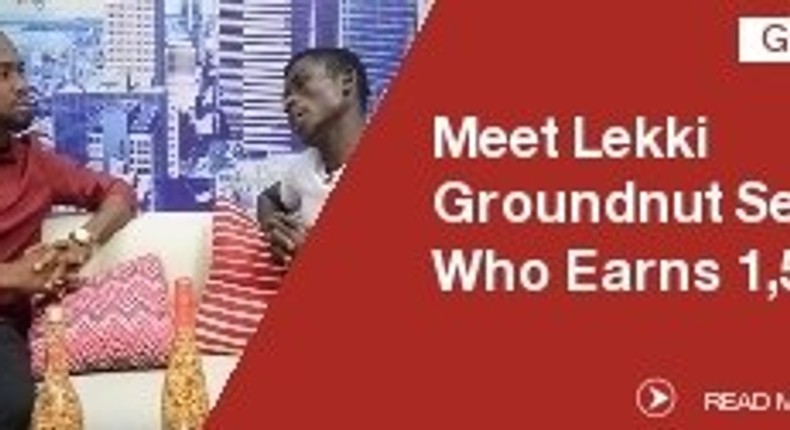 The Instagram post containing the video went viral in no time, with several people deeply touched by the man's plight.
Like several other people with a sense of humanity who saw the video, questions were raised in our minds.  Questions like, how does he do it?
How can anyone ever survive on such meagre amount? An amount too little to get recharge cards for several people, too little to even get lunch!
Moved by these questions within us, and those coming from our numerous followers online, The Pulse TV went back to the streets, brought him in to our studio to learn more about him…
Gideon Ime Charlie, 25, from Ukanafan Local Government of Akwa Ibom has had a life experience that many people his age, even older people, cannot ever deal with.
When asked to narrate the story of his life from the beginning, one of his first statements by him appropriately captured it all
"I actually come from a good home, but there is no money," he said.
Owing to that very fact, he could not get any education beyond JSS 3, dropping out to allow his other five siblings a shot at education, and hopefully, a better life.
Having dropped out of CJC Comprehensive Secondary School in Otoro, Akwa Ibom State, Gideon got a call from someone in Lagos about the groundnut-selling business, and found his way to Lagos.
About taking up the 'job', he said "[The man already told me he'd pay #1500] and I'll be eating there two times per day… I accepted because I know that if I should stay in the village, [I'll be] a kind of trouble to my parents."
When answering the biggest, most pressing question of how he manages to live monthly on such a little amount, Gideon, who comes off as a humble and determined young man says,
"It is not easy, but as a man who is looking for something, I try to save #500."
However, the money is never enough to spend, let alone save, even with his needs being the most basic – toothbrush, bathing soap, body cream slippers, bottles for his groundnut, etc.
The 25-year old, despite being on the street always, is still paying attention to his dream of being a musician and songwriter, revealing that he has some songs written and recorded on his phone, and actually taking every opportunity to show what he can do. [And he really can do a lot of singing, can't he?]
Away from sarcasm, it is really impressive to see a young man [or anyone at that], forging on resiliently in the face of what Gideon Gideon had had to face – you really need to watch the video attached to this article to see where he stays, and how he lives to fully understand how amazing it is to see that his faith in a better tomorrow remains unflinching.
Perhaps, this is what moved a number of people and at least an organization, to show an interest in helping out the young man.
When asked how he'd feel if people decided to assist him, "I'll feel so happy," he says. "[I'll feel so grateful]… and I'll thank my God."
"As a man who comes from a good home, I think I have plans for my life, I need to think of my past… I'll like going to school… further my education and while I'm in school, I will [do more] on my music… because I know I have to do that."
Just as he showed when he dropped out of school enable his younger ones continue, Gideon has a deep sense of responsibility to his family and has hopes of assisting his them, citing a new home as the biggest need they have.
"I have to build and take my mum from the mud house to the normal house."
Head of Pulse, Rich Tanksley, who was moved by the predicament of the groundnut hawker, led the way by awarding him a cash gift of #20, 000.
Living in Nigeria these days, as many of us can testify to, has become hell. And that is me being really mild about it. But this is not what Gideon's story shows.
What stands out from all of this, is that there are some hells hotter than some others. And regardless of where you find yourself, there's no point sitting on your backside, blaming everyone but yourself for your status, or situation.
Everyone has a shot at success, and sitting down, playing the blame game is not the way to shoot your shot at it.
JOIN OUR PULSE COMMUNITY!
Recommended articles
NNPC announces new nationwide fuel prices, effective immediately
Rick Ross declares interest in Ayra Starr
Nigerian actor Hawwal Ogungbadero, 29 others set Guinness World Record for longest recording session
Nigerians express concern over immediate implementation of subsidy removal
10 African countries with the lowest digital quality of life index
Study shows men have been peeing wrong; they ought to sit and not stand
Shaffy Bello opens up about her split from husband after 25-year marriage
Fuel prices will go down after removal of subsidy, says NNPC CEO Kyari
Nigerians react as Tinubu's daughter declares self as Iyaloja General of Nigeria