'We slept with 20 men in a day for N500' - Teenage girls forced into prostitution
Four teenage girls who were forced into prostitution in Calabar by a wicked madam have been rescued.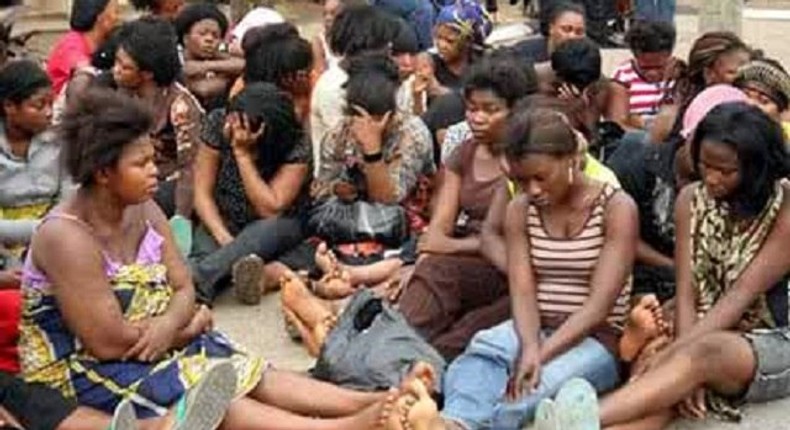 Four young teenage girls whose ages range 17 and 18, have been rescued from the
The young girls, Felicia Nzuworgar, 17, Patience Williams, 18, Angela Benjamin, 17 and Charity Nkwogor, 17, who are all from Okun Local Government Area of Benue State, narrated how they were made to sleep with not less than 20 men in a day for a fee of N500 which was later collected by their Madam, Abigail Aliyu, who took them from the state to become harlots.
The girls, while narrating to newsmen after they were rescued by officials of the Anti-Human Trafficking operatives of the State Police Command, said Aliyu, whom they call 'Chair Lady' took them from their homes in  January this year, on the pretext that she was taking them to Lagos to work as sales girls in her drinking palour, only to take them to Calabar where they were forced to become sex workers in the brothel.
One of the girls,  Felicia, began on their ordeal:
"The woman told me that she has a beer parlour in Lagos and wanted me to work as sales girl there, but when we got here she gave me boxer shorts to wear and when I asked her where the drinking parlour is for me to start working, she said  I should hustle like other girls by sleeping with men and when I refused, she beat me up."
Patience recounted her experience thus:
"Every day, we sleep with over 20 men for N500.00 each and because we are young, men do line up to have us. At about 12 midnight, 'Chair Lady' will  come in and collect the money, because she counts  the condoms she gives to us. If you do not  give her all the money, she will beat you mercilessly.
'Chair Lady' and the men working for her normally search our  rooms and our bodies at the  close of each day to ensure we had not hidden any money and they will beat us if any money is found on us.
When we came to Calabar, 'Chair Lady' collected our phones and did not allow any of them to step outside the brothel for fear that we might run away. When Angela and Charity attempted to escape, they were beaten to a state of unconsciousness by 'Chair Lady' and some of her male friends."
Angela continued the narrative:
"When I tried  running  away, she brought a soldier and a policeman, who are her boyfriends, and they beat me up and poured tear gas in my eyes. I later fell sick because of that beating for many days."
Charity took up the narration:
"I don't know how we followed the woman but it seemed that she had a charm that she touched us with and that made us follow her.
On my part, I was walking in our market in Okun Local Government Area when she greeted me and touched me on the shoulder and that was how I followed her and we entered a vehicle to Enugu to the house of a juju man, who prepared a medicine (concoction)  for  us to drink, which she said  was to protect us from sickness, but  when we got to Calabar, she said if we run away, the medicine the man gave us will make our private part  to rot."
But Aliyu the 'Chair Lady', an indigene of Ebonyi State, said her arrest by the police due to jealousy from her colleagues, adding that she was not the one that brought the girls to Calabar.
The State Police Public Relations Officer (PPRO), DSP John Eluu, confirmed the arrests of Aliyu and the rescued girls, saying the woman will soon be charged to court after investigation.
JOIN OUR PULSE COMMUNITY!
Recommended articles
Obi presents software engineer as witness against Tinubu at tribunal
Nonso Diobi is making a Nollywood comeback after 6-year break
Veteran Nollywood actor Adewale Adeyemo is dead
Naira marginally rises against dollar in 24 hours of Tinubu's presidency
Beautiful Nubia, Tosin Ashafa, others pay tribute to OAU alumnus Abass Oyeyemi
An Ekiti chef is attempting to break Hilda Baci's cook-a-thon record by cooking for 120 hours
Obaseki increases minimum wage to ₦40k, asks workers to work from home twice a week
Tribunal rejects PDP, LP's request for live broadcast of court proceedings
Iya Gbonkan receives brand new car with almost ₦5 million in donation