13 persons die in Kwara auto crash
The bus driver reportedly ran into a stationary vehicle which led to the death of thirteen passengers on board.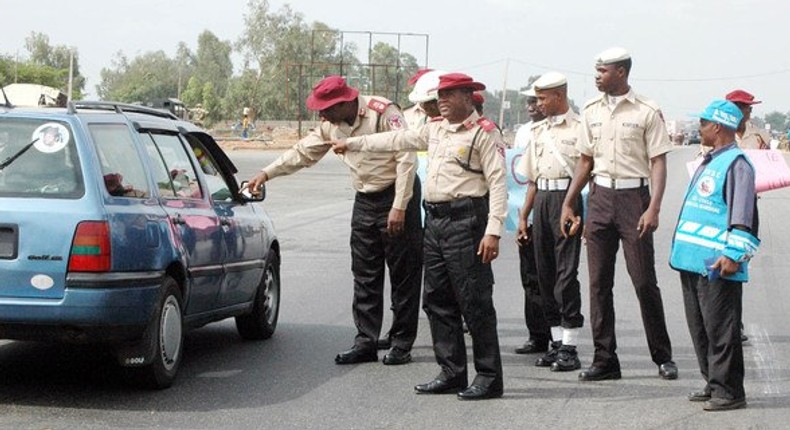 Thirteen persons have been confirmed dead following a road accident that occurred along the Ilorin-Ogbomosho expressway in Kwara State.
The accident which occurred on Wednesday, November 30, 2016 was as a result of a collision between a hummer bus and a truck reported to be heavily loaded.
An eyewitness who pleaded anonymity thinks the accident was caused due to the reckless driving of the bus driver who reportedly ran into a stationary truck.
All the passengers numbering thirteen were killed instantly.
State police commissioner, Olusola Amore however feels the wrongful parking of the truck caused the accident.
The truck has been towed as the police go in search of the owner of the heavily loaded vehicle.
"A bus load of passengers coming from Kaduna ran into a stationary vehicle and all the passengers died.
"In fact, for now, the trailer has been impounded and we are working to tow the trailer. The trailer is even loaded with goods.
"So that we can get the driver and the owner of the trailer to come and answer for the way the trailer was parked before it caused the accident."
The indiscretion of heavy duty truck drivers have led to many deaths on Nigeria highways.
Most of these drivers often show lack of care for other motorists who fall victim to their reckless driving.
JOIN OUR PULSE COMMUNITY!
Recommended articles
3 food items legal in Nigeria but banned abroad
Top 10 African countries with the highest crime rates
5 Nollywood historical films you should see on October 1
6 key figures who paved the way for Nigeria's Independence in 1960
Top 10 African countries with the cheapest data prices from June to September
Venita, Soma and Angel get evicted from Big Brother Naija All Stars
Here's why guinea fowls make great security guards
How Editi Effiong delivered a global hit with 'The Black Book' [Exclusive]
The World Bank has warned that Nigeria may bear some of the brunt of the Niger coup