Teenage mother dumps 4-months-old baby in Oshodi
A teenage girl who dumped her four-months-old baby in Lagos says her mother sent her and the baby out when she could not identify the father.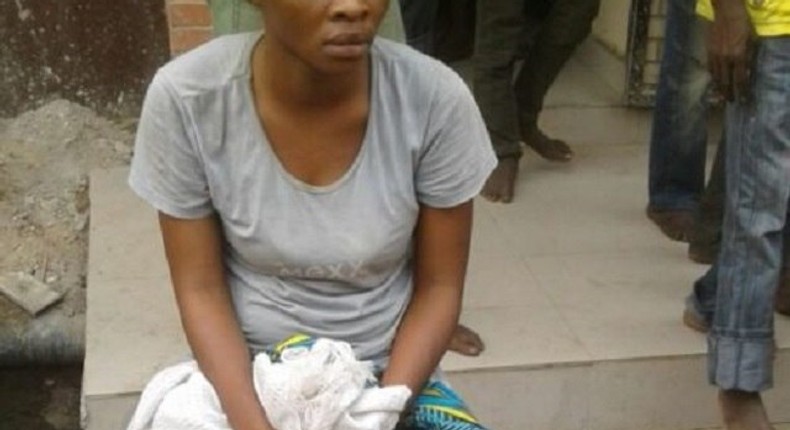 Punch reports that the girl, Timilehin Adesina who was arrested by operatives of the Lagos State Task Force on Environmental and Special Offences (Enforcement) Unit after abandoning the child, said her mother had sent her out of the house after she could not tell who the father of the baby boy was.
A statement from the Taskforce said that its operatives were on a raid to dislodge commercial buses causing obstruction on highways in the area when one of them saw Adesina dumping the child.
The official was said to have walked down to the spot and found the baby naked in the bag while the mother had fled.
"The street lights around the bridge exposed the woman. The officer spotted from distance that someone dropped a bag and started running.
He quickly moved towards the bag and when he saw that it was a baby that was packaged inside it, he chased the woman and arrested her," the statement said.
Narrating why she took the action, Adesina alleged that her mother had sent her and the baby out as she could not identify the baby's father.
"I dropped out from school due to poverty while in JSS 2. I was living with my mother at 26, Coker Street, Ejigbo, Lagos after my father died nine years ago.
My mother sent me out because I gave birth and could not identify the man who impregnated me as different men slept with me."
Confirming the arrest of Adesina and rescue of the baby, the State Commissioner of Police, Fatai Owoseni, said he has ordered the immediate transfer of the baby and his mother to the Social Welfare Department of the Lagos State Ministry of Youths and Social Development.
JOIN OUR PULSE COMMUNITY!
Recommended articles
Top 10 African countries with the highest cost of electricity in 2023
Top 5 largest economies in East Africa ranked
Meet the Sapeurs, Congolese who wear expensive outfits though they live in poor communities
Top 10 African cities with the highest purchasing power
10 African countries with the highest fertility rate in 2023
5 ways to spot a sex addict or know if you are one
Top 10 African countries leading in attracting and retaining talents
Top 10 African cities with the most expensive real estate
Niger, Mali, and Burkina Faso to form a federation