Woman rescued by police during attempt to jump into Lagos Lagoon
The Lagos State Police Command has rescued another person attempting to commit suicide along the Third Mainland Bride in Lagos state.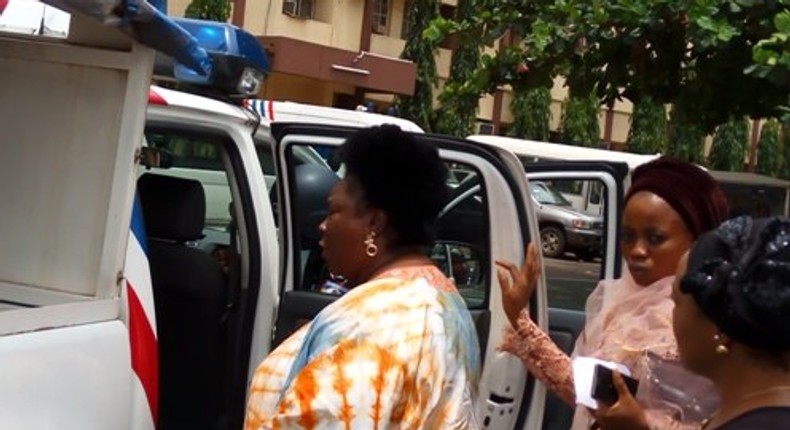 This comes days after a medical doctor, Allwell Orji jumped into the Lagoon from the same bridge with his remains retrieved from the water on Wednesday, March 22, 2017.
Speaking with newsmen at the Rapid Response Squad, RRS, headquarters, Lagos Government Secretariat, Alausa, Lagos, Southwest Nigeria on Friday, the Lagos State Commissioner of Police, Fatai Owoseni, said that Momoh was in a taxi heading towards Oworonshoki on Third Mainland Bridge when she told the taxi driver to stop on the bridge.
The CP went to say that the woman was about to jump into the water when a police patrol team on a routine patrol on the Third Mainland Bridge sighted her and rushed to save her before she jumped into the Lagoon.
"She attempted suicide by attempting to jump into the Lagoon around Oworonshoki inward Mainland on Third Mainland Bridge. Unfortunately for her, she was rescued. The woman was in a taxi and alighted on the bridge and wanted to commit suicide by jumping into the Lagoon.
"The police patrol team sighted her and rushed to rescue her before she jumped into the Lagoon," he said.
Owoseni gathered that the woman was suffering from depression as a result of unpaid loans following his interaction with her, concluding that "she is still insisting that she wants to end her life."
He noted that committing suicide is an offence under the law but that the police would try to talk the woman out of committing suicide.
According to him, the woman would be taken through post-trauma programme to ensure that she finds hope and not commit suicide, adding that the police would do a medical evaluation on her to ascertain her condition.
Owoseni lamented the rate at which people have been committing suicide in the country, describing it as worrisome, adding that the police had begun patrol of bridges across the state to forestall other cases of suicide.
He added that individuals are no longer allowed to walk on bridges in the state and vehicles are not allowed to stop on any bridge henceforth, as it has been made an offence in a bid to forestall suicide incidences.
"Right now, the woman is still in trauma and she still insists that she wants to end her life," he said.
However, as the woman was being led from the RRS headquarters into a waiting police vehicle, she was confronted with several television cameras and still cameras forcing her to react by saying that she was not a criminal and that her shots should not be taken.
JOIN OUR PULSE COMMUNITY!
Recommended articles
10 African countries with the highest debts to the IMF
Meet the Sapeurs, Congolese who wear expensive outfits though they live in poor communities
Egypt's richest man joins trending billionaire migration to UAE
10 African countries with the largest population lacking electricity
World Bank to provide electricity for 100 million Africans by 2030
Top 10 African cities with the highest purchasing power
10 African countries with the highest fertility rate in 2023
Demand for used cars in Nigeria surges amid high inflation and declining GDP
5 ways to spot a sex addict or know if you are one