How weed moved from Erico's pitch to the living room
There has been a huge increase in Nigeria's drug use over the decade and if not checked could turn into an epidemic.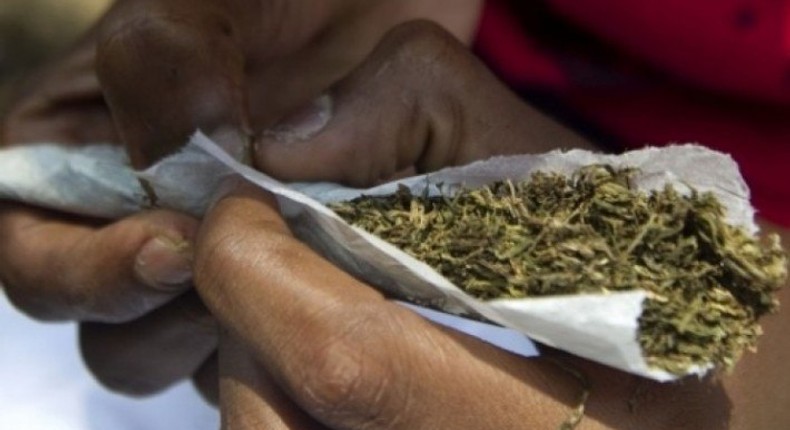 As a teenager in Lagos when
The custodian of that pitch was a man named
Needless to say after we discovered Erico's grass, a lot of boys got hooked on Erico's other grass. Before a quick game of 'ball,' guys would smoke a few joints, and after a few sets of tanning soccer, guys would blaze up before heading to class or extra lessons. They were a few high men in class during a double period of Maths in those days.
The closest I had gotten to weed before Erico's pitch was circa 1997 when my father took me to buy a Fela cassette in front of the old Afrikan Shrine located at Pepple Street in Ikeja which has long been swallowed up as part of Computer Village. When my father rolled down the window of his Peugeot 505 to give the Shrine boy cash in exchange for a Fela mixtape, I smelt reefer for the first time.
A year or two later, sons of senators and moguls puffed on Erico's weed. Marijuana was really the only drug that most young people could do. Cocaine was a myth on the streets of Lagos. Yeah we knew people peddled it abroad but the only time we saw it was in '' or the Hip-Hop movies of the early 90s.
Today, the use of marijuana is full blown among young people. There is hardly any social gathering where you won't smell burnt sativa or indica in the air. It's the norm.
Neighbourhood weed men are a dime a dozen now and just like on Erico's pitch, children of middle income earners and the 1% are part of the weed culture. The New Afrikan Shrine welcomes all types during Felabration when Afrobeat is loud and weed smoke is thick.
"So, why don't you smoke weed?" a babe asked me near a swimming pool in a luxury apartment she was living in the heart of Lekki. "No reason" I told her. I get this question all the time. Hanging around artistes, creatives who need a bit of that Mary Jane to get into that creative zone has made me a target for this question. Why don't I smoke weed? I don't need to. The chick burnt a roll of 'skunk' with her lips as I hoped to score.
In certain circles, a guy or chick who doesn't indulge in the highness of marijuana is seen as a unicorn. This is how much the herb has permeated the everyday living of many young people. The good news is weed is not the evil grass that the colonials told us it was. The bad news is that there are millions of Nigerians doing way more than weed.
Allen Avenue, commercial road strip by day and seedy avenue by night. I was in a cab in Allen Avenue one night and the Taxi driver struck up a conversation with me because of the bag I was carrying.
"Oga, I hope say nothing dey that your bag?" asked the cab man. I told him nothing incriminating was in it. The driver was fearful that when we got to a checkpoint the police will find something incriminating in my bag which would mean trouble for him.
After a couple of minutes he told me of how a young woman entered his cab and the police found cocaine in her bag. "Oga no mind all these small, small girls them. Na so them dey do. Na all of them dey take cocaine now" he revealed to me in Pidgin English.
Cocaine that we saw Tony Montana sniff on his desk is now on the streets of Lagos. Years before my encounter with the cab man, a promising young guy in my church started doing cocaine and became an addict. Stints of rehab couldn't help him. He later died.
Once used as a route to export cocaine to Europe, Nigeria is now a consumer. Cocaina can now be gotten and sniffed if you have the right plug.
It's more than cocaine though. Codeine, Ice, Arizona, Refnol, Perocet, Xanax and others have joined the list of drugs for the bad gang generation. Weed is like nicotine. These other drugs are the new marijuana.
Those arrested (names withheld), include four Nigerians believed to be joint owners of the said laboratory and four Mexicans, who are methamphetamine production experts, hired as technical partners.
The laboratory had the capacity of producing between 3,000kg and 4,000kg of methamphetamine per production cycle.
In July 2016, the story of a cocaine sniffing, mi-fi stealing chick trended on Twitter. While some gasped in horror, others were familiar with the scene, a young woman making cocaine lines with her ATM card. While the NDLEA and its cheesy posters of drug abuse deceive the higher-ups that something is being done against drugs, the truth is that nothing is being done.
As a teenager I saw my friends do weed. Today, a teenager would have most likely seen his friend likely do codeine, skunk and refnol. If you think Lagos is bad, then wait till you get to Abuja. The drug culture is booming as kids of politicians who have bled our country dry drive expensive cars in illegal street races and swallow any pill in search of the new high.
Rich or poor, there is a restlessness among Nigerian youths. Many have been disillusioned by a nation that has failed to take care of its young ones and neglected its kids. To get away from the frustration and hardship, a stick of weed or a cup of codeine might just do the trick. For the rich ones, boredom and peer pressure leads them to drugs.
Nigeria is sitting on a drug epidemic. Forget marijuana, several countries are moving towards legalizing it. Hard drugs like cocaine should be fought against or else what happened in America in the 80s with the crack epidemic will happen here.
JOIN OUR PULSE COMMUNITY!
Recommended articles
Despite $3 billion bailout, Ghana has essentially gone bankrupt
Why guests had to squeeze between 2 naked models to enter an art show
Davido, Zlatan, Falz, others attend Mohbad's candlelight procession in Lagos
Tinubu approves salary increase for Federal Tertiary Institutions
Mohbad's sympathisers dispersed with teargas at Lekki tollgate after procession
4 highlights from Thursday's pool party on 'BBNaija All Stars'
My marriage is sweeter than what you see online - Regina Daniels
Burna Boy shows love to Ghanaian market women dancing to his song [VIDEO]
Stop asking for a DNA test - Mary Njoku defends Mohbad's widow Omowumi