Mysterious site pops up, promises to refund Ponzi scheme investors
A new mysterious site has popped up claiming to refund MMM Nigeria investors of their money.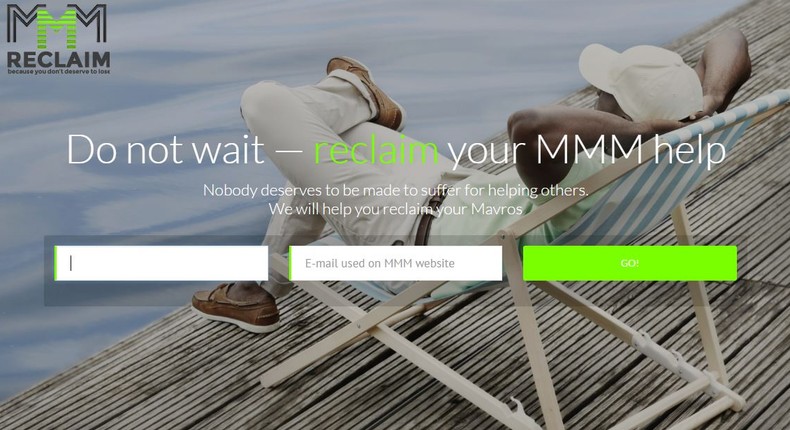 On the MMM Reclaim website, it is stated that it will help MMM Nigerian investors reclaim their Mavros. "Nobody deserves to be made to suffer for helping others. We will help you reclaim your Mavros" promises the website.
To reclaim your Mavros, the site requires you to fill in the name and email you used to register your MMM account.
There is no proof that this site is authentic and the promoters of MMM are behind it. The method of how the investors can reclaim their money is also not specified on the website.
The website www.kenya-mmm.net has gone live and the domain name was created on Friday, August 12, 2016.
MMM Kenya promises better returns for investors in the Ponzi scheme. In Nigeria and South Africa, MMM promised a 30% return for people who participated in the pyramid scheme. MMM Kenya promises 40% returns. "40%" was written boldly and clearly on the website.
MMM Kenya domain's name was registered in 133, Sakura House in Tokyo, Japan. The registrant's name is Anonymous Speech.
MMM Kenya already has a Facebook account and YouTube account. Kenyans are already trooping to sign up for the Ponzi scheme. There are already hundreds of testimonies and presentations on the YouTube channel.
The Ponzi scheme has already crashed in South Africa and Zimbabwe.
JOIN OUR PULSE COMMUNITY!
Recommended articles
When women don't wash their bras often, these 5 things happen
BBNaija's Maria announces birth of her baby boy named Leonardo
What Chicago State University documents reveal about Tinubu
DIY Recipes: How to make bread pizza pockets
11 things to do when travelling to another country
Pastor enters zoo, plays with lions to prove to church members that he's powerful (video)
Top 10 African countries with the cheapest data prices from June to September
3 food items legal in Nigeria but banned abroad
Venita, Soma and Angel get evicted from Big Brother Naija All Stars