Visual artist drops unapologetically black music video 'Mama Africa'
Laolu Senbanjo drops a music video that aims at inspiring to move on beyond the result of the US Presidential election.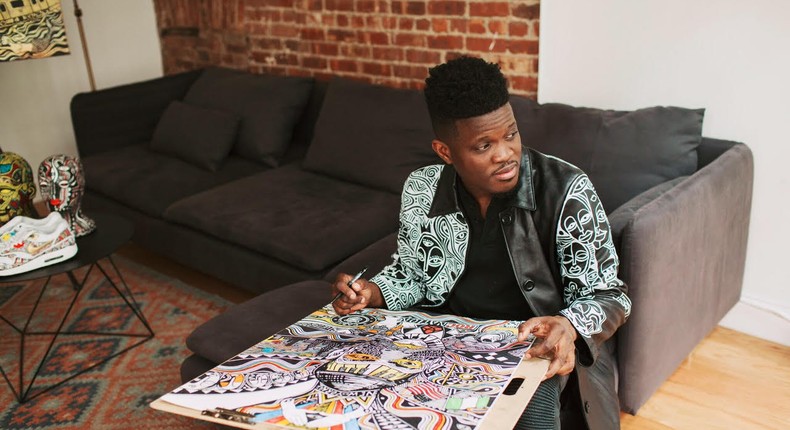 Laolu Senbanjo, the Nigerian born and bred artist is out with a new music video titled 'Mama Africa'.
The music video is made up of Senbanjo's patent Afro-mysterics visuals, white swirling and enchanting designs which he calls .
The video is an unapologetically black video that is conscious and illuminating as well. On the song itself produced by Simon Sez who is based in New York, Laolu Senbanjo spits consciousness in English and Yoruba rhymes.
The video was inspired by Jesse Williams at the BET Awards in 2016. At the beginning of 'Mama Africa' excerpts of the speech were used.
The video was released on Monday, November 7, 2016 a day before the US presidential elections. The video was meant to encourage Africans in Americans who could vote to go the ballot box and make a change.
With Donald Trump now the President-Elect, Laolu Senbanjo is spreading a new message through his video. " Not the time to sulk or mourn. It's time to organize. My People, I know you are in a state of shock, I am too. However, it's not a time for sadness but a call to action. This is a time to rally together and now truly own your citizenship, rise up, stand up and fight the real fight for what we believe in. Let's make sure, we, the not so silent majority that I know exists is heard. We cannot sit and be disillusioned but use our fear as a weapon to unite and use it as our energy to affect change" he wrote on his Instagram page yesterday, Wednesday, November 9, 2016.
Laolu Senbanjo first made noise when Nike picked him to create a special Air Max with African themed design in March 2016.
His big break would come in the following month when Beyonce released the visuals to her album Lemonade. In one of the videos, Beyonce's dancers were painted in Laolu's patent designs.
Since working with Beyonce, Laolu has painted on the likes of Seun Kuti, Jaden Smith, Davido, Alicia Keys, Swizz Beatz, Ibeyi, and others. Getting the cool Sacred Art of the Ori is the new cool among American celebs.
JOIN OUR PULSE COMMUNITY!
Recommended articles
Africa's richest woman Isabel Dos Santos finds herself deep in another financial scandal
BREAKING: No more fuel subsidy - President Tinubu
Buhari confers national honours on Emefiele, Remi Tinubu, Terry Waya, others
Top 5 Nigerian chefs with the best Instagram content
FULL TEXT: Inaugural speech of President Bola Ahmed Tinubu
Net worths of Africa's richest people in the top 500
Top 10 richest mineral-producing countries in Africa
Veteran Nollywood actor Adewale Adeyemo is dead
Top 10 African cities where it is most expensive to get food