Community disgraces old woman caught having sex with lover
An old woman who was caught having sex with a younger man in a bush in Ebonyi State was given the disgrace of her life.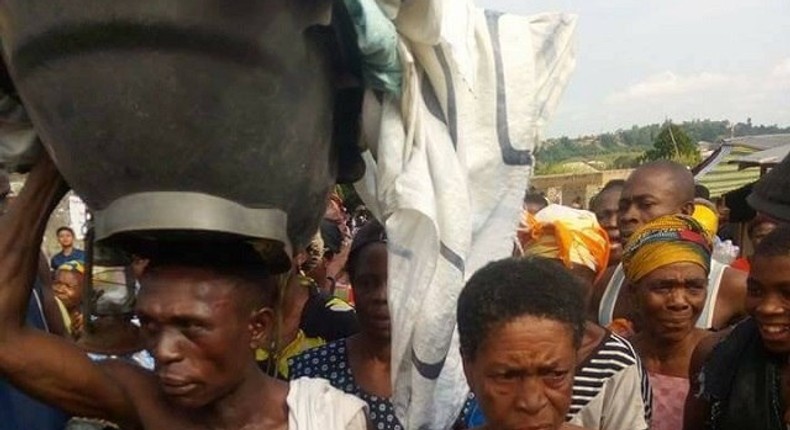 An old woman who was caught
According to Egonnia Oko, a member of the community who witnessed the ugly scene and posted it on Facebook said the old woman who is probably in her 60s, was caught with the young man making love in a bush and were forcefully paraded around the community half naked.
The disgraced lovers were also forced to dance to the beating of drums by the villagers after which they were chased out of the community with their belongings as people felt their act was an abomination and could bring calamity to the land.
This is how Oko captured the shameful scene.
"I wonder why this woman did this. This old woman was caught making love with this young guy in Amauzu Mkpoghoro in Afikpo North Local Government Area of Ebonyi State.
She was made to dance around Afikpo with her baby daddy. What a shameful act."
However, many people have been condemning members of the community for the act believing the lovers have a right to their privacy and what they did was nothing that could warrant such embarrassment and banishment.
JOIN OUR PULSE COMMUNITY!
Recommended articles
3 food items legal in Nigeria but banned abroad
Top 10 African countries with the highest crime rates
5 Nollywood historical films you should see on October 1
6 key figures who paved the way for Nigeria's Independence in 1960
Top 10 African countries with the cheapest data prices from June to September
Venita, Soma and Angel get evicted from Big Brother Naija All Stars
Here's why guinea fowls make great security guards
How Editi Effiong delivered a global hit with 'The Black Book' [Exclusive]
The World Bank has warned that Nigeria may bear some of the brunt of the Niger coup