The Nigerian comedian behind one of the biggest memes of 2017
Kayode Ewumi is the star and genius behind the 'have sense' meme of 2017.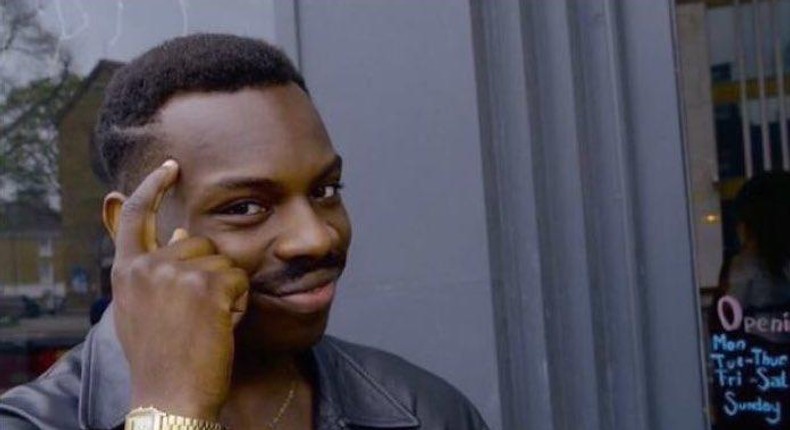 You have seen the meme and its gif counterpart over and over again on your timeline.
The meme of a black man with a knowing smile, with his finger, pointed at his head is one of the best memes so far. The meme usually accompanies a hilarious tweet that states the use of common sense. For example, check the tweets below;
The man in the meme is the 23-year-old actor Kayode Ewumi. He plays the role of Roll Safe, a hilarious character who thinks he is a grime rapper of enormous talent and street cred. He actually is a waste man as they say in England.
The famous meme is taken from an episode of '' by BBC Three. The title of the episode is 'Happy Belated'. The series is shot in a faux-reality show style where Roll Safe displays his several acts of stupidity.
In this particular episode, Roll Safe makes a terrible joke about his date's intelligence than looks at the camera and points his finger to his head. In Roll Safe's world, he just made a dope joke when it was obviously terrible.
Like every other viral content, Roll Safe's funny gesture was on the Internet for months before it got to Twitter and blew up.
"Everyone knows someone like RS, no matter what context [it's in]. He's that guy in the hood convinced that he knows everyone and everything" he told VICE in January 2016.
Before BBC Three picked up Hood Documentary, Kayode Ewumi and his partner Tyrell Williams shot the fake reality show and uploaded it to YouTube in October 2015.
Hood Documentary Episode 1, was a viral smash in London. Everyone couldn't get enough of the mad man who had no iota of talent and fame. It racked up an insane number of views in a short while.
Encouraged by the success, Episode 2 was uploaded on YouTube and taken down shortly after. This did not stop Roll Safe's momentum.
The British-Nigerian who studied Theater at Coventry University and was nominated for the 2016 BAFTA for his role as Roll Safe.
In 2016, BBC Three picked up the series and hosted subsequent episodes on its YouTube channel.
From the buzz of his Internet series, Kayode Ewumi was picked to be part of the remake of the 1970s sitcom 'Are You Being Served?'
JOIN OUR PULSE COMMUNITY!
Recommended articles
Rick Ross declares interest in Ayra Starr
Nigerian actor Hawwal Ogungbadero, 29 others set Guinness World Record for longest recording session
Nigerians express concern over immediate implementation of subsidy removal
10 African countries with the lowest digital quality of life index
Study shows men have been peeing wrong; they ought to sit and not stand
Shaffy Bello opens up about her split from husband after 25-year marriage
Fuel prices will go down after removal of subsidy, says NNPC CEO Kyari
Nigerians react as Tinubu's daughter declares self as Iyaloja General of Nigeria
Veteran Nollywood actor Adewale Adeyemo is dead