Husband pours fuel on wife, sets her ablaze in Benin
A man has been declared wanted after he poured petrol on his wife and set her ablaze in Benin.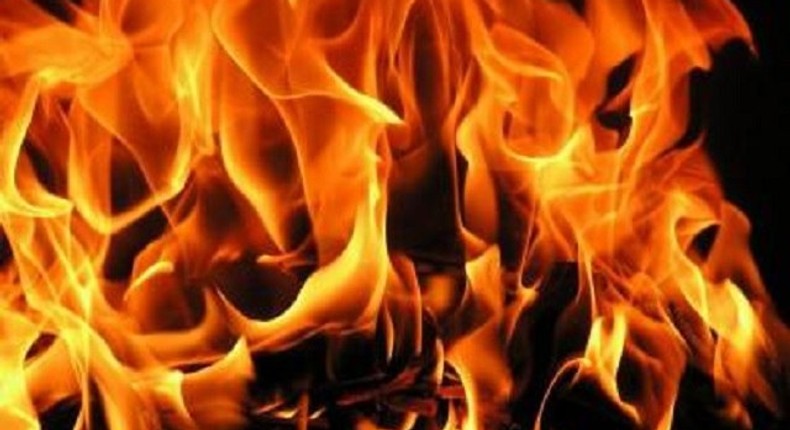 A man has been arrested after he poured petrol on his wife and
It was gathered that the shocking incident happened on Saturday, June 11, at the family JB Street, Ekosodin Ugbowo, around the University of Benin.
An eyewitness narrated how the ugly incident happened:
"The place is actually a campus area and I happen to live there because of the nearness to school. I heard a noise outside and decided to know what's going on. At first I thought It was normal cultist fight again, not until I saw people crying.
I was so scared and asked what happened and I was told that a man poured fuel on his wife and set her  ablaze and ran away.
This ; the weavon she fix peeled off on her skin. Her skin was in layers and were all gone as at the time I ran out. She was rushed to the hospital but I heard hospitals are on strike, so I don't know how she's going to survive the terrible burns and pain."
"Everyone is saying different versions of what happened to the woman. Some men are wicked ooo, ladies please be careful of the kind of men you marry. He will either make or mar you."
JOIN OUR PULSE COMMUNITY!
Recommended articles
Top 10 most ethnically diverse countries in Africa
African countries with the cheapest household electricity prices
Top 10 African countries producing Palm Oil
Top 10 African cities with the highest population growth from 2022 to 2023
Kenyans in diaspora tend to send more money home the weaker the Kenyan shilling gets
PTAD set to unveil "I Am Alive" confirmation portal for pensioners
Train crash: Bus driver begs for forgiveness after psychiatric, drug tests
Top 10 African countries with the most transparent GDP data
5 ranking PDP lawmakers who became Labour Party casualties