'Badoo gang sells blood-stained handkerchiefs for N500K' - Police source
An alleged suspected member of the Badoo Cult gang has told the police that they sell bloodstained handkerchief to top politicians for huge amounts of money.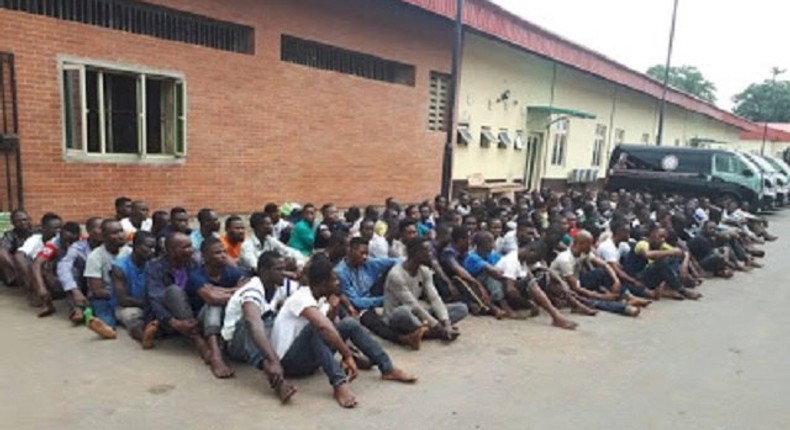 Reports have emerged that members of the deadly
This much was revealed by a police source who said one of the suspected gang members arrested over the weekend during a raid in the Ikorodu area of Lagos State confessed to their activities.
Recall that the gang has this ingenious way of killing their victims where they use grinding stones to hit them on the head and use handkerchiefs to wipe away the blood and brain membrane before disappearing into thin air.
The police source explained what one of the suspects said thus:
"The suspect who has confessed to being a member of the gang, say they sell one handkerchief containing the blood and brain of their victims for N500,000 to highly placed Nigerians."
The officer added that on further interrogation, the suspect confessed that their customers place so much demands on them that they had to meet up with the demands by all means because they pay up immediately they deliver.
He added that the suspect said many members of the gang are spread all over Lagos waiting for an opportune time to strike.
"The police is now investigating the veracity of that information and we have engaged in joint operations with the Rapid Response Squad (RRS), Department of State Services (DSS), Lagos State Task Force, the Oodua People's Congress (OPC) and local vigilance groups to raid the dreaded group's black spots at Igbobo/Bayeku, Ibeshe, Ijede and Imota at the weekend," the police source added.
In the raid that took place on Saturday, July 1, 2017, the police arrested over 100 suspects and are currently undergoing interrogation and screening to determine their level of complicity in the dreaded gang while any found to be innocent would be released immediately.
JOIN OUR PULSE COMMUNITY!
Recommended articles
3 food items legal in Nigeria but banned abroad
Top 10 African countries with the highest crime rates
5 Nollywood historical films you should see on October 1
6 key figures who paved the way for Nigeria's Independence in 1960
Top 10 African countries with the cheapest data prices from June to September
Venita, Soma and Angel get evicted from Big Brother Naija All Stars
Here's why guinea fowls make great security guards
How Editi Effiong delivered a global hit with 'The Black Book' [Exclusive]
The World Bank has warned that Nigeria may bear some of the brunt of the Niger coup