'I have spiritual problems' - Driver arrested for suicide attempt
A driver who attempted to kill himself in Abuja has been arrested and says there are some evil forces manipulating him.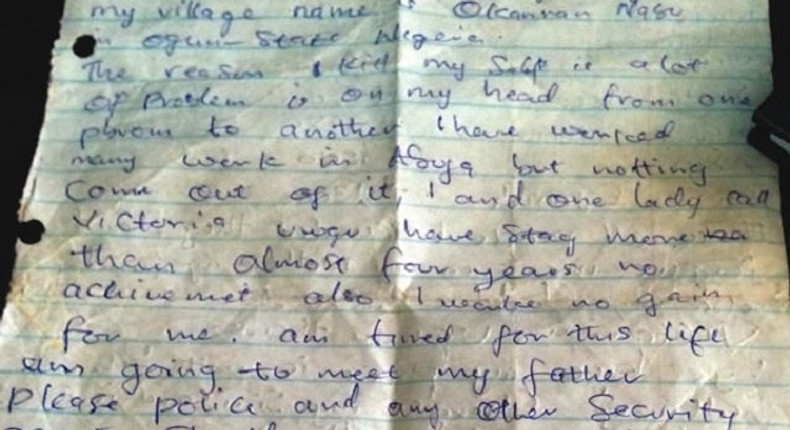 The Badagry, Lagos State born Elegbede, according to Inside Abuja, who tried unsuccessfully to kill himself behind a primary school in Zanda, a suburb of the city, has, however, blamed some evil forces behind his attempt.
The 48-year-old man who has one child told the police he was not himself when he climbed a tree in a bush with a rope with the intent of hanging himself before he was rescued by passersby.
It was, however, gathered that Elegbede who works with a construction company in Abuja, had twice attempted to commit suicide but always with the last one leading neighbours to inform the police of his actions.
Before the latest suicide attempt, Elegbede had reportedly written down a note in which took responsibility for his planned action, asking for forgiveness from his family, neighbours, and creditors.
While being interrogated, Elegbede said:
"I started having strange dreams in which I find myself having intercourse with strange women and even animals.
I worship at the Mountain of Fire and Miracle church in Abuja, but I couldn't go for prayers or deliverance because I work from Monday to Sunday and there was no time for any other thing.
I believe my problem is spiritual because I can't even explain how I found myself on the tree with a rope to hang myself.
I strongly believe some spiritual forces were behind my problem because while I was in the cell last Saturday, I had a wet dream in which a dog was licking my private parts."
The FCT Police Commissioner, Muhammed Mustafa, said the suspect would be arraigned in court after investigation, adding that attempted suicide was a criminal offense.
JOIN OUR PULSE COMMUNITY!
Recommended articles
Meet the Sapeurs, Congolese who wear expensive outfits though they live in poor communities
Nigeria's currency hits a new record low on the official market
Top 10 African cities with the highest purchasing power
Aliko Dangote announces refinery license to process 300,000 barrels of Nigerian crude daily
10 African countries with the highest fertility rate in 2023
Top 10 African countries leading in attracting and retaining talents
Top 10 African cities with the most expensive real estate
7 reasons women don't get wet even when aroused
4 African countries are responsible for 70% of the chocolate in the world