Former Abia governorship candidate beats wife to stupor
A prominent politician and former governorship candidate in Abia State has been accused of being a wife beater.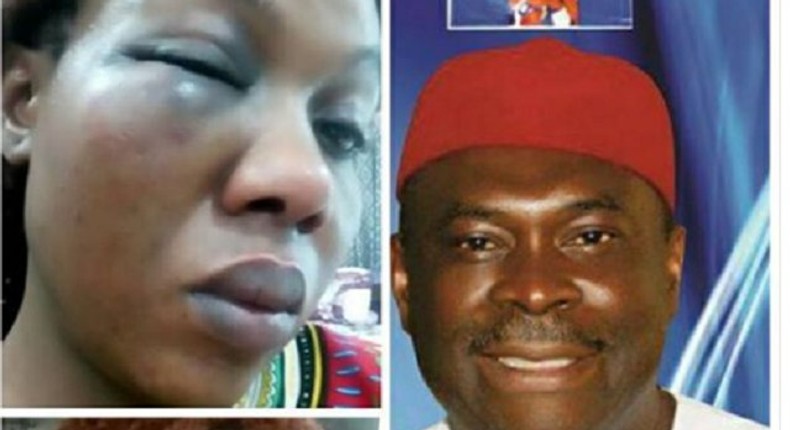 A former governorship candidate on the platform of the Peoples Progressive Alliance (PPA) in Abia State,
His wife's niece, Irene Amos Abbott, took to her Facebook wall to narrate how Chief Udensi, a former National Chairman of the Association of Local Governments in Nigeria (ALGON) in the state, brutalized his wife, Chidinma Udensi, beating her blue-black because she asked him for a divorce.
"PLEASE EVERYONE KINDLY SHARE TILL HELP COMES AND THIS MAN IS DISGRACED AND KNOWN FOR HIS EVIL!
Former ALGON national chairman and PPA gubernatorial candidate for Abia state 2015, Chief Chikwe Udensi is a violent abuser and has decided he'll kill his wife, Dinma Udensi, who's my aunt.
It started as a normal couple argument, then slaps to minor beatings, and now major beating to the extent of almost disfiguring her.
She has tried to endure but it's getting worse each day so. Now she will no longer stay in this marriage and die. NO WAY!!!
She has asked for divorce and he beats the hell out of her for bringing it up, because it'll dent the image he has made society believe of him; she's currently under lock and keys and he's not letting her go out.
She sent out an SOS and has asked that her story is made public. He's very influential with the police force, so it's almost impossible to rely on them.
He constantly threatens to kill her or take away her kids if she sneaks away. She has tried to leave many times but security is tight.
She's terrified of him and is a shadow of herself but after years of domestic violence, she has become bold enough to go public about it.
If nothing is done, God forbid her corpse is the next we'll see! This isn't the first, second or third time, it has been happening and she's had so many hospital visits to treat the injuries inflicted on her by him.
Chikwe Udensi is a womanizer, a violent abuser, arrogant and almost heartless. I'm calling on human rights activists, lawyers and just anyone that can help free this woman. No one deserves to die in marriage NOBODY!"
"Please share till this goes viral, Chidinma is asking that this is made public before she's beaten to death.
PLS PLS share as if she's your sister, niece, daughter, sibling till help comes. If you can help or know anyone who can help, kindly mail: savechidinma@gmail.com
Efforts were made to contact the victim and she confirmed what her niece has said.
Is there anyone out there who can help this woman?
JOIN OUR PULSE COMMUNITY!
Recommended articles
Africa's richest woman Isabel Dos Santos finds herself deep in another financial scandal
BREAKING: No more fuel subsidy - President Tinubu
Buhari confers national honours on Emefiele, Remi Tinubu, Terry Waya, others
Top 5 Nigerian chefs with the best Instagram content
FULL TEXT: Inaugural speech of President Bola Ahmed Tinubu
Net worths of Africa's richest people in the top 500
Top 10 richest mineral-producing countries in Africa
Veteran Nollywood actor Adewale Adeyemo is dead
Top 10 African cities where it is most expensive to get food