Nigerian woman who killed husband for insurance gets life
A Nigerian woman who hired assassins to kill her husband in the US so she could get his insurance money has been sentenced to life imprisonment.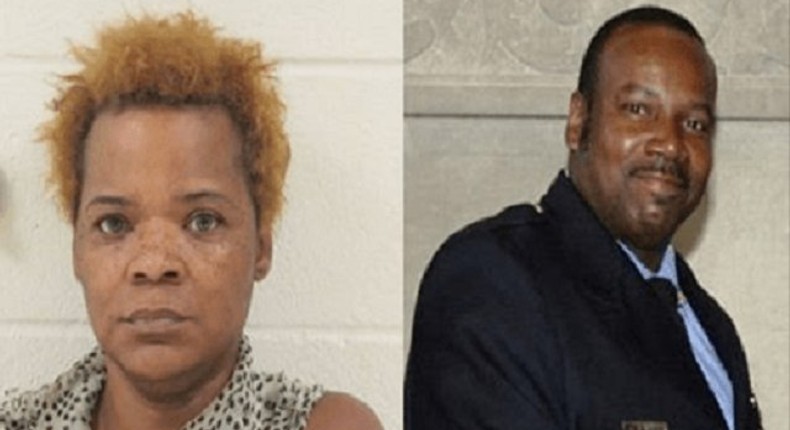 Cleveland.com reports that Uloma who was 44 at the time of the murder, and her firefighter husband, Lt. William Curry Walker, had been married for just four months when she contracted the trio of Chad Padgett, 21, Christopher Hein, 22, and Ryan Dorty, 23, to kill him so she could collect on his life insurance policy and cover up financial fraud she committed in her husband's name.
She was convicted of aggravated murder in a scheme that was flawed from the start, according to the court reports because Walker's ex-wife was still the beneficiary of his policy.
Walker-Curry's trial began on June 21, 2017, and she did not take the stand in her defense and would be sentenced on August 8.
Prosecutors said she was nearing financial ruin after running up tens of thousands of dollars in debt when she asked her then-17-year-old daughter and the daughter's boyfriend to find someone to kill her husband so she could collect the insurance money.
But a police investigation found that Walker-Curry's scheme had a glaring problem from the outset as her husband had not yet changed the beneficiary on the insurance policy from his ex-wife's name to hers at the time he was murdered.
Testimony showed that Walker-Curry gave Padgett who was her daughter's boyfriend, a $1,000 down payment to carry out the murder.
Padgett then contacted his cousin Hein, who initially failed in his attempt to kill Walker, and then turned to Dorty who did the actual killing of the fireman.
Prosecutors told the court that Dorty ambushed Walker and shot him four times as he returned home from getting fast food his wife had requested.
During the trial, Uloma's daughter, Padgett, Hein, and Dorty had testified against her as part of a plea bargain deal for their roles in the murder conspiracy.
While Hein agreed to a sentence of 18 years to life, Padgett accepted 28 years to life sentence while and Dorty got 23 years to life.
JOIN OUR PULSE COMMUNITY!
Recommended articles
'I started using the pill after sex because I don't trust men'  - Single woman
Mohbad did not die in our facility, he was dead on arrival - Hospital
5 outfits for 5 days of work inspired by Regina Daniels
Mohbad records 6 entries in top 10 of TurnTable Top 100
Economic challenges ahead: Nigeria and South Africa told to prepare for a tough 2023
'The Black Book' is number 1 on Netflix in 12 countries
Ogun Govt cancels Independence Day celebrations 'to reflect the mood of the nation'
Over 25% of the men who requested DNA tests weren't biological fathers - Report
Venita, Soma and Angel get evicted from Big Brother Naija All Stars