Show Dem Camp's "Palmwine Music" is too good, too local
This approach to creating music works wonders, and unlocks another layer of artistry for SDC, which is intelligent, promising, and extremely wavy.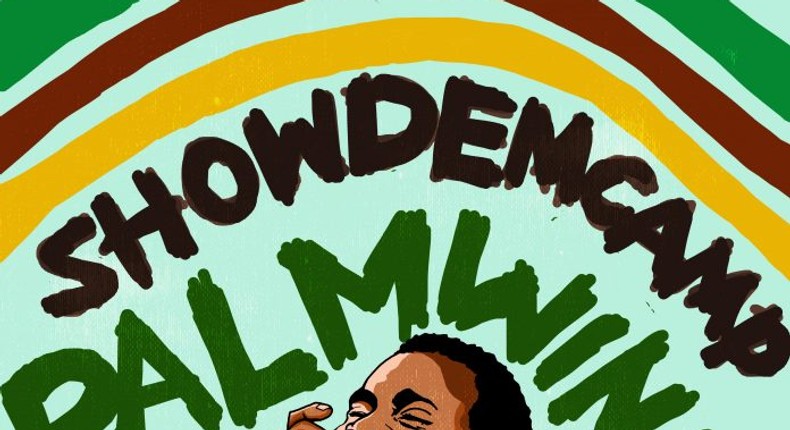 EP - Palmwine MusicArtiste - Show Dem CampRecord Label - Rade Gold Entertainment (2017)Duration - 23 minutes
There's something very precise about the way this project was being marketed.
The "Palmwine Music" title is a gimmick. It taps into the local parlance for relaxed music, and conjures images of people winding down. The artwork is another gimmick. It features the doctored image of a man about to drink prime local stuff from a traditional gourd.  It is conceptual and direct. Throwing fans the full weight, (or is it the full splash?) of what they will be in for.
On the last day of 2016, ShowDemCamp (Tec & Ghost) dropped an impressive project; "Clone Wars 3," which housed outstanding material. The general expectation from them comes nowhere close to what they have done. SDC were expected to chill take it easy, and come back perhaps later this year.
And yes, they chilled. But in a creative way. The chill created 'chill' music and it is what they are serving as their new project. Ironically, they have no chill.
"Palmwine Music" is drawn primarily from traditional local sounds. Gone is the traditional verve and vigor that marks a typical SDC project. Also gone are the hard bars, biting lines, and punchlines. Highlife is the core focus, with sprinklings of Afrobeat, and House. Percussive melodies bleed into one another both between tracks and within them, making the listening experience feel almost classical.
It is the quintessential relaxed project, one which prioritizes vibes over matter. Funbi is syrupy on opener 'Up to you', as Tec opens up the project with a verse. And this is where you begin to gauge their comfort levels on this.
While Tec seamlessly blends in with the vibe and flavor, Ghost does the opposite. He grinds through the record, his gruff voice attacking the instrumentals with ferocity. And although he adds a layer of enjoyment to the Palmwine groove, he sticks out every time he opens his mouth. Much like an intelligent over-aged kid in class. He belongs there, but stands out.
BOJ is a low-key winner on this project. The singer epitomizes this approach; cool, relaxed, with just enough sauce to keep you conscious. He works his angle on 'Compose' and 'Popping'. Tomi Thomas is the star attraction of 'What you want', as he blends vocals with the tropical house of the record to provide an interlude. There's also space for Odunsi and Poe, who complete the cast for the project.
Thankfully "Palmwine Music" does not take itself seriously. It exists for light enjoyment, with verses created to form a part of the whole, rather than stand out. This approach to creating music works wonders, and unlocks another layer of artistry for SDC, which is intelligent, promising, and extremely wavy.
1-Dull2-Boring2.5-Average3-Worth Checking Out3.5-Hot4-Smoking Hot4.5-Amazing5-Perfection
JOIN OUR PULSE COMMUNITY!
Recommended articles
Davido hints at possible collaboration with Wizkid
BBNaija's Nini says 'yes' to Saga as they take things to next level
Police arrest Portable after refusing to honour invitation
ISWIS, first African Podcast London live show ticket sold out in less than 3 hrs
Top 5 female directors in Nollywood
5 epic celebrity fights that will forever go down in history
Top 3 female producers reimagining Nollywood
7 of the most influential female filmmakers in Nollywood
Wizkid instructs his fans to stream Davido's album 'Timeless'
Manchester United identify Portuguese goal-machine Goncalo Ramosas Osimhen alternative
Giannis Antetokounmpo outshines Jordan Nwora as Bucks set record against Pacers
NPFL Review: Rangers continue to flirt with relegation, 3SC vs Plateau produce another classic
Arsenal reach first Champions League semi-final in 9 years with victory over Bayern