Top 9 worst Nollywood actors ever
Who is on your list of worst Nollywood actors ever? Starring in a box office hit or an entertaining movie doesn't make a horrible actor 'good.'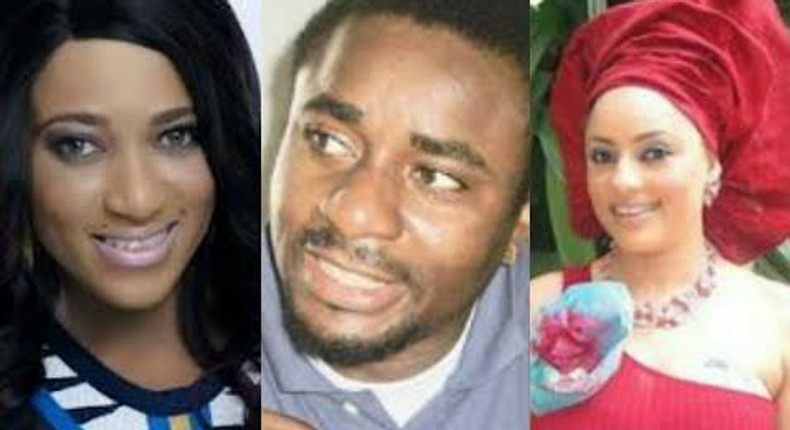 It's without doubt an obvious fact that there are more bad actors than good ones in the Nigerian movie industry.
The horrible thing about some Nollywood actors is that they suck at interpreting roles, and would go on a ranting trip once a negative review is published. Also, some actors think that starring in all the cinema movies and 'box office' hit movies means they are good(brothers and sisters, connection can make anyone 'big').
The truth is, being a part of a good movie or having your movie make over a billion naira in the cinema, doesn't take away bad acting.
Thanks to social media and new PR techniques, every movie can be the most watched movie in the cinema, every movie can be popular, every movie can have a successful cinema outing - all it takes is hard work on the part of the cast and crew.
In a recent interview with Pulse Nigeria,
"Unfortunately for us, for most of those who have been working in the industry and  who have no training whatsoever, because the media is there hyping them, they don't realize that they don't have the skill, yet they are not willing to come back to learn. And that is really sad," she said.
Today is all about actors we think should take acting classes, or maybe repeat their classes if they have ever had one. Unfortunately, I can't even say who needs to embark on one or have a repeat, since most of our actors and filmmakers are yet to have websites or a useful Wikipedia page.
There are so many things Rukky Sanda should be allowed to do in this world, but acting and producing shouldn't make the list. She is one actress who is good at making the most star studded films you can think of in Nollywood, and probably they make the number one position too at the box office.
Her first self-produced movie I had the 'pleasure' of watching was "Keeping My Man," and while it's one of those movies that would make you laugh, her acting was zero. Move on to her next movie which I thought would have made my friends and I laugh - "Gold digging." As usual, it had a big star, Yvonne Nelson, and this time around, Sanda's acting wasn't the only heartbreaking part of the movie, the story also was.
I gave up on anything with a Rukky Sanda attached to it, after I bought a DVD copy of her movie "More Than Friends," and she had to use another big name - John Dumelo.
She has her fan base, and she probably keeps making her income, so I guess she can keep acting for that huge fan base. Let's not even talk about the way she responds to negative reviews.
Her beauty and hard work isn't in question, but her talent is . From the days of "Outcast" to the days of "Not Man Enough," the actress always delivered a cringe-worthy performance. She is an incredibly boring actor who needs to seriously consider acting classes.
Bach recently returned to Nollywood in "One Good Man," and I can't wait to see her performance. Hopefully she worked on her skills while away.
I once thought he was fantastic and all, but I guess that was because I was just too young to understand the true meaning of 'talented,' plus he was just too handsome.
The actor has been off the screen, and hopefully if he ever decides to make a comeback,  he would return talented!
These days, Emeka Ike is not an actor, he has been more popular for his AGN power tussle with  Ibinabo Fiberesima. In an interview years ago, the actor revealed that he took a break because "the industry has lost its salt," and was putting some acts that were annoying him.
He had his fan base, but then he was a 'king' when we didn't have a lot of actors to crown kings. While he always struggled to get an accent right, that thing he always did with his eyes was a huge turnoff, and let's not talk about his acting skills.
It's good to know he's more interested in the political aspect of the film industry than the creative part.
Sitting down to watch some old Nollywood movies is all you need to realize you once considered everyone 'talented'.
However bad Enyiocha was or still is (if he's still active in the industry) he always entertained people. I still remember some of his movies that entertained me, movies like "Across the Bridge," and "He Lives in Me." Whichever way, he should still get a training in acting.
Ninalowo is definitely not the only actor in this 'new Nollywood' who is a torture to watch on screen. 50% of them are. While I don't know if he has any training in acting, I just know he should get one or repeat his classes if he had one.
In case you're wondering who he is, Ninalowo is the handsome cousin of Rukky Sanda. His works include "Husbands of Lagos," "What's Within," "Dark"  among others.
Bolanle is a man who is  popular with the ladies (and that is understable), if only I could say same for his acting skills.
The only forms of communication he can carry out  are lip twisting (which reminds me of Emeka Ike) and the accent struggle.
Ninalowo would be better suited to a profession that didn't involve having to convince people he's somebody else.
Watching Omorodion for the first time on screen was horrible. I couldn't sit through the whole movie. For starters, the movie had Monalisa Chinda, Joseph Benjamin and Bobby Obodo, and just like every other person, I thought I was in for a great experience.
The story not only disappointed me, but Lisa did. Days after the premiere, some Nollywood actors were praising the movie and encouraging their fans to go see the movie. Really? If actors and filmmakers fail to tell each other the truth, then the movie industry will continue churning cringe-worthy movies and 'talents.'
"But he already gave up" a colleague of mine said to me this morning," but my list has an 'ever' attached to it," I replied.
Apart from the fact that he was stereotyped beyond saving, he was also such a terrible actor. There's nothing wrong with carving a niche out for one's self with a particular character. No matter how much we chant the 'we are passionate about the art" line, we also understand that anyone would accept a good pay to play the same character over and over again - but then it could get boring.
But I guess we all forgave him because he offered us with some entertaining movies, and the 'best action movies' we could get in those days.
Just to save us all the stress, let's just say everything comes down to the simple fact he cannot act to save his own life. Just like Ninalowo, Faniran would be best suited for a career that didn't involve having to convince people he's somebody else - Maybe his modelling or music career, or anything.
Did you get to see him on "Tinsel?" I guess the fact that the once upon a favourite show is now an 'acting school,' where every actor must pass through, is a story for another day.
The list of actors that need to take acting classes or repeat their classes cannot be exhausted. Does training help make one a great actor? Training has always helped everything, so it definitely should help in a way.
But then, we have some actors who claim to have undergone a certain kind of training, and trust me, you don't even want to watch them be themselves in real life.
Who are those actors that fail to do it for you on screen?
JOIN OUR PULSE COMMUNITY!
Recommended articles
6 major highlights from Ilebaye on 'BBNaija All Stars'
Bella Shmurda seemingly throws shade at Naira Marley in new tweet
'Merry Men 3: Nemesis' set to return with Chidi Mokeme, more action
Spotify unveils Jam, a new personalized to listen to music with friends
Apple Music home session features Afrobeats star Lojay
What we have is real - BBNaija's Soma on his relationship with Angel
I will be returning to assist with the investigations - Naira Marley
I have no hand in Mohbad's death – Naira Marley breaks silence
Iyabo Ojo urges Nigerians to be patient for Mohbad's autopsy results
AFCON 2027: Algeria hands Nigeria a major boost
TikTok wahala: Osimhen deletes Napoli pictures from Instagram
Wilfred Ndidi: Style Essentials inspired by the Leicester City's Nigerian midfield maestro
TikTok trolling: Osimhen set to sue Napoli for serious damage
Manchester United senior players beg Sancho to apologise to Ten Hag
Ukrainian club copy Nigeria's Super Eagles jersey
Victor Osimhen dodges fine for substitution bust up
Mikel Obi: Super Eagles legend branded 'fine boy no pimple' in Dubai
Give us Mourinho! Chelsea fans beg for 'Special One' after latest defeat