See photo of actress in labour room
Tonto Dikeh gave birth to a baby boy yesterday (February 17, 2016).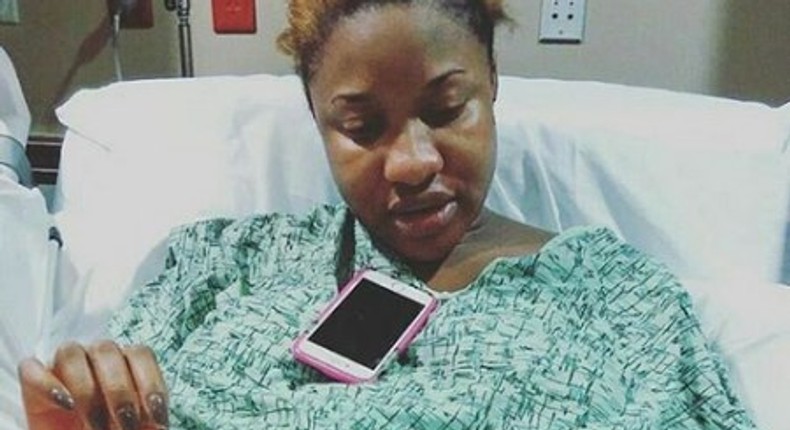 Yesterday (February 17) Nollywood actress
The actress released maternity photos to go along with her announcement that she had delivered safely. Now a picture has surfaced of Tonto Dikeh in the Labour room.
The photo was likely taken before Tonto Dikeh gave birth. The actress has nicknamed her boy Baby X.
She released a press statement on her website as she announced the birth of her son.
"Today I experienced the Greatest Miracle known to man..I can't begin to explain the joy I feel, it's super awesome..I bless the Lord almighty for his protection/Safety and Strength and the birth of my Baby..", the new mother wrote.
She continued: "My Pregnancy was such a beautiful one (Stress free,Lovely,Spiritually great,Healthy and safe)…Pls join me in welcoming my Baby into a perfect and loving World that GOD,My KINGKONG and I will create.. I Am overwhelmed and over joyed,I am a Mother now..
"Woow, that's something I never saw coming but God is indeed the master planner of our lives. His grace,Love, mercy, unlimited blessings, protection, Peace and so much more than I can express I have known & can testify to.
"Thank you God(the father,the son and the HolyGhost) for this blissful journey..I indeed gave birth like A Hebrew woman. #PROUDMUMMY #YUMMYMUMMY #LITTLESUNSHINEX #BABYX"
On August 29, 2015, Mr. Churchill paid the movie star's bride price in a private and traditional ceremony held at Tonto Dikeh's family home in Port Harcourt, Rivers State.
Multiple reports had rumoured that the actress was already pregnant as at the time of her introduction ceremony, but it was never confirmed until now.
JOIN OUR PULSE COMMUNITY!
Recommended articles
Davido hints at possible collaboration with Wizkid
BBNaija's Nini says 'yes' to Saga as they take things to next level
Police arrest Portable after refusing to honour invitation
ISWIS, first African Podcast London live show ticket sold out in less than 3 hrs
Top 5 female directors in Nollywood
5 epic celebrity fights that will forever go down in history
Top 3 female producers reimagining Nollywood
7 of the most influential female filmmakers in Nollywood
Wizkid instructs his fans to stream Davido's album 'Timeless'
Manchester United identify Portuguese goal-machine Goncalo Ramosas Osimhen alternative
Giannis Antetokounmpo outshines Jordan Nwora as Bucks set record against Pacers
NPFL Review: Rangers continue to flirt with relegation, 3SC vs Plateau produce another classic
Arsenal reach first Champions League semi-final in 9 years with victory over Bayern