Timeline of couple's troubled relationship
Follow Tiwa Savage and Tee Billz's troubled relationship from when they met to when their marriage started cracking.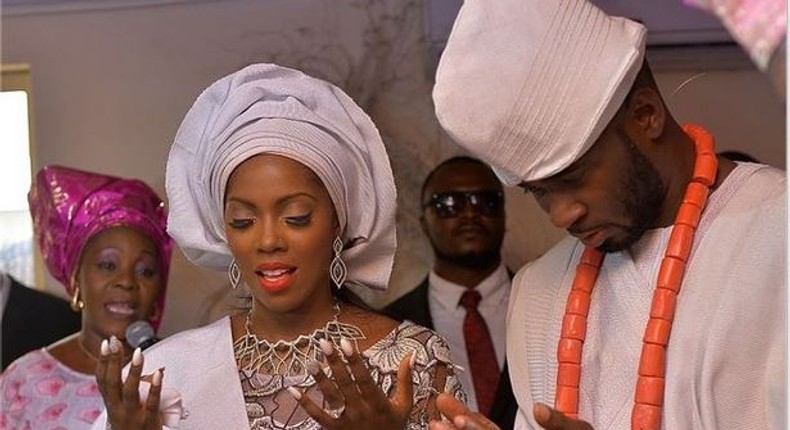 Below is a timeline of Tiwa Savage and Tee Billz's relationship.
2009 - Tiwa Savage met Tee Billz in America. Upon meeting him for the first time Tiwa Savage wasn't impressed with his attitude. "
2010 - Tiwa Savage and Tee Billz head back to Nigeria to kick start her singing career. Tee Billz becomes Tiwa Savage's manager.
Circa 2011 - Tiwa Savage leaves
2012 - Strong rumours begin to circulate that Tee Billz and Tiwa Savage are dating.
May 7, 2012- Tiwa Savage joins
September 29, 2012 - Tee Billz kisses Tiwa Savage on the cheek at the
January 2013 - Tee Billz whisks Tiwa Savage to Dubai. They lodge at the
February 6, 2013 - Tee Billz proposes to Tiwa Savage at a Lagos restaurant. The proposal took place during her 33rd birthday party.
November 23, 2013 - Tiwa Savage and Tee Billz have their traditional wedding ceremony at
April 26, 2014 - The couple get married in Dubai in a lovely wedding ceremony.
September 2014 - Just a few months into their marriage, rumours emerge that there is trouble between Tiwa Savage and Tee Billz.
September 29, 2014 - Rumour has it that Tiwa Savage dumps Tee Billz as her manager.
October 5, 2014 - Tiwa Savage gives her first interview since stories of her marriage problems hit the press.
October 12, 2014 - The couple appear at their church
October 13, 2014 - Tee Billz tells
November 12, 2014 - Tiwa Savage and Tee Billz attend
January 1, 2015 - Tiwa Savage announces that her and Tee Billz are expecting their first child together. This signifies a new chapter for the couple.
July 22, 2015 - Tiwa Savage gives birth to son,
February 2016 - Tiwa Savage exclusively tells Pulse how she met and fell in love with Tee Billz.
March 20, 2016 - Tee Billz slams Internet troll for disrespecting Tiwa Savage.
April 26, 2016 - Tiwa Savage and Tee Billz do not acknowledge their 2nd year wedding anniversary on Twitter.
April 28, 2016 - Tee Billz lashes out at his wife on Instagram.  He complained about neglect, accused his wife of having sex with Dr. Sid, Don Jazzy and 2face Idibia, claimed his mother-in-law is a witch who has blocked his destiny and spoke about his fractured relationship with his father. It was later revealed that he tried committing suicide on the same day.
Watch video where the singer addresses her husbands accusations below:
JOIN OUR PULSE COMMUNITY!
Recommended articles
MARVEL: Spider-Man: No way from home breaks Avengers endgame record
DC: Batgirl begins filming!
Kanye West and Kim Kardashian spotted together at Virgil Abloh's tribute
Apple Music's year-end lists: artists, songs, albums and top songs and artists on Shazam
DC: Dwayne Johnson, Kevin Hart, Keanu Reeves and more are voice stars in DC's 'League of Super-Pets'
Watch Vampire Diaries star 'Nina Dobrev' in new historical romance drama 'Redeeming Love'
Seun Kuti shuns Gov Sanwo-Olu's 'walk of peace' plans
YouTube extends commitment to support African creators as Africa Creator Week kicks off
Gucci family threatens law suit over portrayal in 'House of Gucci'