The 2nd rise of Kardashian clan's black star
As the men in the Kardashian household continue to fall, Rob Kardashian is surprisingly having a comeback.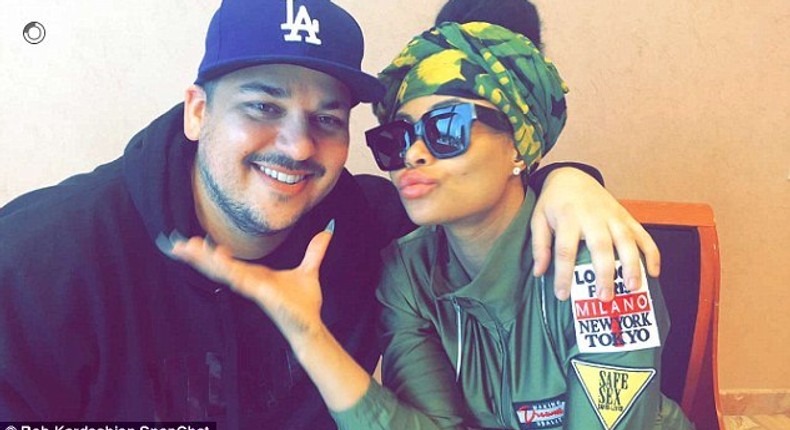 After being overshadowed by his younger siblings
Rob is back again in the thick of things thanks to his romance with former stripper and Hip-Hop socialite Blac Chyna. You can call it a 21st century Shakespearean plot twist in which son ignores the warnings of his mother and matriarch of the clan to hook up with his sister's rival.
In January it was rumoured in the hills of Hollywood that Rob Kardashian was hooking up with Blac Chyna. The 28 year old ex-stripper was formerly with rapper Tyga who we all witnessed fell from grace in Hip-Hop last year. Tyga and Chyna had a kid together but soon fell out. The California rapper who seemingly has a thing for young girls was snapped up by Kylie Jenner.
Well what do you know Rob and Blac Chyna are an item now and as you can imagine the Kardashian household flipped when they found out. Kris Jenner went over to his house when Blac Chyna had travelled out of Los Angeles to talk some sense into him. Her motherly advice has not worked because Rob and Blac Chyna's relationship has grown stronger.
When Blac Chyna was arrested in Austin, Texas over possession of the drug known as Ecstasy Rob Kardashian bailed her out. On February 5, 2016 Rob Kardashian who had avoided stepping out in public because of his weight and size was confidently seen with Blac Chyna at her Los Angeles photoshoot.
The hermit known as Rob Kardashian has started out coming out with the new love of his life. On Valentine's Day he surprised his girlfriend Blac Chyna when he bought her a bunch of red roses. While the Kardashian/Jenner clan are still getting a huge amount of mentions online, Rob is marching to the beat of his own drum which has made his family uncomfortable.
Publicly Kris Jenner is not against the relationship but behind closed doors she is not in support of it. According to a source close to the momager who spoke to the Hollywood wife said Kris Jenner has vowed to stop Rob Kardashian and Blac Chyna if they have any plans of getting married.
While Kris Jenner and the rest are sceptical about Rob's relationship his love affair with Blac Chyna has started yielding benefits. Since he started dating her he last 40 pounds. That's a big step for the once trim reality star.
There are conspiracy theories that Kris Jenner is behind the Rob and Blac Chyna affair. Kris Jenner is known to for coming up with publicity stunts to boost the image of her family within the entertainment circle. It could be so and it might just be the opposite.
Rob Kardashian has always been the rebel of the household. He infamously called his sister Kim a whore on their famous reality show. This is not the first time Rob is going against the family. Also Rob Kardashian has always been a ladies man. He once dated singers Rita Ora and Adrienne Bailon so snagging Blac Chyna shouldn't be a big problem for him.
Whether it's a stunt or not we enjoy Rob Kardashian going against the grain. He is the only man in the 'klan' that is enjoyable to watch right now. Kanye's rants have become boring. Tyga is now a washed rapper and was never really part of the fold anway. Scott needs to go to rehab and Bruce is now Caitlyn.
Welcome back Rob- the black star of a family that loves black men.
JOIN OUR PULSE COMMUNITY!
Recommended articles
Eniola Badmus receives Certificate of Appreciation from Seyi Tinubu
Twitter trolls struggling to buy fuel trying to spoil our fun - Ruger
Iyabo Ojo assures lover of lifetime commitment
Zinoleesky releases new single 'A1 (Feeling Disorder)'
Nigeria's highest grossing film, Battle on Buka Street Launches on Prime Video, June 16
1da Banton drops music video for exciting single 'Omotola'
KCEE introduces Ojapiano, a groundbreaking fusion of Amapiano and Igbo's traditional flute in debut single
Burna Boy makes history after selling out London Stadium
Proud Dads! Osupa, Pasuma celebrate children's academic achievements in US