Top 20 sexiest female Nigerian celebrities of the year
Check out the top 20 sexiest female Nigerian celebrities of 2015.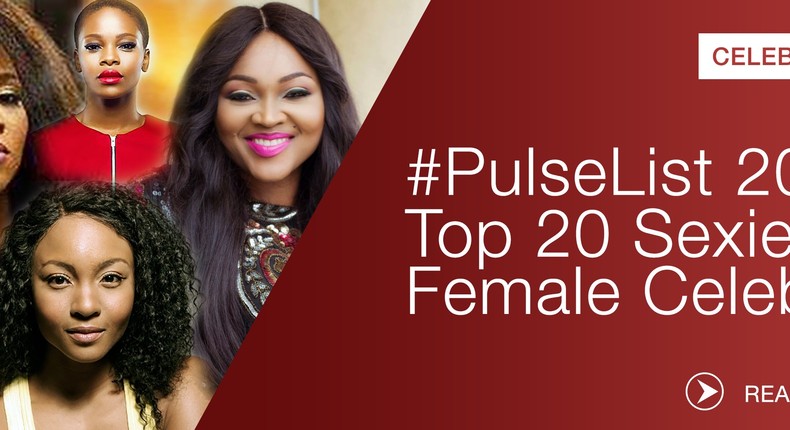 This is the hottest #Pulse2015 list.
After an intense debate at the office, below are the top 20 sexiest female celebrities of 2015. These women below are sex goddesses to say the very least. They turn heads at the drop of a hat, and steal the show wherever they go.
Their Instagram accounts are loaded with likes from thousands of admirers. They have been made #WCW by countless men on social media, and their women envy them.
Ladies and gentlemen, below is the list of sexiest female celebrities of the year. Turn on your AC because it's going to be hot!
20) Mercy Aigbe: Easily the sexiest, and hottest actress in the Yoruba movie industry. The hardworking mum continues to buck trends on how sexy a Nigerian mum can be and we love it. Mercy Aigbe is a delight to watch on the screen and she lives up to her sex appeal in real life too.
19) Latasha Ngwube: Gather around fellas, Latasha is a proud member of 'team thick', and 'full option'. Not a woman to hold back her curves and size, Latasha Ngwube is that kind of sexy that defines the current popular opinion of what a woman's body should be. You can call her bold and sexy or just bold sexy.
18) Toni Tones: Two words, boobs and legs. Photographer turned singer Toni Tones isn't scared to show off both of these her assets in public. She is one of the more daring female celebrities in Nigeria. Without going slutty, she isn't scared of showing what her mama gave her.
17) Seyi Shay: There's something naughty and bad about the pop singer. Seyi Shay looks like the bad girl you want to turn good. If there was any doubt about Seyi Shay's sex appeal it evaporated when she wore denim bum shorts in her 'Right Now' video. Hey, if you haven't watched it, we advise you do. It's not all about the size but the package.
16) Osas Ighodaro:  Actress and former beauty queen with a baby face has to be on any list of sexy women in Nigeria. She has been the crush of a lot of men for years since she appeared on . Osas broke a lot of hearts this year when she married Nollywood hunk Gbenro Ajibade. Throughout the year she has been sizzling and sexy which makes her husband the envy of a lot of men.
15) Adunni Ade: This year we saw the beautiful actress Adunni Ade continue to make in-road into Nollywood. Apart from making a name for herself in front of the camera, Adunni Ade is one of the sexiest women in our entertainment industry. With her cheekbones and legs that go on for days, it's hard to miss the mother of two at any event.
14) Zainab Balogun: The TV personality is most definitely a sexy woman to behold. Slim, trim and beautiful Zainab Balogun is hot and easy on the eye when she is wearing a lovely gown or a knockout bikini. The Ebony Life presenter is one of the sexiest women on Nigerian TV with her lovely frame and cute looks.
13) Mo' Cheddah: Modupe Ola is one flaming hot sexy singer. Petite, sassy and sexy, Mo' Cheddah definitely was one of the sexiest female celebrities in Nigeria for 2015. She naturally possess a sexy aura, and effortless swag.
12) Oluchi Orlandi: The MNET Face of Africa winner still turns heads with her slim and sexy figure. Oluchi is so hot you won't know that she has two kids. She is sexy, hot and representation of the 21st African woman's beauty.
11) Toke Makinwa – The famous on-air-personality was sexy to a lot of folks in 2015, and she rightly deserves the accolade. Toke Makinwa knows how to wear clothes that compliments her sexy figure.
10) Sarah Ofili: Woah, what else do we say about Sarah Ofili? A white chick with a black woman's booty. Jokes aside, this model is all shades of sexy. Sarah Ofili Instagram account is flaming hot as she proudly flaunts her sexiness and amazing body.
9) Agbani Darego: Once a beauty queen always a beauty queen goes the popular saying. It's been fourteen years since her reign as Miss Universe, but Agbani Darego who is now 31 is still a stunner. Her bikini pictures will leave you drooling.
8) Tolu 'Toolz' Oniru: The BEAT FM on-air-personality is the quintessential big, body thick woman that Nigerian men love. Toolz has the body that a lot of Nigerian men define as sexy. The media celebrity is a sexy heavyweight.
7) Yemi Alade: The 'Johnny' singer is still a stunner any day. With a work schedule that is crazy, it is amazing to still see Yemi Alade hot and well put together. Curvy, sexy and beautiful Yemi Alade is one of the sexiest female celebs in the country.
6) Ini Edo: The curvaceous, sexy bomb shell 33 year old Akwa Ibom actress redefined herself in 2015 as she slimmed down and increased her sex appeal. With her new figure Ini Edo has rolled back the years, and is looking like a twenty year old hottie. Ini Edo is back and sexy.
5) Daniella Okeke: This Nollywood actress did it for the thick, sexy and curvaceous women in 2015. The ' actress released some set of very hot and sexy pictures in the year. If you love your women thick and surplus in certain areas Daniella Okeke is for you.
4) Rita Dominic:  Popularly called Riri by her friends and close associates, it's no surprise that Rita Dominic is on the list. Her near flawless fashion sense enhances her sex appeal. For years she has been one of the sexiest female Nigerian celebs and it doesn't look like she's going to stop anytime soon.
3) Adesua Etomi: 2015 has been a breakout year for the talented Nollywood actress, and she is definitely one of the future stars of Nollywood. Another thing that stands her out is her calm sex appeal. Adesua Etomi sensuality is cool, and calm. With her, it's more than the stereotypical fair skin. Her light skin compliments her beauty and lady like demeanour.
2) Damilola Adegbite-Attoh: Having a baby couldn't stop Damilola Adegbite's sexiness. In June, the mother of one revealed her amazing body on the cover Blanck Magazine alongside her hubby Chris Attoh. Rocking hot black lingerie, Mrs. Attoh sex appeal hit the roof. Ladies and gentlemen she is our runner up. Not a bad choice at all.
1) Genevieve Nnaji: Queen G is sexiness in perfection. 2015 saw Genevieve Nnaji slay every red carpet or event she attended. The 36 year old actress is looks younger every time she steps out, and sexier. Whether dressing casually or wearing a lovely gown, Genevieve's body oozes desire. She is deservedly the sexiest female celebrity of 2015.
Watch also, Pulse TV video for the top 5 celebrity goofs of 2015.
JOIN OUR PULSE COMMUNITY!
Recommended articles
Teddy A shares heartwarming details of proposal to Bambam
Odumodu Blvck's 'Dog Eat Dog II' debuts at No. 1 on Apple Music Alternative Chart
Mercy Aigbe offers empowering words, prayers for a new Nigeria
Gen Zs are the biggest streamers of Spotify's Mellow Playlists
AY confronts trolls after accepting national award
Wizkid thrills fans with captivating performance in Afronation Miami
Odumodu Blvck releases 'Dog Eat Dog' remix featuring Santi & Bella Shmurda
Nigerian actor Hawwal Ogungbadero, 29 others set Guinness World Record for longest recording session
Burna Boy & Quavo spotted together in a video shoot