Adunni Ade gets it right about single parents bashing in Nigeria
Just like Adunni Ade wrote being a single mum is not a crime and Nigerians need to realize that.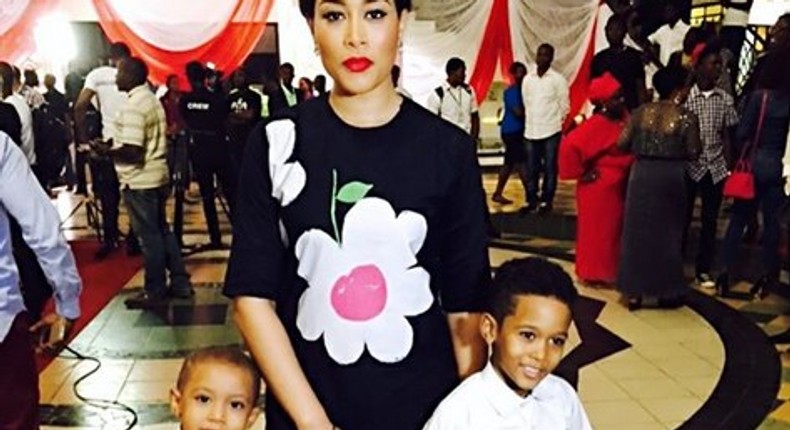 Adunni Ade who is the mother of two boys took to her Instagram to write: "
Additionally she wrote "P.S so you know, a lot of single parent (male or female) do a great job providing for themselves and children than you who sits in a miserable, horrible, heartbreaking relationship. We are not to be defined by our relationship status! Your dedication, hardwork, persistence to your existence in this world should be your focus. Just because a lot of us don't share our life story to the public does not mean we are not survivors. Face your life! Face your work! Be a great example to others! Be remembered more for the good and not bad."
Her statement was likely triggered by actress Toyin Aimakhu's comment about single mums who has a penchant of being in the news for mostly the wrong reasons. While Toyin Aimakhu does have a point it cannot be dismissed that Nigeria has a thriving culture of bashing single parents especially single mums.
Now no one wants to be a single parent (well almost everybody), but wishes are one thing and reality is another. The affairs of the heart are not predictable as a Nollywood movie. There are so many twists and turns. Everyone wants a happy ending but the reality is that many people will not experience this happy ending.
What's the big fuss about being a single mum? To me a single mum has made the bold decision of being responsible and taking care of her child even if the father does not accept responsibility. You can frown your face at this belief but it is surely better than abortion. Many Nigerians (if not the majority) low key believe in abortion over single motherhood. Don't be surprised Nigeria is a hypocritical society.
A single mum should not be treated like a pariah especially the one who takes care of her children. There are many married mothers out there that are worse than single mothers. Unfortunately this in Nigeria where marriage makes someone a saint and pious.
A single mother is a single mother. Yes there are some who have made bad choices (we all have) but I believe it is wrong for a society to judge someone who is taking care of her kids. We should stop thinking that all single mums are whores and married women are saints. It doesn't work like that. Shaming women for having kids outside of wedlock is wrong. They need support and care from the society and not castigation.
JOIN OUR PULSE COMMUNITY!
Recommended articles
Rick Ross declares interest in Ayra Starr
Seun Kuti addresses assault claim, denies beating wife
It's time the AMVCA evolves past public voting
Toyin Abraham advises President Tinubu to avoid mistakes of predecessors
What to expect from Kunle Afolayan's new series, 'Anikulapo: Rise of the Spectre'
Go behind the scenes of 'Hijack 93: The Mad Men & The Aircraft'
Nigerian Idol S8: How to vote for your favourite contestants on the show
9 Nollywood titles coming out this June
Mercy Chinwo celebrates husband's birthday, calls him special gift from God