Ikechukwu narrates how he was kidnapped by men of SARS [Video]
Ikechukwu gives a detailed account of how he was allegedly kidnapped by men of the Special Anti-Robbery Squad (SARS).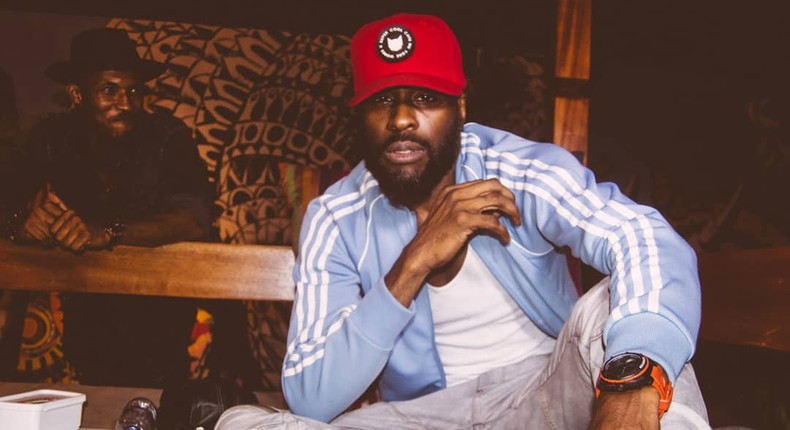 Ikechukwu has narrated how he was allegedly kidnapped by men of the Special Anti-Robbery Squad also known as SARS.
The rapper took to his Instagram page on Thursday, September 5, 2019, where he posted a video narrating his ordeal in the hands of the special police. It didn't end there as he went on to reveal how they threatened to kill him not before taking all the money in his ATM card.
"Was kidnapped by sars last night. Two mins away from my house, taken to Lagos island and made to exhaust my atm allowance or I would be killed and no one would know...Not by armed robbers. But when u are robbed and they are armed fully, 5 ak-47's. Blows to the head and bundled into a vehicle. Isn't it the same thing. And then after u will now tell me our govt is working. Things are in place. Bla Bla. Let me tell u now straight up. I don't care who u are if u are rolling solo in this town and sars get u. Day or night. If they get ur phone. It's over for u. They don't have names or numbers on their uniforms," he said.
According to Ikechukwu, in the process of extorting him, the police officers also tried to rope him in on a burnt truck belonging to them. Expressing his fear, Ikechukwu said he could have been killed and nothing would have happened.
"They literally said to me " na u burn this our Hilux here yesterday abii". Acting like they didn't know who I was and were gonna rope me in anything they felt or do with me what they would. After collecting all the money on Lagos island they start laughing telling me I'm too stubborn that when will I introduce them to don jazzy. Oh, so u know me. One even bragged about working a lot with wazobiafm. Thanx for that info at least now I have a point to start my own investigation. I could've been shot and left in the dark space on that dark road. No id no phone. Who would id me? Who would be looking for me for days? Afterall my people saw me enter uber heading home. On the island. Shey im safe. 
Pulse Nigeria
"Good morning. It's a good day to be alive. I don't even know what hashtag to put sef. It's ok. I recorded a video initially from when I got home last night but it was too long and it made me cry again. So I just said lemme just yan straight no need for at the moment. Just the facts. We are not safe. End of story. Know as u dey take move," he said.
Ikechukwu joins the growing list of celebrities and ordinary Nigerians who have at one time or the other attacked and harassed by men of the special police. 
"SARS had guns to my head last night"- iLLBLISS says
Pulse Nigeria
Back in July 2018, iLLBLISS shared with fans his shocking experience in the hands of SARS as they pointed a gun at his head. The rapper and music executive made this known on Tuesday, July 31, 2018, on his Twitter page. 
The tweet, as usual, started off a conversation on social media in the continuous manhandle and brutality faced by innocent people from these Special police officers.
Pulse Nigeria
"Last night SARS had guns to my head! Lying on the coal tar next to my manager/ what the fk is going on? Searching us for tramadol and....." he tweeted.
JOIN OUR PULSE COMMUNITY!
Recommended articles
It's been years of you ripping me —  Mr Real accuses D'banj
Ayoba and Boomplay announce cross-platform partnership
Some A-list artists will go hungry this December - Shallipopi's Official Dj
Wale Ojo & Genoveva Umeh on method acting, Nollywood & Amazon Prime's 'Breath of Life'
South-South rap star Dr. Barz excites on new single 'Dosa'
Spotify documents the resurgence of African gospel music
Rapper Kodak Black bursted for cocaine possession again, this time in Florida
Seyi Vibez shows artistic evolution on 'NAHAMciaga' EP [Review]
I converted to Islam out of love for my husband - Mercy Aigbe