Magazine's Hollywood under 30 influencer's of 2016
The list is as comprehensive as we could possibly expect, as it is a compilation of all the celebrities who are set to have a major impact on the entertainment and business industry in 2016.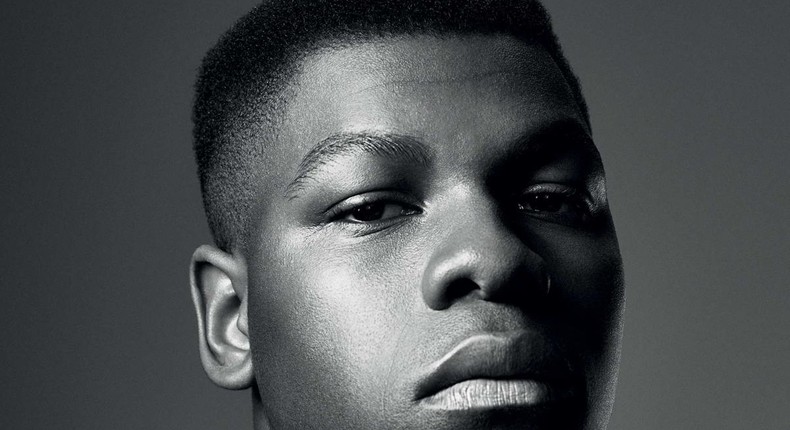 American business magazine, Forbes has released its list of Hollywood and entertainment top influencer's of 2016 who are under 30.
What's even better, is the fact that everyone who made this list is poised to do even more that what they have been doing, that has qualified them for this list.
Without further ado, meet Forbes top Hollywood and entertainment influencer's of 2016 who are below 30:
1) John Boyega, 23, Actor:
This 23-yr-old actor is the new male lead in "Star Wars: The Force Awakens," with his first major-studio movie is set to be one of the highest-grossing films in history.
Boyega's new role may have been missed by the actor, as he reveals:
"My first audition was all over the place," recalls Boyega. "I was, like, two minutes late, but because of the opportunity, it felt like two hours."
2) Micheal Blank, 29, Business Development Executive, Creative Artists Agency:
Blank, 29, who is in charge of the mobile section of Creative Artists Agency, CAA, had his career changed for the rest of his life after sitting next to a CAA agent at a passover diner at Yale, which was also his alma mater.
Blank is now in charge of helping the agencies celebrities in making their own apps, such as Tom Hanks' Hanx Writer, Demi Lovato's Path to Fame and many others.
3) Rachel Bloom, 28, Writer, Comedian:
Bloom is among a rare breed of women who has gone on to create her own network show before the age of 30 and the fact that she is a woman makes her feat all the more amazing.
She is the writer and star of the musical comedy series, "My crazy ex-girlfriend", also recieving a Golden Globe nomination for her show in 2015.
4) Jerrod Carmicheal, 28, Comedian Writer:
Carmicheal is credited for bringing back old-school family sitcoms, as well as creating NBC's "The Carmicheal Show."
His show has now been renewed for its second season.
5) Emilia Clarke, 29, Actress:
Clarke made her debut into the movie industry playing the role of Daenerys Targaryen in the hist series "Game of Thrones", winning two Emmy's while she was at it.
She also recently starred in "Terminator Genisys", and is set to star in "Me before you" hitting screens in 2016.
6) Pete Davidson, 22, Comedian:
Davidson has begun his comedy career just like most Hollywood comedians: on the "Saturday Night Live".
Young and talented, the comedian has proved his worth during last year's Comedy Central take on pop singer, Justin Beiber. He is also the youngest on the crew.
7) Xavier Dolan, 26, Author/Director, Producer:
Canadian art house director has been made famous by his 2014 movie, "Mommy", winning the Jury Prize at the Cannes.
The young that has now been blown into limelight with R&B singer, Adele's "Hello", which earned his a record breaking 27.7m views in a day.
8) Taron Egerton, 26, Actor:
British Egerton became known for his role on the British series, "The Smoke", becoming even more famous for his role in "Kingsman: The Secret Service", with a sequel now in the works.
9) Abbey Elliot, 28, Actress, Comedian:
Elliot began with "Saturday Night live", moving on to starr in the comedy series, "How I Met Your Mother", with a promising career ahead of her in the comedy scene.
She also starred in the popular comedy series, "Odd Mom Out".
10) Bryshere Grey, 22, Actor:
Philadelphia rapper, Grey, has been on the rap scene for a while as Yazz The Greatest, opening for 2 Chainz and Fabulous at the Jay Z's Made In America Music Festival in 2013.
Grey hit jackpot with a starring role as Hakeem Lyon in Fox's hit Tv show, "Empire".
11) Corey Hawkins, 27, Actor:
Hawkins who graduated from Juilliard as a theatre student has taken it to the next level with his role as Heath in AMC's "The Walking Dead", after starring as Tybalt in a recent Broadway revival of "Romeo and Juliet".
His break out role came when he played Dr Dre in the 2015 smash hit, "Straight Outta Compton".
12) Eric Huberman, 29, Founder, Hawke Media:
Huberman founded Hawke media in 2013, a digital marketing firm.
He works with firms such as Red Bull and Verizon, offering Hawke Media services which include influencer marketing and helping with the creation of brands for celebrities.
13) O'Shea Jackson Jr., 24, Actor:
Jackson Jr. is the son of popular rapper turned actor, Ice Cube, who is also the co founder of N.W.A, the young actor and rapper is definitely following in daddy's footsteps.
Following the release of a mixtape named OMG, the rapper/actor played the role of his father in the 2015 hit movie, "Straight Outta Compton".
14) Dakota Johnson, 26, Actress:
Johnson broke out her career in the blockbuster movie, "50 Shades of Grey", a movie that went on to whip up a whooping $570m worldwide on a budget of $40m.
Johnson has first hit the big screens at the age of 10 in 1999's "Crazy in Alabama", a movie which co starred her mother Melanie Griffith.
She has also starred in "The social network" and "21 Jump Street", also taking on a lead role in Fox's sitcom, "Ben and Kate".
15) Brie Larson, 26, Actress:
Comedic actress, Larson began her career on "The Tonight Show with Jay Leno", going on to crack ribs as she co starred in "21 Jump Street", and 2015's "Trainwreck".
Her career has now sky rocketed with her role in 2015 movie, "Room", which earned her a Golden Globe nomination.
16) Amy Laslett, 29, President of Production, Kids At Play:
Laslett who is the president of the independent production company, Kids at Play, has had a hand in producing various TV shows, commercials and film, as well as digital content.
17) Zosia Mamett, 27, Actress:
Mamet is best known for her role in "Girls" where she played Shoshanna, and has recently become more popular for her sex worker part in 2015's "Bleeding Hearts" as well as a wide range of roles in small indie films.
18) Molly Mathieson, 29, Agent, WME Ventures:
Mathieson began her career in WME's music department, back in 2008, booking tours for celebrity clients, the likes of Snoop Dogg, before moving on to the Film's Venture Investments arm of the company in 2012, helping to manage early start up companies.
19) Matt McGorry, 29, Actor:
McGorry began his career as a body builder but later transitioned acting in 2012, scoring roles in Tv series such as "Orange is the New Black", and "How to get Away with Murder".
He has also garnered fans from speaking on social issues ranging from #Blacklivesmatter to gender equality issues.
20) Jason Mitchell, 28, Actor:
Mitchell was already a notable Hollywood veteran before his early 20's, with small roles in movies like "Contraband", along side Mark Wahlberg and "Broken City".
He finally had his break out role playing Easy E in 2015's hit movie, "Straight Outta Compton", and has now scored a role in upcoming movie, "Kong: Skull Island".
21) Shameik Moore, 20, Actor, Dancer, Singer:
Moore made his break out with 2015's "Dope" and is poised to hit screens again with Netflix in Sony Pictures TV's upcoming series, "The Get Down".
22) Natalie Novak, 26, Agent, UTA:
Novak is popular and mostly influential for representing some of the Internet's biggest digital talents, the likes of youtube star, Joey Graceffa and the world's most viewed viner, Lele Pons.
Her clients have a combined fans of 115m fans.
23) Okieriete Onaodowan, 28, Actor:
Onaodowan is a break out star following his roles in the hit musical, "Hamilton", where he played, President James Madison and Hercules Mulligan.
He has previously be seen on the Broadway show, "Rocky The Musical", as well as on tour in "American Idiot".
24) Anthony Ramos, 24, Actor:
Ramos was made popular for his role as John Laurens and Phillip Hamilton, in the hit musical, "Hamilton".
He has also had roles in several regional shows and and national tours, before he made his debut on The Great White Way.
25) Daisy Ridley, 23, Actress:
Ridley shot into limelight as she scored the new female lead role in "Star Wars: The Force Awakens".
Previously, the young talent has only played minor roles in British TV shows the likes of "Casualty" and "Toast of London".
26) Saoirse Ronan, 21, Actress:
Ronan is made popular for her roles in "Atonement" and "The Lovely Bones", winning even more hearts with "Brooklyn", which many believe would score her, her second Oscar nomination.
She is set to make her debut in 2016 as Abigail Williams in "The Crucible".
27) Nick Selz, 26, Global Head of Youtube Originals Product Marketing, YouTube:
Selz, with his role as Head of Youtube Originals Product Marketing, has quickly become the driving force behind the video Behemoth's strategy and content.
His new initiatives include the likes of YouTube Red and YouTube Originals, which are expected to expand the company's horizons in coming year's.
18)Lilly Singh, 27, Comedian, Writer:
Singh is one of those stars that gained most of their popularity via YouTube, as Superwoman, as she is known to her fans, raps and performs stand up comedy.
She is also known to have made millions in 2015 following a World Tour and other ventures.
29) Alicia Vikander, 27, Actress:
Vikander who is of Swedish decent, flowing from ballet dancing into acting, made an astounding debut as a Humanoid robot called Ava in "Ex Machina", earning one of her two Golden Globe awards from the movie.
Following her lead role in another Oscar favourite, "The Danish Girl", Vikander's career is set to hit all new heights in 2016.
30) Zendaya, 19, Actress, Singer:
Zendaya made her debut via Disney Channel's "Shake it Up", going on to release her eponymous musical debut in 2013.
The young talent now owns a shoe line and a Timberland-produced album set to hit the music industry soon, the style icon's career is set for mind blowing stardom in this new year.
JOIN OUR PULSE COMMUNITY!
Recommended articles
Biodun Stephen shares update on 'Introducing the Kujus' sequel
Khosi and Ipeleng tie to clinch final 'BBTitans' Head of House title
Here's what we know about Netflix's 'African Folktales, Reimagined'
10 Davido songs that capture his evolution (2011 - 2022)
Brymo says he doesn't blame Igbos for AFRIMA loss
Wizkid, 1da Banton, Tekno feature on the theme song for 'Ted Lasso' Season 3
Vee says Nigeran men are better than UK men...at shouldering bills
Rema's 'Calm Down' is the fourth most popular song in the UK
Yul Edochie says owning a man's heart is not tied to food or sex
Victor Osimhen: Where should the Super Eagles striker go this summer?
Peseiro chasing Rohr's feat as the Super Eagles resume campaign
Nigerian sensation Gift Orban wanted by AC Milan and Napoli
"Present crop of quartermilers are not challenging me enough to retire" - Patience George
Serie A: Udinese renew 'cornerstone' Isaac Success contract
Nigeria to play New Zealand and Haiti in April
PSV fan bags 40-year stadium ban after attack on Sevilla's goalkeeper
Saudi GP: Max Verstappen unhappy after finishing second to teammate Sergio Perez for the first time in 7 years
Super Eagles News: NFF denies sacking coaches, explains Finidi, Shorunmu absence