Rapper involved in accident, recounts ordeal
The rapper revealed that the car which she had been driving, belonging to her mum, had been bashed in the back bumper by a taxi driver, with the police having to intervene in the incident.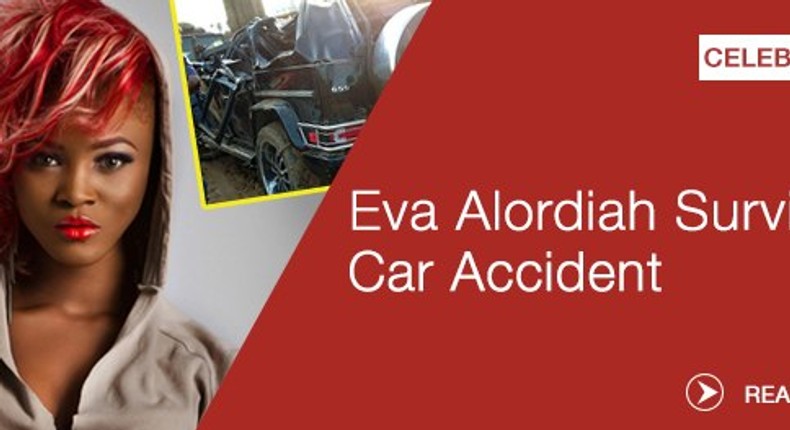 Eva also took time out to thank God for saving her life as well as that of the cab driver, even though it had come after a very normal Nigerian reaction to a bashed car.
Read her enlightening account below:
"The accident happened at 1:00PM The impact from the car that hit me behind sent my head propelling forward towards my windshield. I was thankfully restrained by my seat belt. The resounding clash of metal and tyres screeching kept on ringing in my head.
"I could not believe anything could make such a loud bang let alone that I was in an accident. All of a sudden I realized I was alive. The woman driving in front of me came out of her car.
"The man who hit me behind came out of his car too. Then he put his two hands on his head the way Nigerians are known to do when they realize they are in deep shit. I thought of My mother and what she would think of her car and this wreck. Then I remembered my life was even more important than a mere car.
"I blinked and the police arrived and I was too glad to see them. I wasn't ready to deal with the man who hit my car, who was now rolling himself on the road beside the wreck, hands on head, hands akimbo, hands back on the head. "Ahh! Aye mi!" He was saying. 'All this one is just film' I thought to myself. I looked away from his dramatization and searched out an officer to speak with. "This is my Mom's car," I said plainly to the officer who presented himself to me. "Please ensure that this man fixes this damage." The Police officer nodded vehemently and said "The Police is your friend, don't worry.
"We went to the station. They said we should both write statements. I called my big brother whom I had spoken to when the accident occured. "We are in the Police station in by the traffic light," I said when he picked up the phone. He was with me I'm 12minutes.  It wasn't Until after I had written my statement, Spoken to my Mom and refreshed the events of the afternoon in my mind that I realized the one thing I missed all along. I had been so preoccupied with the thought that someone had hit me and damaged the car that I failed to realize one simple truth...
"Here I was worrying about my Mom's car and a man could have lost his life from his wreckless driving. A child would have missed her father. A mother would have been left to wail and grit her teeth. Friends would have been sent in a state of complete shock. It would have been an irreparable loss and nothing to be compared with whatever damage he had caused my Mom's car.  So as we sat in the police station side by side, I realized my folly and feeling ashamed of myself, I turned to him and said, "Are you OK? " he nodded. The look in his eyes was distant. "Is that your car?" I asked. He nodded again.   "What do you do?" "Cab driver." "Is that your cab?," My tone had eased up and fallen in pitch. When he said "Yes" in response, I immediately felt sorry for him. I call my Mom back to tell her the state of things. She is surprisingly cool for someone with a Car OCD. I tell her everything is under control. She says no problem.  I turn to the man who ran into me. "We thank God for Life," I said. He nodded again. Then raised his eyes up to the ceiling. There was a God up there. And my mother might never give me her car again. #ButIAmFine #MyGodPassThem #gratitudeAlways."
Thankfully, no lives were lost, neither were any injuries sustained as result of the asccident.
Watch Eva Alordiah below:
JOIN OUR PULSE COMMUNITY!
Recommended articles
6 major highlights from Ilebaye on 'BBNaija All Stars'
Bella Shmurda seemingly throws shade at Naira Marley in new tweet
'Merry Men 3: Nemesis' set to return with Chidi Mokeme, more action
Spotify unveils Jam, a new personalised feature to listen to music with friends
Apple Music home session features Afrobeats star Lojay
What we have is real - BBNaija's Soma on his relationship with Angel
I will be returning to assist with the investigations - Naira Marley
I have no hand in Mohbad's death – Naira Marley breaks silence
Iyabo Ojo urges Nigerians to be patient for Mohbad's autopsy results
AFCON 2027: Algeria hands Nigeria a major boost
TikTok wahala: Osimhen deletes Napoli pictures from Instagram
Wilfred Ndidi: Style Essentials inspired by the Leicester City's Nigerian midfield maestro
TikTok trolling: Osimhen set to sue Napoli for serious damage
Manchester United senior players beg Sancho to apologise to Ten Hag
Ukrainian club copy Nigeria's Super Eagles jersey
Victor Osimhen dodges fine for substitution bust up
Mikel Obi: Super Eagles legend branded 'fine boy no pimple' in Dubai
Give us Mourinho! Chelsea fans beg for 'Special One' after latest defeat