Russia's Supreme Court officially declares Jehovah's Witnesses as extremist organisation!
With this ruling, Jehovah's Witnesses have been banned and can no longer operate legally in Russia.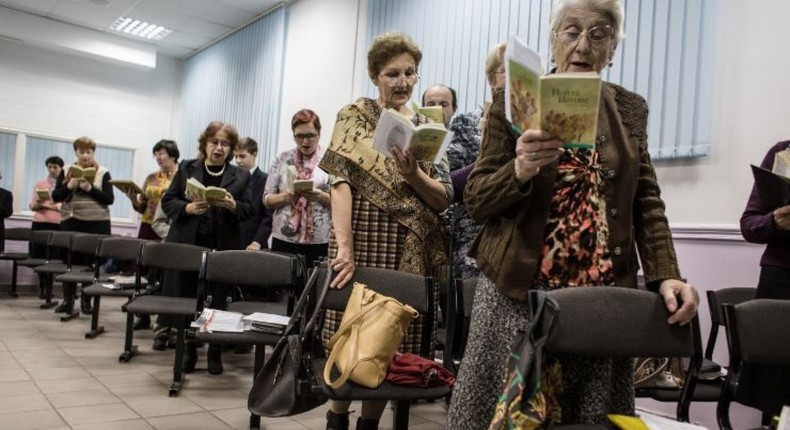 For the past two weeks, the Supreme Court of the Russian Federation has been deliberating over the countrys
After six days of hearings, the court has passed it's judgment. The court has ruled against the religious organisation.
Jehovah's Witnesses have been officially banned from the country and labelled as an "extremist" organisation!
During the proceedings, the Interfax news agency quoted Justice Ministry attorney, Svetlana Borisova, saying that the organisation poses a threat to Russians.
"They pose a threat to the rights of the citizens, public order and public security," she told the court.
Following this ruling, which goes into effect immediately, the Administrative Center of the church and 395 Local Religious Organizations (LROs) used by Witnesses throughout Russia will be seized and liquidated.
With the court's decision, there will be no more worship, door-to-door evangelizing or church activities of any kind.
Anyone who dares to go against the court's ruling faces criminal prosecution, could spend six to 10 years in prison or pay fines of 300,00 to 600,000 rubles (US$5,343 to $10,687).
While people who lead this 'illegal' activities could go to jail for a maximum of 10 years.
However, the organisation has been given 30 days to submit their appeal for consideration by a three-person panel.
Reacting to this, Yaroslav Sivulskiy, a spokesman for Jehovah's Witnesses in Russia, said: "We are greatly disappointed by this development and deeply concerned about how this will affect our religious activity.
We will appeal this decision, and we hope that our legal rights and protections as a peaceful religious group will be fully restored as soon as possible."
According to The Washington Post, experts like Alexander Verkhovsky, who monitors extremism in Russia, disagree with the court's ruling.
Speaking with the New York Times, he said: "I cannot imagine that anyone really thinks they are a threat. But they are seen as a good target. They are pacifists, so they cannot be radicalized, no matter what you do to them."
Rachel Denber, deputy Europe and Central Asia director at Human Rights Watch has also reacted saying: "The Supreme Court's ruling to shut down the Jehovah's Witnesses in Russia is a terrible blow to freedom of religion and association in Russia.
Jehovah's Witnesses in Russia are now given the heartrending choice of either abandoning their faith or facing punishment for practicing it."
"It's not too late for the Russian authorities to make right this serious move against religious freedom. The Justice Ministry should withdraw the suit against the Jehovah's Witnesses organization and stop interfering with group's peaceful religious activity," she added.
This ruling affects over 100,000 Jehovah's Witness worshippers across Russia.
JOIN OUR PULSE COMMUNITY!
Recommended articles
Nigerian actor Hawwal Ogungbadero, 29 others set Guinness World Record for longest recording session
Tinubu clarifies his statement on subsidy as petrol price rises to ₦600 per litre
10 African countries with the lowest digital quality of life index
Top 10 richest mineral-producing countries in Africa
Fuel Subsidy: Why Tinubu had no other option [Editor's Opinion]
Veteran Nollywood actor Adewale Adeyemo is dead
Africa's richest woman Isabel Dos Santos finds herself deep in another financial scandal
'There was a point...I was seeing the stage upside down' - Hilda Baci
Beautiful Nubia, Tosin Ashafa, others pay tribute to OAU alumnus Abass Oyeyemi