"Corruption is the worst social plague," Catholic leader says
The Pontiff, Pope Francis, has revealed his opinion on corruption, and has advised business leaders to avoid worshipping money.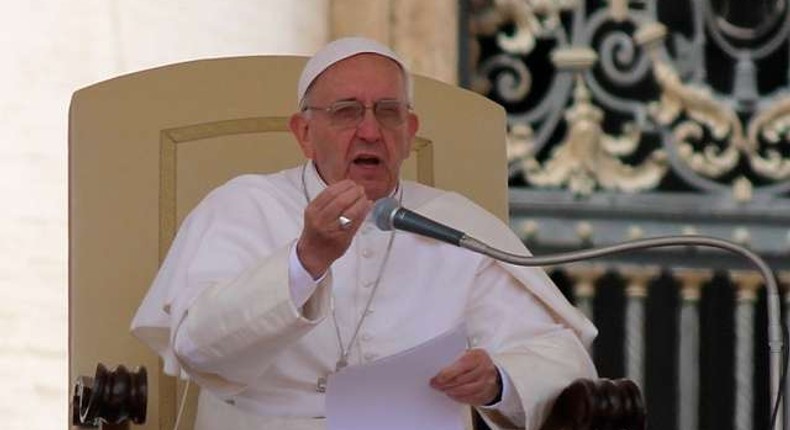 Pope Francis has offered his thoughts on corruption, and money at the International Conference of Associations of Catholic Businesses.
Speaking at the conference, themed: "Business leaders: agents of social and economic inclusion," he spoke on the dangers of corruption, which he called "the destruction of the social fabric under the guise of law enforcement," Catholic News Agency reports.
The pope went on to say point out that corruption "is a fraud to democracy," adding that it leads to drugs, prostitution, human trafficking, slavery, the sale of organs and arms trafficking.
"Corruption is the worst social plague. It's the lie of seeking personal gain of that of the group itself under the guise of a service to society. It's the law of the jungle disguised as apparent social rationality. It's the deception and exploitation of the weakest or less informed. Corruption is to become a follower of the devil, the father of lies," he added.
Pope Francis also described the attitude of corruption as "the crassest selfishness, hidden behind an apparent generosity."
Moving on, he pointed out the relationship between the worship of money and corruption.
According to him, the worship of money leads to corruption, thus, making money "the dung of the devil," when it becomes the center of anyone's life.
"Money is only a technical instrument of intermediation, of comparison of values and rights, of the fulfillment of obligations and savings," he explained.
Thus, money and riches "are good when they are put at the service of the other," but "are wicked," when used for the wrong reasons.
"Because of this, money must serve rather than govern," he stated.
"Businesses must not exist to earn money, even if money serves to measure its function. Business exist to serve," he advised.
He concluded his speech by saying: "I hope that this conference is like a sycamore of Jericho, a tree which can be climbed by all," so, "through scientific discussion of the aspects of business activity, all may meet the gaze of Jesus and that from there result effective guidelines in order to make the activity of all their companies always and effectively promote the common good."
This business two-day conference was held inside the Vatican's Apostolic Palace.
JOIN OUR PULSE COMMUNITY!
Recommended articles
Rick Ross declares interest in Ayra Starr
Nigerian actor Hawwal Ogungbadero, 29 others set Guinness World Record for longest recording session
Nigerians express concern over immediate implementation of subsidy removal
10 African countries with the lowest digital quality of life index
Study shows men have been peeing wrong; they ought to sit and not stand
Shaffy Bello opens up about her split from husband after 25-year marriage
Fuel prices will go down after removal of subsidy, says NNPC CEO Kyari
Nigerians react as Tinubu's daughter declares self as Iyaloja General of Nigeria
Veteran Nollywood actor Adewale Adeyemo is dead