Using social media or tech does not matter but....
Technology and the Church are currently happily married. This is good, but the church still needs its space.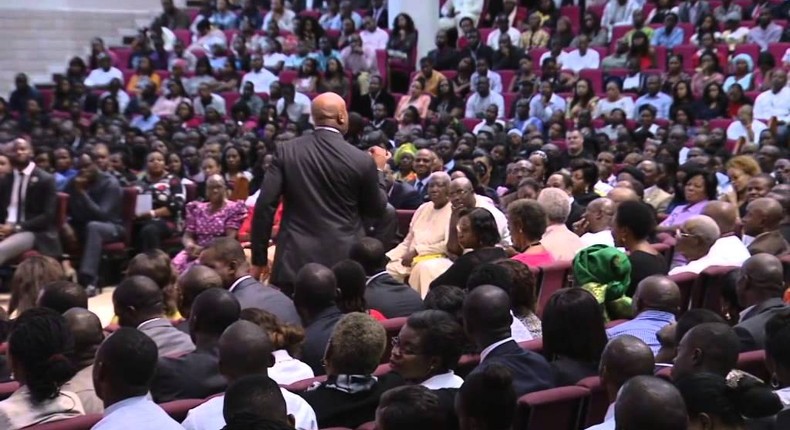 Years ago, I dont think anyone could have imagined that technology would have a place in religion.
Fast forward to 2017, social media and technology has a stronghold on the church.
We also have communities like trustinglines on Instagram. With these, people are motivated to study the Bible and share their thoughts much like the people did at Bible study groups.
I can not deny that this is all good. The fact that Christianity is embracing technology and using it to its advantage is definitely a commendable thing.
As Pulse reader,  Michael Adedeji Ladipo put it, "these initiatives are a welcome challenge for us all to get more in tune with our God."
Media entrepreneur, Chude Jideonwo is also open to the Hallelujah Challenge movement.
In his words, "Nathaniel Bassey has started a revival. That revival is in the way that a new generation of Nigerian Christians is engaging with the church and the way that they are expressing both their identity as Christians and their relationship with God."
These are all valid thoughts on the marriage of technology and Christianity and I agree but. Yes, there is a but.
I welcome people finding innovative ways to worship God and fellowship with like-minded people.
But something has to be said for the more traditional way of doing things.
Technology should be a way to enhance the experience not replace the conventional ways.
What I mean is that streaming services, partaking in social media challenges should be like snacks. Snacks are good, they are things we take due to time constraints while waiting for the main course but they do not replace balanced meals.
In 2 John 12, Apostle John says, "Though I have much to write to you, I would rather not use paper and ink. Instead, I hope to come to you and talk face to face, so that our joy may be complete."
At that time, paper and ink could be called a form of technological advancement. While John had no problem using it, he also recognised the importance of human interaction. Hence, this part, "talk face to face, so that our joy may be complete."
Dr Douglas Groothuis, Professor of Philosophy at Denver Seminary, explains John's words better in his book, "The Soul in Cyberspace."
According to him, the apostle probably preferred embodied fellowship because of our personalities.
In Groothuis' words,  "... I think the fullness of joy comes with one personality interacting with other personalities in terms of voice, touch, appearance, and timing. Sometimes it is time just to be quiet with people, or to cry with people, or to laugh with people."
A hug emoji could never replace a real hug. It works when the real hug isn't available but the real thing is always the preferable option.
It's the same with going to church, attending programs, and so on. There is simply something here that could never be found in disembodied activities online.
When people are physically gathered, preaching, thanksgiving, worshipping, everything comes alive (Ephesians 3:8-11).
Being around other believers helps to sharpen one another's faith. In this way, it is easy to show love, kindness to one another like the Bible commands (Acts 2:44-47).
It motivates us and gives us what we need to face the world on our own till we return to our brethren.
Simply put, true Christian fellowship is way better than electronic-worship. We can use technology when we don't have the main thing. But, we should never let it take away the good that physical gathering of the people of God does to one's soul.
JOIN OUR PULSE COMMUNITY!
Recommended articles
10 African countries with the highest debts to the IMF
Meet the Sapeurs, Congolese who wear expensive outfits though they live in poor communities
Dangote refinery finally receives its first shipment of crude after years of delay
10 African countries with the largest population lacking electricity
Top 10 African cities with the highest purchasing power
Egypt's richest man joins trending billionaire migration to UAE
10 African countries with the highest fertility rate in 2023
World Bank to provide electricity for 100 million Africans by 2030
5 ways to spot a sex addict or know if you are one