Should we stop teaching religion in schools?
With the ongoing CRK drama, maybe schools should consider removing religion from the curriculum.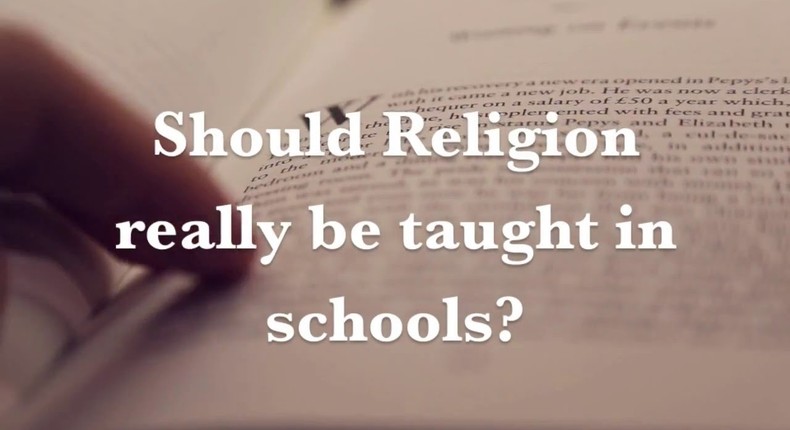 In June, 2016, the revised nine-year basic education curriculum caused a major stir on the Internet.
At first, it was because there were rumors that Christian Religious Knowledge (CRK) had been removed while Islamic Religious Studies (IRS) was still there. This was denied by the Nigerian Educational Research and Development Council (NERDC).
Now, the issue is that CRK is no longer an independent subject while Arabic and French languages are the only electives.
This has been the subject of debate by several groups like the Christian Association of Nigeria (CAN) and Pentecostal Fellowship of Nigeria (PFN). Both have rejected the curriculum.
According to Felix Omobude, PFN president, the lack of French teachers could compel students to choose the Arabic language, which we all know is associated with Islam.
Due to the ongoing controversy, many have wondered if removing religion from the curriculum could put an end to the issue.
We asked Pulse readers to weigh in and the results are in.
The majority, 70.5%, said religion should still be taught in schools, while 29.5% said no.
We need to continue to teach religion because it is a huge part of the Nigerian society. Like government and history, religion places a big role in many aspects of our world. Thus, it makes sense to teach it rather than leaving it out of schools.
Having religion in schools is a great thing because it helps to improve morale in students from an early age. This increases their chances of growing into good adults who know right from wrong.
According to a recent study, teaching religion helps with brain development. Another says it helps kids develop psychologically as believing in something pushes children to do well.
A 2013 study by the IOSR Journal of Humanities and Social Science has also found that teaching religion prevents identity crisis while sociology expert  Rodney Stark has said that religion helps with depression.
He made this observation in his book "America's Blessings."
These are all great reasons why religion needs to remain on the curriculum, however, i would suggest that we also teach a blended course.
In addition to CRK and IRS, I recommend that we have a course where students of both faiths learn about the other's religious orientation.
This way, we build children's understanding, compassion, tolerance and respect towards people of different religion.
Note: Teachers need to learn to teach what is on the curriculum not preach their beliefs.
JOIN OUR PULSE COMMUNITY!
Recommended articles
Despite $3 billion bailout, Ghana has essentially gone bankrupt
Police finally dig up Mohbad's body, autopsy to commence soon
Burna Boy shows love to Ghanaian market women dancing to his song [VIDEO]
Top 10 African cities with the least affordable housing
My marriage is sweeter than what you see online - Regina Daniels
All the scientific reasons your breasts are not equal in size
Davido, Zlatan, Falz, others attend Mohbad's candlelight procession in Lagos
Pastor Jimmy Odukoya responds to queries on why he keeps dreadlocks
Goge Africa is concerned some BBNaija acts violate Nigeria's moral values