How the Nigerian food economy will be affected by the Russia-Ukraine war [Pulse Explainer]
Data released by the National Bureau of Statistics shows that Nigeria is at risk of losing ₦993.38bn imports from Russia.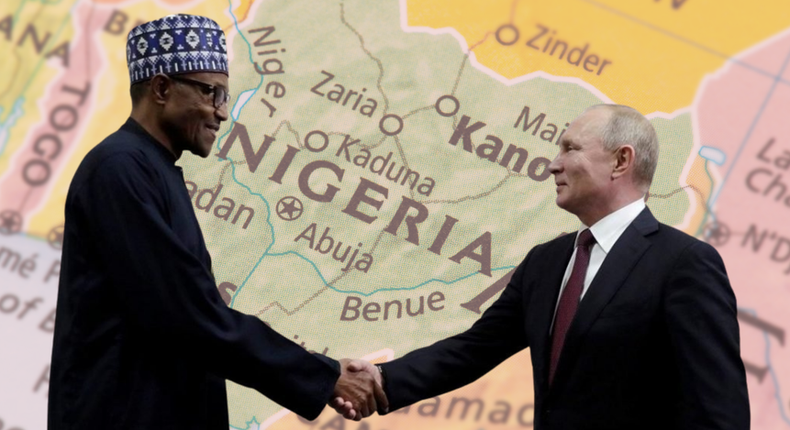 Ukrainians woke up to a full-scale invasion, ordered by the President of Russia, Vladimir Putin, on Thursday, February 24, 2022.
9,464 kilometers between Nigeria and Russia; 11 hours, 53 minutes to commute both countries via a direct flight; 2 hours difference in time, yet in a rather essential way, war in Russia will cost Nigeria ₦993.38bn, the value of importation in Nigeria from Russia between the third quarter of 2020 and the third quarter of 2021. The National Bureau of Statistics (NBS) disclosed that within this period, Nigerians imported 4 main items from Russia, namely durum wheat, herrings, blue whitings, and mackerel.
Durum wheat
Durum wheat is a variety of spring wheat that's typically ground into semolina and used to make pasta, bread, swallow (semo), and pizza dough.
Although durum wheat varieties can be found in Kadawa, Kano State, the quantity is too little to satisfy local demand. Hence, import from Russia is done in bulk, enough to satisfy the high demand for durum wheat. One can place the likes of Dangote, Honeywell, and Golden Penny as huge patrons of this product.
Durum wheat- Source Alibaba
Durum wheat - Sourced from Unsplash Pulse Nigeria
Herring
Herring are forage fish, found particularly in shallow, temperate waters of the North Pacific and North Atlantic Oceans, including the Baltic Sea, as well as off the west coast of South America.
Russia, being developed occupants of the North Pacific shores, supply Nigeria with Herring, which is then processed by local companies and sold to consumers as 'titus sardine' and other brands. Although this fish can be farmed in Nigeria, the quantity farmed locally cannot meet the industrial demand for the product.
Herring, Sourced from iStock Pulse Nigeria
Herring, Sourced from iStock Pulse Nigeria
Blue Whitings
Blue Whitings are basically what we know to be panla egun. Although brought into the country fresh and frozen, the common use of the fish in Nigeria requires that it passes through a smoking process. The fish is mostly consumed in local soups and native rice dishes. The fish is known to be most common in the North Atlantic Ocean, another Russian border.
Blue Whitings made to local smoked-panla (Unknown Source) Pulse Nigeria
Mackerel
Mackerel, locally addressed as ice fish or titus, is largely found in the North Atlantic. In the local markets ice fish is accessible and affordable to the various social classes, making it one of Nigeria's most consumed fish products. Russia is responsible, to a large extent, for the supply of our daily titus.
Mackerel Pulse Nigeria
Why will the Nigerian food economy be affected by the war?
Countries trade with each other when, on their own, they do not have the resources, or capacity to satisfy their own needs and wants. Hence, sardines, semovita, pasta, titus, and panla egun, may be out of our local dishes, or triple in prices if the war persists.
Military conflict between countries is often accompanied by the imposition of partial or total trade embargoes on the exchange of goods. Conflict may also reduce trade flows by raising the costs to private agents of engaging in international business.
JOIN OUR PULSE COMMUNITY!
Recommended articles
Africa's richest man Aliko Dangote seeks to raise an additional $1.1 billion to complete his refinery project by 2023
8 African countries where Rihanna plans to launch her luxury Fenty Beauty products
#AMVCA 2022: Best and worst dressed celebrities
'Go back to your Third World country' - WNBA star Liz Cambage accused of igniting fight with Nigeria's D'Tigress
8 passive income ideas for African fashion designers
Ifuennada's N58M dress and the many lies celebrities tell [Pulse Editor's Opinion]
New Music Friday: Latest releases featuring Davido, Burna Boy, Asake, Zinoleesky, Rema and others
5 characters from 'Blood Sisters' that got fans buzzing
I ran out of town when I was accused of sleeping with dogs - Cossy Orjiakor