Clinton wins in Dixville Notch
Residents of the hamlet cast their votes at midnight.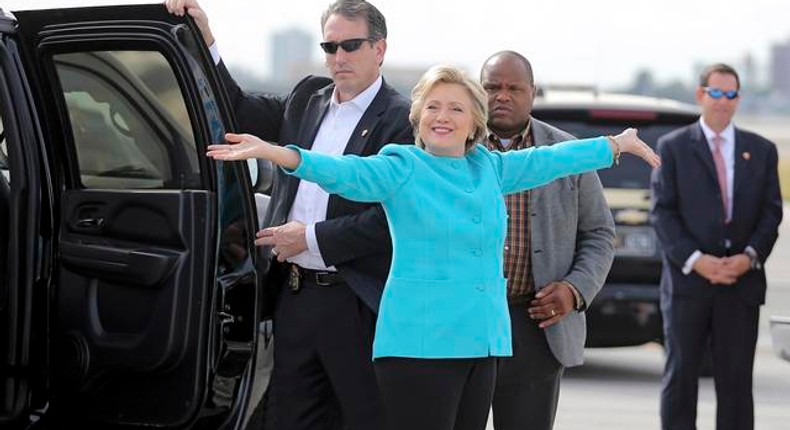 Voters in a New Hampshire hamlet, Dixville Notch have kicked off voting in the US presidential election.
Residents of the hamlet cast their votes at midnight. Out of the six votes cast, Hillary Clinton beat Donald Trump four votes to two, a result that may foreshadow voting trends hours later in the rest of polling stations across America.
Libertarian Gary Johnson received one vote, and Mitt Romney received a surprise write-in ballot, USA Today reported.
According to New Hampshire law, communities with fewer than 100 voters can open their polls at midnight and close them as soon as all registered voters have cast their ballots.
The best known of these three towns, Dixville Notch has been voting at midnight every election since 1960. Neil Tillotson, the former owner of the Balsams Grant Resort Hotel, which closed in 2011, started midnight voting in Dixville in 1960 to stir up publicity for the resort. Almost all of the Dixville voters are employees of the resort .
This could be Dixville's last year in the election spotlight, however.
Les Otten, a New England businessman, bought the Balsams and plans to redevelop it into a massive ski resort. That could bring the population in Dixville over 100 people, thereby ending its midnight voting tradition.
Millsfield, located just over 12 miles down the road from Dixville Notch, is the newest town to get in on the act. Millsfield began midnight voting as early as 1952 (no one seems certain exactly when) and stopped the practice in the 1960s (again, no one seems certain exactly when). The town was invited to take the tradition back up last year by New Hampshire's secretary of State, in honor of the 100th anniversary of the New Hampshire primary.
In other results, Clinton also beat Trump in Hart's Location 17-14, but Trump was the overwhelming favorite in Millsfield, with a 16-4 edge. Overall, in the three tiny towns, Trump won 32 votes, while Clinton got 25.
Libertarian Gary Johnson picked up three votes. Bernie Sanders, John Kasich and 2012 Republican presidential nominee Mitt Romney got write-in votes.
Meanwhile both Hillary Clinton and Donald Trump raced through several battleground states on Monday in a last-ditch attempt to encourage their supporters to show up and vote on Tuesday.
Clinton sought to capture more support from Latinos, African-Americans and young people, while Trump looked to win over disaffected Democrats and rev up a middle class that he said has been sidelined by the political establishment.
Clinton held the biggest rally of her campaign in Philadelphia on Monday night, drawing a crowd that the city's Fire Department put at 33,000 to hear her and President Barack Obama, first lady Michelle Obama and rockers Bruce Springsteen and Jon Bon Jovi.
"Tomorrow we face the test of our time," Clinton told supporters, saying they could decide what sort of country they wanted to live in. "We choose to believe in a hopeful, inclusive, big-hearted America."
Obama, who campaigned earlier in the day for Clinton in Ann Arbor, Michigan, reiterated his charge that Trump is "temperamentally unfit to be commander in chief," and said Clinton offered an experienced and accomplished alternative.
"You don't just have to vote against someone, you have someone extraordinary to vote for," Obama said. "She will work and she will deliver, she won't just tweet."
Trump told voters at an evening rally in Manchester, New Hampshire, they had one question facing them at the ballot box on Tuesday.
"Do you want America to be ruled by the corrupt political class or do you want America to be ruled again by the people?" he asked. "Tomorrow the American working class will strike back."
With only hours left before Election Day, the Clinton campaign was boosted by Sunday's unexpected announcement by FBI Director James Comey that the agency stood by its July decision not to press any criminal charges in an investigation of Clinton's email practices while she was secretary of state.
The Reuters/Ipsos States of the Nation project gave Clinton a 90 percent chance of defeating Trump, seeing her on track to win 303 Electoral College votes out of the 270 needed, to Trump's 235.
With surveys indicating a tight race in Michigan, which Democrats have long counted on winning, both candidates made campaign appearances there. Pennsylvania, another vote-rich state, was also seen as fertile ground by both camps in the closing hours of their campaigns.
JOIN OUR PULSE COMMUNITY!
Recommended articles
EFCC grills former minister Tallen over alleged ₦‎2bn fraud
UN chief appoints Adesina, others to spearhead fight against malnutrition
Sanwo-Olu vows to give Lagos biggest children hospital in Africa
Kano Govt sets up mobile courts to tackle phone snatching
Withdraw petition against Tinubu and stop messing up - LP faction tells Obi
Tinubu commissions NASS Central Mosque, urges Muslims on humility
Anambra govt launches e-identification cards for civil, public servants
Tearful Ondo Speaker dissolves state assembly
Hajj: NAHCON reads riot act to caterers in Madina, disqualifies defaulter