Read today's newspaper headlines [Tuesday, February 9, 2016]
Read today's newspaper headlines [Tuesday, February 9, 2016]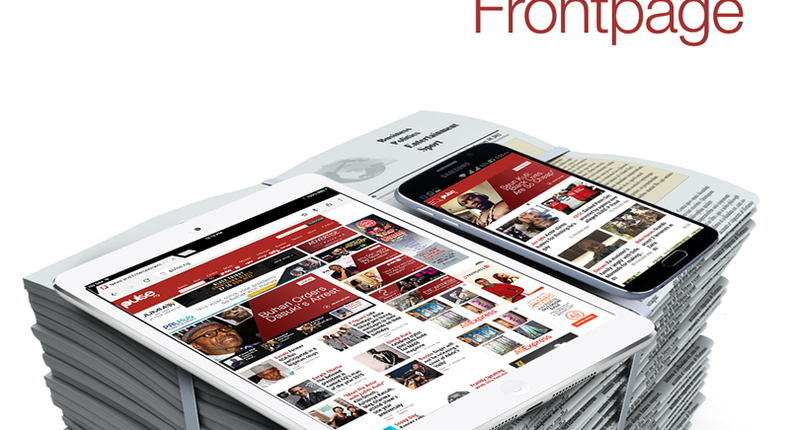 Pulse brings you front page stories from Nigeria's leading newspapers on a day-to-day basis.
Find out what is making headlines all over the country from the covers of The Punch, Vanguard, The Guardian and more.
For today, Tuesday, February 9, 2016:
FG'll renegotiate, not revoke inherited contracts —Fashola
THE Federal Government has pledged not to revoke any inherited contracts " in the interest of Nigerians". Minister of Power, Works and Housing, Mr Babatunde Raji Fashola who made the pledge on behalf of the government at the opening ceremony of a 3-day Nigerian Pension Industry Strategy Implementation Roadmap Retreat, said that the norms of reversing projects of previous government was wrong and not n the best interest of Nigerians.
Amaechi faults Wike on $150m allegation
Former governor of Rivers State and Minister of Transportation, Mr. Chibuike Rotimi Amaechi, has described the statement credited to Governor Nyesom Wike that he spent $150 million  during the general election as an imaginary tale, a bogus and fallacious concoction. Amaechi also said that all efforts by Wike and his cohorts to denigrate his name in the media will fail.
We can't identify true owners of oil blocs, assets — NEITI
ABUJA — The Nigerian Extractive Industries Transparency Initiative, NEITI, yesterday, lamented that the true owners of some oil blocs and other oil and gas assets in Nigeria cannot be identified from the records of the Corporate Affairs Commission, CAC. It also accused owners of some of the assets of suppressing certain information and manipulating their records in the CAC, making it impossible to link them with the assets.
-----------------------------------------------------------------------------
Sanusi faults CBN on naira exchange rate
The Emir of Kano and immediate past Governor of the Central Bank of Nigeria, Muhammadu Sanusi II, has described the monetary policy regime of the CBN as wrong. Sanusi was quoted by Financial Times as saying that President Muhammadu Buhari risked exacerbating the country's economic woes and undermining his government's achievements on security and corruption by endorsing exchange rate policies that were doomed to fail. READ MORE:
We'll probe Okonjo-Iweala, Diezani soon, says EFCC
The Economic and Financial Crimes Commission will soon begin the probe of the nation's oil and gas industry as part of the current anti-corruption war of the President Muhammadu Buhari-led administration. The roles of some principal officers in the former Goodluck Jonathan administration, including the former Minister of Petroleum Resources, Mrs. Diezani Alison-Madueke; her counterpart in the Ministry of Finance, Dr. Ngozi Okonjo-Iweala; and an oil magnate, will come under intense scrutiny. READ MORE:
Electricity tariff: Labour stages nationwide protest, threatens strike
The organised labour on Monday paralysed business activities of the electricity distribution firms as it led a nationwide protest against the over 45 per cent increase in electricity tariffs, demanding an immediate reversal of the hike. Leaders and members of the Nigeria Labour Congress and Trade Union Congress were joined in the simultaneous demonstrations in different parts of the country by those in the civil societies and students of tertiary institutions. READ MORE:
---------------------------------------------------------------------------------
Court renews arrest warrant against Tompolo
Justice Ibrahim Buba of the Federal High Court, Lagos yesterday renewed the bench warrant issued against a former Niger Delta militant, Government Ekpemupolo, popularly known as Tompolo. The judge, by the decision, ordered security agencies in Nigeria to compel Tompolo's appearance in court on February 19. Justice Buba renewed the order while ruling on an application challenging substituted service of a 40-count criminal charge on the accused. READ MORE:
TSA to cut N2.22tr budget deficit
THE N2.22 trillion deficit, projected for this year's N6.08 trillion budget may be reduced after all, courtesy of the N2.2 trillion already realised by the Federal Government, from the Treasury Single Account (TSA) scheme. The budget deficit reduction prospect was disclosed yesterday by the Finance Minister, Mrs. Kemi Adeosun, at a one-day TSA workshop, organised for state accountants-general in Abuja. READ MORE:
Protest against new electricity tariff paralyses Discos
ORGANISED labour and its civil society allies yesterday made good their threat as protests against the new Multi-Year Tariff Order (MYTO2015) which took off February 1 swept across the country, paralysing activities at many electricity distribution companies (Discos) in many cities. From Lagos to Abuja, Kaduna, Ibadan, Enugu, Maiduguri, Owerri, Port Harcourt and indeed all major cities in all states of the federation, the protesters were unequivocal in their rejection of the tariff increase. undefined
---------------------------------------------------------------------------------
Labour pickets electricity firms as govt urges acceptance of tariff hike
Labour unions and their allies yesterday shut down electricity distribution (Discos) and generation companies (Gencos) offices nationwide over  the 45 per cent hike in the electricity tariff by Nigeria Electricity Regulatory Commission (NERC). In most of the state capitals, where the protests led by leaders of Nigeria Labour Congress (NLC) and the Trade Union Congress (TUC)  were held, it resulted in heavy gridlocks  and leading to businesses and offices being closed down. READ MORE:
MTN must pay fine, says govt
Mobile giant MTN must pay substantial part of the N780billion fine imposed on it for subscriber identity module (SIM)registration guideline infractions before any out of court settlement could honoured, the Federal Government said yesterday. The Minister of Communications and Technology, Mr. Adebayo Shittu, said the telco violated extant laws for which it accepted responsibility and wrote a letter of apology, promising to be a responsible corporate citizen.
Federal Govt in order over Dasuki's re-arrest, says court
Neither the Federal Government nor the Economic and Financial Crimes Commission (EFCC) is in disobedience of any order of the court by re-arresting ex-National Security Adviser (NSA) Mohammed Sambo Dasuki, a court has said. A High Court of the Federal Capital Territory (FCT), Abuja yesterday ruled that it was wrong for Dasuki to accuse the Federal Government and the EFCC of violating the order granting him bail when there was evidence that he was only arrested after he had earlier been released from the prison upon his meeting the bail conditions. READ MORE:
-------------------------------------------------------------------------------------
FG asks Discos to justify increase in tariff
The Federal Government has called of Electricity Distribution companies,(Discos) to justify the new tariff through quality services to consumers. In what observers regard as the endorsement of the hike, the Minister Of Power, Babatunde Raji Fashola at the monthly sectoral meeting of major stakeholders in the power sector in Lagos yesterday said  meters  must be… READ MORE:
Senate to interface with Executive over new electricity tariff
Senate President, Bukola Saraki on Monday, assured organised labour and civil society organisations (CSOs) of the National Assembly's commitment to engage the Executive over the recent 45 percent hike in electricity tariff. Leaders of the Nigerian Labour Congress (NLC) and Trade Union Congress (TUC) also issued a two-week ultimatum to the 10-member Committee, set up…
'Artificial' forex rate hurts Buhari, says Lamido Sanusi 
Muhammadu Buhari, Nigeria's president, risks undermining progress in fighting Boko Haram and tackling corruption by endorsing exchange rate policies that are doomed to fail, an influential former central bank governor has said. Sanusi Lamido Sanusi, governor from 2009 to 2014, told the Financial Times he was disappointed to see Buhari's strong security and anti-corruption efforts…
JOIN OUR PULSE COMMUNITY!
Recommended articles
We will invite IPOB to protect Igbos in Lagos - Eze Igbo threatens
Lagos council chairman invites CAN executives to Ramadan Iftar
FG says 300,000 displaced persons repatriated in North-East
Disabled girl begs govt, Nigerians for support to fund varsity admission
Troops kill 5 bandits, recover 4 AK-47 in Kaduna
NBC fines Channels TV ₦5 million over Datti's interview comments
NAFDAC bursts store in Anambra for unregistered sex enhancement drugs
PDP queries INEC's silence over petition, insists on authentic BVAS results
Adeleke's govt explain why Osun workers have not received March salaries
Manchester United identify Portuguese goal-machine Goncalo Ramosas Osimhen alternative
Giannis Antetokounmpo outshines Jordan Nwora as Bucks set record against Pacers
NPFL Review: Rangers continue to flirt with relegation, 3SC vs Plateau produce another classic
Arsenal reach first Champions League semi-final in 9 years with victory over Bayern