Read today's newspaper headlines [Monday, July 4 2016]
Read today's newspaper headlines [Monday, July 4 2016]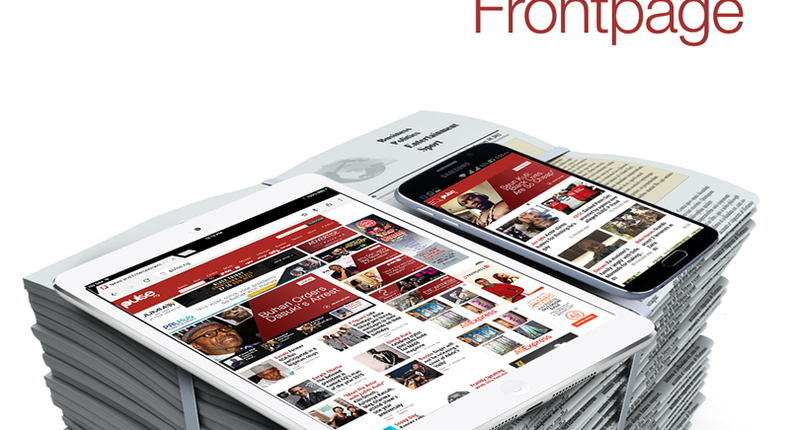 Fuel importers face fresh hurdles over $950M debt
Uncertainty is dogging in the supply of petroleum products for local consumption as some banks overseas have suspended short and medium-term credit lines to their Nigerian counterparts due to the inability of marketers to pay matured foreign currency obligations of over $950 million. READ MORE
Niger Delta Avengers attack five oil facilities
Militant group, Niger Delta Avengers (NDA) yesterday claimed it had bombed two Chevron oil wells as well as three Nigerian Petroleum Development Company (NPDC) and Nigerian National Petroleum Corporation (NNPC) trunk lines. READ MORE
Study links hot climates to violent crimes
Researchers in a study published in the journal Behavioural and Brain Sciences have established a correlation between hot climates and violent crimes. READ MORE
EFCC arrest Omisore over N1.3B NSA cash receipt
Abuja—Several months after being declared wanted by the Economic and Financial Crimes Commission, EFCC, former Osun State Deputy Governor, Senator Iyiola Omisore, was yesterday arrested by the operatives of the commission in Abuja. READ MORE.
Govt, militants' ceasefire in N-Delta collapses
WARRI—THE temporary cessation of hostilities in the Niger Delta region broke down, weekend, as Niger Delta Avengers, NDA, blew up five oil and gas installations following its displeasure with the manner the Federal Government was managing and breaching the peace process. READ MORE
Revisit 2014 Confab resolutions now, traditional rulers tell Buhari
ABUJA-President Mohammadu Buhari has said that Nigerians must eschew ethnic-centrism and religious intolerance to move the country forward. READ MORE
FX Scarcity, legacy debt unsettled downstream petroleum sector
Foreign exchange scarcity and legacy debts are unsettling the downstream sector with the possibility of fuel scarcity recurring in no distant time, BusinessDay investigations show. READ MORE
After soured ties with IOCs, Nigeria seeks news friends in China
With little hope of improvement in the soured ties between Nigeria and its mainly western oil joint ventures like Shell and Exxon Mobil, Africa's most populous country is now hoping it can find new allies in China to pull its oil industry back from a devastating decline. READ MORE.
States' chances of tapping capital market funds dim on low IGR
As Nigerian states battle tough financial conditions and search ways of expanding their sources of funds, they also face even more hurdles of tapping capital market resources due to current stringent requirements, BusinessDay finds. READ MORE
N4.745B 'fraud': Drama as EFCC holds Omisore
After about three months of hide and seek, the Economic and Financial Crimes Commission (EFCC) yesterday arrested a former Deputy Governor of Osun State,  Otunba Iyiola Omisore. READ MORE
Senate slams AFG over Saraki, Ekweremadu case
The Senate yesterday described Attorney General and Minister of Justice Abubakar Malami (SAN) as partisan, in the forgery case he is prosecuting against Senate President Bukola Saraki and Deputy Senate President Ike Ekweremadu. READ MORE
Oando records N4.1B  net profit in three months
Oando Plc's operational reports and audited financial statements indicate that the leading indigenous energy group recorded a net profit of N4.1 billion in the first quarter of this year. READ MORE
Abia crisis rages as AGF fails to resolve logjam
The Attorney General of the Federation and Minister of Justice, Mr. Abubakar Malami, said on Sunday that he had yet to offer any legal opinion on the developments which followed the June 27 judgment that sacked Governor Okezie Ikpeazu of Abia State. READ MORE
Buhari receives, approves arms probe report
The presidential panel set up by President Muhammadu Buhari through the Office of the National Security Adviser to probe arms procurement between 2007 and 2015 has submitted another report to the President, The PUNCH has learnt. READ MORE
Manufactures lose N348.6B to new forex policy
Manufacturers who had outstanding dollar requests and Letters of Credit (applied for at N197/dollar) before the new foreign exchange policy came into existence lost approximately  N348.6bn by Monday, June 20, 2016, the day the policy commenced, findings by our correspondent have revealed. READ MORE
EFCC arrests Osun ex-deputy governor, Iyiola Omisore
The Economic and Financial Crimes Commission has arrested a former Deputy Governor of Osun State, Senator Iyiola Omisore, who was declared wanted about a month ago. READ MORE
Avengers destroy NNPC, Chevron, others' facilitates in fresh attacks
THE Federal Government's proposed peace talks with militants on Sunday morning suffered a major setback as the Niger Delta Avengers blew up several oil facilities belonging to the Nigerian National Petroleum Corporation, Chevron Nigeria Limited and the Nigerian Petroleum Development Corporation. READ MORE
JOIN OUR PULSE COMMUNITY!
Recommended articles
Subsidy: Tinubu to get one refinery working before December - Kyari
Gov Mbah cancels sit-at-home in Enugu, begs Tinubu to release Nnamdi Kanu
US assures NDLEA of more support, collaboration in drug trafficking fight
Fuel subsidy not budgeted for in 2023 budget – NNPC boss claims
No plan to embark on strike over fuel subsidy removal – NLC tells Nigerians
Tinubu meets Lawan, Gbajabiamila, insists on right choice for NASS leadership
I was forced to sign election result sheets, Atiku's witness tells tribunal
That's bad - Trump reacts as Joe Biden tumbles on Air Force stage
Declare state of emergency on drug abuse, Reps tell Tinubu