Read today's newspaper headlines [Monday, February 29, 2016]
Read today's newspaper headlines [Monday, February 29, 2016]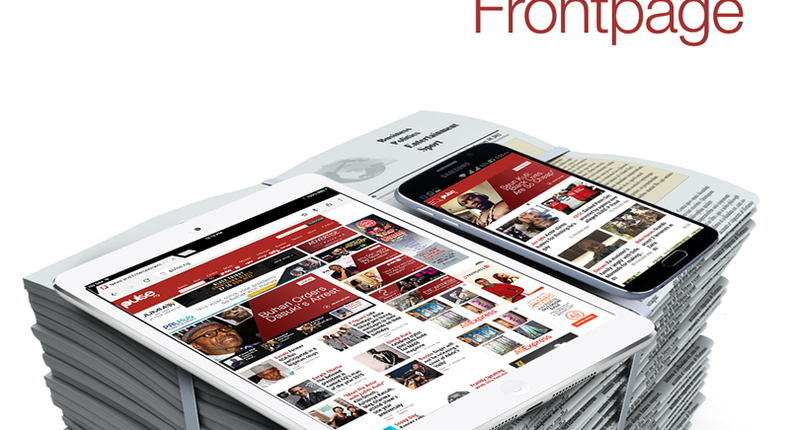 Pulse brings you front page stories from Nigeria's leading newspapers on a day-to-day basis.
Find out what is making headlines all over the country from the covers of The Punch, Vanguard, The Guardian and more.
For today, Monday, February 29 2016:
Terminal operators owe FG N86.2bn Ports charges, feesTerminal operators in Nigeria are currently indebted to the Federal Government to the tune of $433.4 million, about N86.2 billion, for lease and container throughput fees as at December 2015, Financial Vanguard investigation has revealed. But most of the terminal operators when contacted said they were up to date with their payments to the Nigerian Ports Authority, NPA. READ MORE
N676m NIS recruitment scam: Abba Moro, 4 others to be arraigned todayAfter being detained for almost a week, former Interior Minister, Abba Moro, will be arraigned today before Justice Anwuli Chikere of the Federal High Court Abuja, to answer to charges of abuse of procurement process and diversion of public funds preferred against him and four others by the Economic and Financial Crimes Commission, EFCC. READ MORE
Forex scarcity: OPS loses N1.46trn in 6 monthsKADUNA — The Kaduna Chamber of Commerce, Industry, Mines and Agriculture, KADCCIMA, yesterday, said investors in various sectors of the economy were weighing the negative impact of the scarcity of foreign exchange on their businesses, noting that within six months, members of the Organised Private Sector lost about N1.46 trillion.READ MORE_________________________________________________
Why govt economic team excludes private sectorFOR optimal results, the Economic Management Team (EMT) of President Muhammadu Buhari is to operate differently from that of his predecessor. READ MORE
'Ijebu, Igbo are Jews from Israel'WHERE are the historical roots of the Ijebu and the Igbo? For a Nigerian researcher, Dr. Fatai Ayisa Olasupo, these roots are firmly located in the Middle East, precisely Israel. READ MORE
Fuel queues return to major citiesWITH long queues of vehicles at filling stations, Nigerians are again contending with the scarcity of Premium Motor Spirit (PMS), otherwise known as petrol. READ MORE_________________________________________________
Buhari dumps N5,000 jobseeker's allowancePresident Muhammadu Buhari has ruled out the payment of N5, 000 monthly allowances to unemployed youths in the country as promised by his party, the All Progressives Congress, ahead of the 2015 presidential election. READ MORE
Nigerians carpet IG, Sanusi over Ese's abduction, forced marriageNigerians have expressed outrage over the alleged abduction of 14-year-old Ese Oruru by one Yinusa, aka Yellow, who also forced her into marriage. Nigerians, who read the story of the helpless minor on The PUNCH's website on Sunday, took a swipe at the inactions of the authorities, saying the girl was abandoned to wallow in captivity. READ MORE
Ghost workers: FG saves N2.29bn monthly, says ministerThe Federal Government said on Sunday that the removal of 23,846 non-existing workers from its payroll had led to a monthly reduction of N2.29bn in its salary bill. READ MORE_________________________________________________
EFCC sends INTERPOL after Moro's accompliceA big manhunt is on the way for a key suspect in the Immigration jobs scandal, which claimed 19 lives in 2014, The Nation learnt yesterday. READ MORE
Govt removes 23,846 ghost workers from payrollNo fewer than 23,846 non-existent workers' names have been removed from the Federal Government payroll as a result of which the wage bill has reduced by N2.293 billion monthly, the Federal Ministry of Finance said yesterday. READ MORERev. King's death sentence caused by witches, wizards, says ChurchLast Friday's confirmation of the death sentenced passed on General overseer of the Christian Praying Assembly (CPA) Chukwuemeka Ezeugo (aka Rev. King), has been attributed to the handiwork of witches and wizards by his church members. READ MORE
JOIN OUR PULSE COMMUNITY!
Recommended articles
APC's Uba Sani wins Kaduna governorship election
BREAKING: INEC declares Adamawa governorship election inconclusive
Gov Zulum of Borno conveniently secures second term
APC's Reverend Father Alia declared winner of Benue governorship election
Ayade delivers as APC's Otu wins Cross River governorship election
INEC to conduct suspended State Assembly election in Benue March 21
PDP calls for removal of Ogun Returning Officer
LP governorship candidate congratulates Plateau governor-elect
INEC declares APC's Umar Bago as winner of Niger governorship election
Saudi GP: Max Verstappen unhappy after finishing second to teammate Sergio Perez for the first time in 7 years
Super Eagles News: NFF denies sacking coaches, explains Finidi, Shorunmu absence
Lazio legend compares Osimhen to ex-Real Madrid star Ronaldo
Revealed: Who are the Top 10 most followed players on TikTok
Premier League: Tottenham quote £100 million fee for Harry Kane
AFCON 2023 Qualifiers: Wilfred Ndidi, Francis Uzoho arrive as 10 players storm Super Eagles camp ahead of Nigeria vs Guinea-Bissau