Canada's new PM vows to bring hope, change
The stunning win returns Trudeau, 43, to the prime minister's official residence at 24 Sussex Drive where he lived for almost 12 years while his father was in office.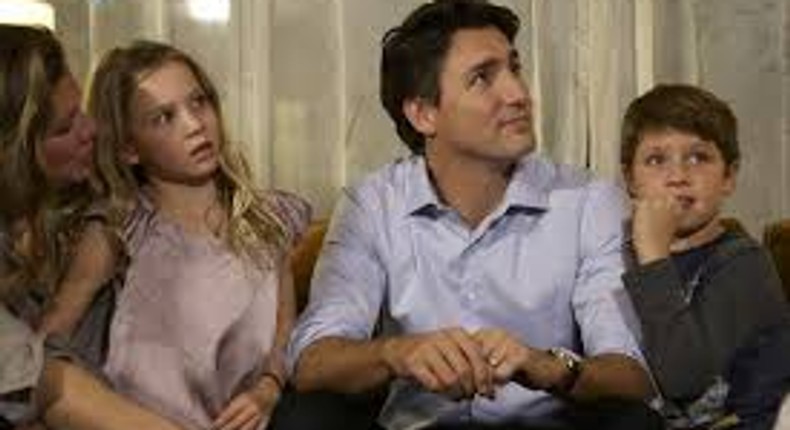 Canada's new prime minister, Justin Trudeau, is moving back to the house where he grew up.
The Liberal leader, son of former prime minister Pierre Trudeau, led his party to victory in a federal election on Monday, defeating Stephen Harper's Conservatives by a wide margin.
While the final vote count was not yet complete, Trudeau's Liberals were on track to win 174 of Parliament's 338 seats, according to Elections Canada.
That means Trudeau is on track to break the record for the biggest gain in seats in an election, which was previously held by the Conservatives, who added 111 seats in the 1984 election. It is the largest percentage increase in seats ever gained by a party in an election.
Trudeau, who took over a party in shambles in 2013, trailed early in the campaign, brushed off by his opponents as being more style than substance and an intellectual lightweight who was not ready for the job.
But a bold pledge to run a budget deficit and boost spending to spur the economy, as well as a positive message and his gregarious nature, helped the Liberals engineer a turnaround.
The telegenic Trudeau has often drawn large crowds and elicited comparisons to the Kennedy dynasty and the Obama campaigns.
He was born to great publicity on Christmas Day 1971 and stayed in the limelight until his father left office in 1984. He returned to prominence with a moving eulogy at his father's 2000 funeral.
"Dealing with being my father's son isn't something that I suddenly had to get my mind around as I showed up in this place as an MP (member of Parliament) ... it's been something that's been with me all my life," he told Reuters in a January interview. "It's what I put out there that actually matters."
A former teacher and snowboard instructor, Trudeau was first elected as an MP in 2008. He won again in 2011, but the Liberal party suffered its worst election showing ever. After the party leader resigned, Trudeau's name began to be floated around as the next chief.
Trudeau, who has three children, initially said he was undecided due to his young family but eventually reconsidered and won the leadership election by a wide margin.
Support for the Liberals surged after his win but that goodwill had evaporated by the time the election got underway in August.
The tone was set by an early Conservative attack ad that claimed Trudeau wasn't ready to be the country's next prime minister and took aim at his looks with the comment, "Nice hair, though."
"What Trudeau did was surprise the field, and he stiffened the spine of a lot of liberals who were wavering," said Nelson Wiseman, a political scientist at the University of Toronto.
Trudeau also touted a path for Canada that he said was more ambitious than his opponents'. His slogan "Real Change" echoes Barack Obama's successful "Hope and Change," and Trudeau admires how, in his view, Obama transformed grassroots democracy.
Trudeau's short political career has not been without its gaffes.
Critics say Trudeau's comments and headline-grabbing events, such as challenging a Conservative senator to a televised boxing match and winning in 2012, lack gravitas. AfterCanada joined the coalition against Islamic State, he said humanitarian aid was better than "trying to whip out our (fighter jets) and show them how big they are".
While his rise in politics may appear to have been swift, former interim Liberal party leader Bob Rae said Trudeau has been thinking about it much longer.
"From the time I met him, my sense was that he very much saw this as a long game for him. And one that only had one conclusion." ($1 = 1.2930 Canadian dollars)
JOIN OUR PULSE COMMUNITY!
Recommended articles
At 63, Nigeria has no excuse not be great, Gov Akeredolu
Gov Oborevwori dedicates multiple victories at tribunal to God
Foundation establishes digital learning hub in Abuja for young graduates
Kidnappers demand ₦60m ransom to release Benue Commissioner
I have no anointed candidate in Edo governorship election - Obaseki
IBEDC promises seamless service delivery during Independence Day celebration
Oyedepo advises universities on more research to solve society's problems
Society raises concern on prevalence of cardiovascular diseases in Nigeria
Police detain Catholic priest, 5 others over alleged membership of Biafra group
I still love guys - Super Falcons' Michelle Alozie reacts to lesbian rumour
Heartbreak for Nigeria as AFCON 2027 bid slips away to East African rivals
Victor Boniface or Harry Kane: Who has had the better Bundesliga start?
Steph Curry: NBA star lists Nigeria's Burna Boy and WizKid among favorite music artists
Controversy as Super Falcons' Michelle Alozie unveils her 'female lover'
AFCON 2027: Algeria hands Nigeria a major boost