U.S. to ask Russia for alliance in fight against Islamic State
However, both want to eliminate Islamic State, which has gained significant territory in Syria and Iraq in recent years.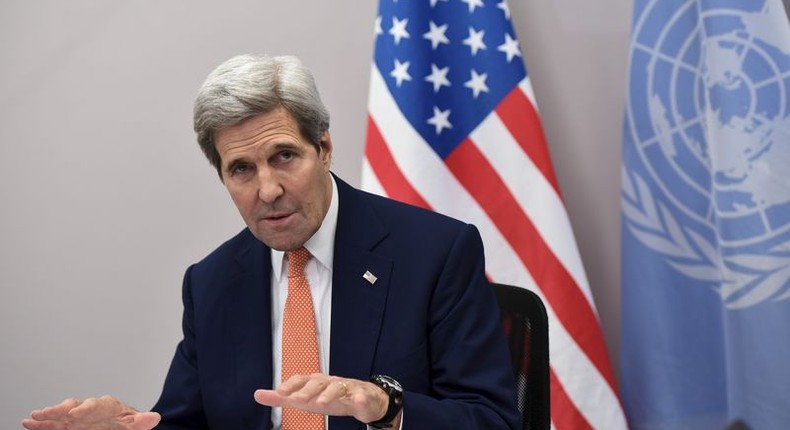 According to a report by the Washington Post, the U.S. wants to establish a "joint implementation group" with Russia to coordinate actions against Islamic State and another UN-designated terrorist group, al-Nusra Front, in war-torn Syria.
Russia and the U.S. have been waging separate military campaigns in Syria that have sometimes been at odds, with Russia supporting Syria's government and the U.S. aiding in an effort to overthrow that government.
Kerry, who is to arrive in Moscow around 6 p.m. local time, is expected to hold a press conference with Russian Foreign Minister, Sergei Lavrov, on Friday, the U.S. embassy said.
The Kremlin said broadly that the officials were expected to discuss Syria, Ukraine and U.S.-Russian relations.
Relations sank to a post-Cold War low two years ago when Russia annexed neighbouring Ukraine's southern Crimea region in response to Ukraine ousting its pro-Russian president, Viktor Yanukovych, in what Moscow has described as a Western-orchestrated coup.
The U.S. has also been trying to get Moscow to end a pro-Russian separatist rebellion in Ukraine's two eastern-most regions that erupted shortly after Yanukovych's ouster.
The U.S. and Russia have imposed sanctions against each other over the conflict.
JOIN OUR PULSE COMMUNITY!
Recommended articles
Nasarawa Speaker promises more worker-friendly laws
Shettima arrives office wing for resumption
Fuel price hits ₦‎520 in Edo, Delta over scarcity
We now challenge presidents, it's sweeter – Datti Baba-Ahmed brags
President Tinubu resumes work at Aso Villa office
Ooni of Ife sends message to President Tinubu
Tinubu clarifies his statement on subsidy as petrol price rises to ₦600 per litre
Petrol queues resurface, marketers sell ₦350 per litre
EFCC, DSS fight over shared office building in Lagos