Al Qaeda's number 2 and former Bin Laden's secretary killed
Report says U.S authorities are still working to confirm al-Wuhayshi's death.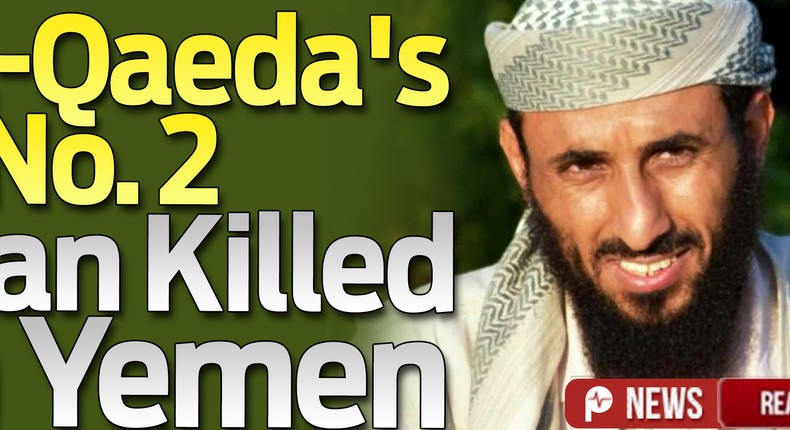 The number two man in the al Qaeda global hierarchy, Nasir al-Wuhayshi, has been reportedly killed in Yemen.
According to Yemeni national security officials, the al Qaeda Arabian Peninsula (AQAP) leader was killed in a suspected U.S drone strike on Friday, June 12 in Hadramout region.
But tweets from known AQAP agents reportedly said al-Wuhayshi has been martyred, adding that AQAP military commander Qasm al-Rimi, has been (also known as Abu Hureira al-Sanaani) appointed as al-Wuhayshi's replacement.
The man who was known asal Qaeda'scrown prince had appeared openly in a video that surfaced in April last year, he was seen greeting followers.
He said in a speech that he was going to hit America. "We must eliminate the cross..The bearer of the cross is America!"
al-Wuhayshi assumed command of AQAP in 2009. He had escaped a Yemeni prison in 2006, and had previously worked as Osama bin Laden's personal secretary.
JOIN OUR PULSE COMMUNITY!
Recommended articles
Nigerians will smile with Tinubu as President – Rep
Kano: Abba Yusuf halts all construction activities on public buildings
Chinese Yuan strengthens to 6.8717 against dollar
Baba-Ahmed: Tinubu petitions NBC to sanction Channels TV
Tinubu: APC finally receives petitions from Obi, Atiku
Kogi 2023: NUJ initiates media parley for governorship aspirants
Matawalle alleges sabotage by FG in failed re-election bid
Gov. Badaru directs recruitment of 32 medical doctors
Abia retirees celebrate Otti's victory, clad in all white
Manchester United identify Portuguese goal-machine Goncalo Ramosas Osimhen alternative
Giannis Antetokounmpo outshines Jordan Nwora as Bucks set record against Pacers
NPFL Review: Rangers continue to flirt with relegation, 3SC vs Plateau produce another classic
Arsenal reach first Champions League semi-final in 9 years with victory over Bayern