Death of black man after arrest sparks race debate
Witnesses told local media that the Somali immigrant, identified as Abdirahman Abdi, 37, was beaten by Ottawa police officers.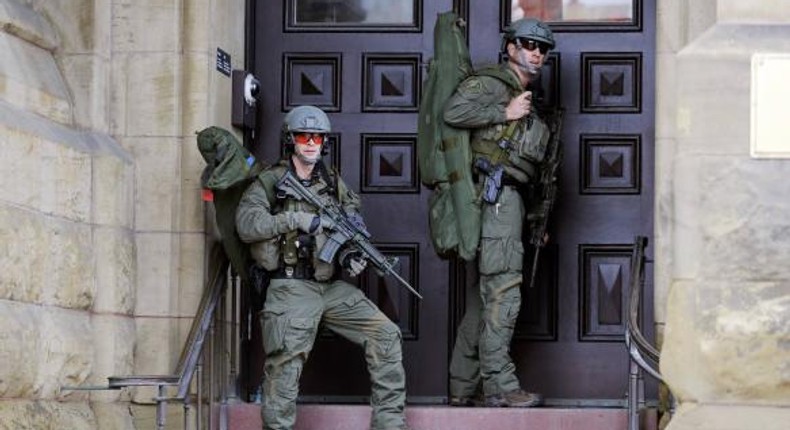 The death of a mentally ill black man following his arrest by
Witnesses told local media that the Somali immigrant, identified as Abdirahman Abdi, 37, was beaten by Ottawa police officers. A video from a bystander showed him in a bloodied shirt lying face down on the ground with his hands cuffed behind his back and his pants pulled down before paramedics arrived.
While incidents of this type are rare in Canada, they are not unheard of and the death echoed similar events in the United States where allegations of police brutality and racial bias have sparked protests. Some confrontations in the United States were also caught on video.
Some people have expressed frustration that Abdi's death has not attracted as much attention as a number of incidents in the United States.
"There's a thirst publicly to have this conversation, and not to have it in the American context, but to have it in our context," said Rodney Diverlus, co-founder of Black Lives Matter Toronto.
Ontario's Special Investigations Unit has launched an investigation into the circumstances surrounding the arrest. Family spokeswoman Nimao Ali said in a statement earlier this week that Abdi had been dead for 45 minutes before he arrived at the hospital.
Naeem Malik, president of the Ottawa Muslim Association, which is covering the cost of Abdi's funeral on Friday, said he used to see Abdi and his brother at mosque.
"He was mentally not capable of doing things," said Malik. "He used to kind of mumble. I don't know whether it was due to the mental problem or maybe there were speech problems."
A protest march is scheduled for Thursday in Montreal, and nearly 200 people are confirmed to attend, according to a Facebook event page.
Referring to whether race was a factor in Abdi's arrest and death, Amira Elghawaby, a spokeswoman for the National Council of Canadian Muslims, said, "That is a legitimate question people are asking and there will be a need to hopefully find some answers as to how or whether there was prejudice at play here."
Abdi's death comes as the Black Lives Matter movement ramps up activity in Toronto, Canada's largest city, and follows the death of two non-white men at the hands of police in that city in recent years.
"This is another deadly display of the police penchant for offering triggers over treatment," tweeted Anthony Morgan, a Toronto lawyer.
Last year, a Toronto police officer shot and killed Andrew Loku, a 45-year-old Sudanese immigrant with a history of mental illness. No charges were laid.
A Toronto police officer was convicted in January in the shooting death of Sammy Yatim, 18, after an altercation on a streetcar.
Earlier on Wednesday, Baltimore's top prosecutor dropped all remaining charges against police officers tied to the case of black detainee Freddie Gray, whose death led to protests last year.
-----------------------------------------------------
See Pulse PHOTO-NEWS gallery below:
JOIN OUR PULSE COMMUNITY!
Recommended articles
Gov Mbah cancels sit-at-home in Enugu, begs Tinubu to release Nnamdi Kanu
US assures NDLEA of more support, collaboration in drug trafficking fight
Fuel subsidy not budgeted for in 2023 budget – NNPC boss claims
No plan to embark on strike over fuel subsidy removal – NLC tells Nigerians
Tinubu meets Lawan, Gbajabiamila, insists on right choice for NASS leadership
I was forced to sign election result sheets, Atiku's witness tells tribunal
That's bad - Trump reacts as Joe Biden tumbles on Air Force stage
Declare state of emergency on drug abuse, Reps tell Tinubu
CSOs task Tinubu on implementation of tobacco control laws