'Prepare your will if you want to rig election in Rivers'
Rivers Governor, Nyesom Wike, has warned that opposition elements who intend to rig elections in his State will be met with brute force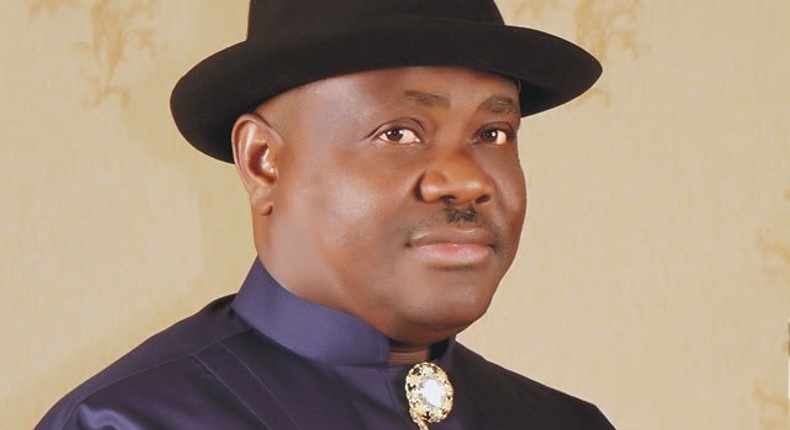 Rivers State Governor, Nyesom Wike, has vowed to crush election riggers in his State.
The Rivers legislative rerun election which held on December 10, was characterised by ballot box snatching, violence and lynching in certain quarters.
The Governor has since set up a commission of inquiry to ascertain the number of persons who lost their lives during the exercise.
The committee has also been charged with fishing out the perpetrators of the killings.
In a chat with Pulse last weekend, Wike rejected claims that he was behind the violence.
He also denied making a phone call to threaten electoral officers who weren't doing his bidding.
"Have I not said before that if you come to rig election in Rivers, you should prepare your will? Have I not said so before? So what is me threatening to kill INEC officer?
"Tell  tell the Nigerian police, tell the Nigerian security that I want free and fair elections.
"What causes violence? I was here and they wanted to stop the results of my senatorial district from being declared..to manipulate it? If in the course of resisting rigging, they shoot somebody, will there not be violence?
"The only condition for peace in Rivers is free and fair elections like it's done all over the world".
When personnel of the Department of State Services (DSS) stormed 35 Forces Avenue in Port Harcourt on Saturday, October 8, 2016; in an attempt to raid the home of a Judge, television footage showed Wike on the scene.
News reports after the incident indicated that the Governor had impeded law enforcement from carrying out their assignment.
He reiterated that he was only at the scene of the raid to prevent the breakdown of law and order in a State where he wears the designation of Chief Security Officer.
He said he made his way to the scene of the raid only because the Director of the DSS, Lawal Daura, had ignored his phone calls earlier.
"People say that they kidnap people a lot in Rivers State and somebody sends you a text message that says people are wearing black, they've taken over the State. What is going on in your State?…You called the Director of the DSS and he won't pick, you call the (CP) and he won't pick..and then I said 'gentlemen, let's find out what is going on'.
"And then I took my security personnel along, wondering 'what's going on?'
"They said it's DSS. And I was like: 'DSS? What's the problem?' And then they said they got orders from above to bring someone and I was like, who is that?
"And they said the Judge. And the Judge in question is a woman. A woman! And they didn't even know the house of the Judge they were looking for! What kind of system is this?
"Meanwhile, the DSS shares the same fence with the home of the Judge. You were going to arrest a woman at 1am? Assuming the woman was killed..do you know the effect that will have on us as a State? People will say a Judge was abducted from his or her house and was killed in Rivers State.
"Okay, up till now, have they invited the Judge?
"You see, I swore an oath to protect life and property. It doesn't matter who is involved. Why can't you invite the person? You can follow the person from the office without the person knowing. Why carry out an arrest at an odd hour? Especially since people say our State is not safe?
"DSS Director didn't pick my calls until I got there and then he goes "I'm sorry". I said no, you are not sorry. Now your people have informed you and then you decided to come here…but I have been calling you and you won't pick my calls. I called the Director 10 times and he didn't pick my calls…and then later the CP came. Is that the way we should carry on? I have no business with any Judge. If you've committed any crime as a Judge, you face the music.
"But there are better ways of doing these things. Whether you like it or not, you don't treat them (Judges) as common criminals. It's not fair. If that happens, then that system is gone".
JOIN OUR PULSE COMMUNITY!
Recommended articles
Fee hike may force 50% of students to drop out of school in 2 years - ASUU
10 lies Tinubu administration told in over 100 days, according to Atiku
Taraba govt approves ₦50k medical allowance for teaching corps members
Reps vows to ensure enrollment of 14m out-of-school children
Nigeria has only 84 paediatric dentists to over 200m population – Dentists
FCT residents decry rising insecurity, demand urgent action
Cross River gorillas will boost local tourism if protected - Wild Africa Fund
Over 4,000 Nigerians rotting in jail over inability to pay fines - Minister
Tribunal to deliver judgment in petitions against Sanwo-Olu's election Monday
Anthony Joshua and Burna Boy: Nigerian-born boxer and African giant team up for Boss at Milan Fashion Week
How Nigerians can vote for Osimhen to win FIFA Best Player Award ahead of Messi
I want to 'teach' after football - Lionel Messi opens up on retirement plan
It was a money issue — Jay Jay Okocha on why he snubbed Europe's big clubs
North London Derby: Postecoglou threatens to 'scare the life out' of Arsenal
Super Falcons' Michelle Alozie drops football hot take